Entertainment
Cody Alan, Age 32 & Boyfriend Engaged To Get Married | Gay Transition
Award-winning Radio host, Cody Alan was married to....when he came out as a gay. He is the father to two children.....He is engaged to his boyfriend named.......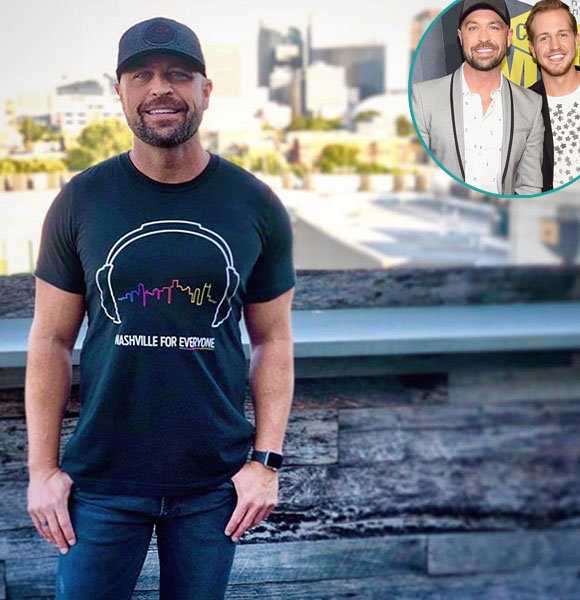 To the country music fans, Cody Alan has dependably been a chunk of sunshine.
But for quite a long time, the seemingly happy CMT and iHeartRadio host suffered an identity crisis, holding onto a secret only to himself. And now, he's finally ready to share the biggest change of his life that he's gay.
Being feared to come out publicly with his sexuality, Cody suppressed his feelings and started the married life with wife following the birth of their two children. And then, the suppression could no longer handle the deceased emotions and finally, he confronted about his preference to his wife and then slowly started sharing to the world.
So, here's bio of Cody Alan which includes the greatest transition of his life!
Gay Transition
Award-winning Radio host, Cody Alan celebrated the year 2017 being true to his sexuality. He publicly came out with his gay sexuality earlier in 2017 after posting the long message depicting his hidden origin on Instagram. 
Once a married man and also a father to two children took a measure steps to confront his sexuality and his wife came in the number one priority whom he disclosed about his sexual preference than to his children and now to everybody.
After breaking out to his radio career, Alan met his wife on a blind date and embraced into the married life when he was 25. Also, the couple welcomed two kids together. Even after entering into the fatherhood, he was still attracted to the man.
On the one hand, he loved his wife of 10 years and was getting the affection back and on the other hand, he was cleared of his choice. He still remembers the reaction of his son who says, 'You're a great dad; it's okay.'"
He knew his sexuality was not his choice, so he stated:
"[I was] realizing wiring has something to do with all this. It's not a choice I made to come out to be gay, it's always been a part of me."
He has repeatedly said that his coming out was an evolution, not a revolution. So he took intentional steps to make the people know about his world. He started with his wife, then children, then other family members and friends. 
Don't Miss:- Gay Supporter Malcolm Gladwell Has Wife Amid Girl Problem? Parents Details
Then finally he chose to disclose to his fans and followers. After coming out to his wife, his family were supportive towards his decision and went through the mutual divorce process.
A host of CMT's Hot 20 Countdown came out with his sexuality on January 2017 stating that his gay sexuality is not the choice he made, in fact, it is who he really is. 
He dedicated his long post to his followers and also expressed his gratitude towards his friends and followers for their support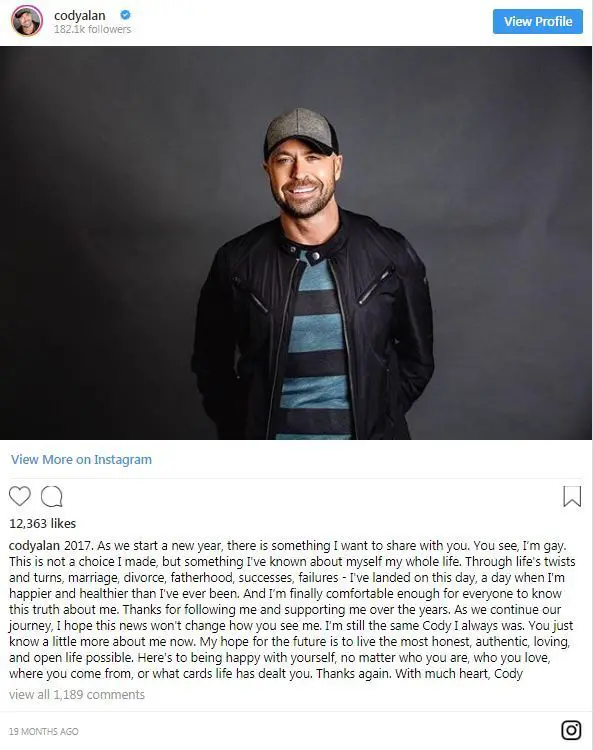 Cody Alan announces his sexuality on Instagram (Photo: Cody Alan's Instagram)
Moreover, he also expressed that the change in his sexuality does not change who he is and he hoped that the news won't change the perspective of his fans about him.
I hope this news won't change how you see me. I'm still the same Cody I always was. You just know a little more about me now.
With his utmost revelation about his gay sexuality, his family respected his decision and went through the mutual divorce with his wife. Though his origin changed, he will always be the father to his teen-kids.
A South Carolina native struggled with her sexuality since the very young age and continued to suppress the feelings even after getting married. Still, he felt the something was missing.
Met At Carried Underwood Concert; Engaged After Jamaica Wedding Proposal
Having arrived in a place of self-acceptance, he soon walked hands in hands with his occupational therapist boyfriend Michael "Trea" Smith, whom he first met at a Carrie Underwood concert in 2015, where Alan was hosting.
The couple got more serious in 2016 and after he came out publicly, they have also walked the red carpet together at the ACM in April 2017 and then the CMY Awards in June 2017. 
You May Also Like:- Israel Gutierrez Wife Talks Are Myth! Gay & Married - Personal Details Revealed
With their happily going relationship, the CMT Host added another blissful news by proposing to his boyfriend, Trea Smith while on their vacation at the Sandal South Coat resort in Jamaica in September 2017.
After carrying out the ring for almost a month, Alan popped the question to his 26 aged partners during their romantic candlelit dinner on the beach. Alan and his fiance often spend their time and travel together with Alan's children, ex-wife, and her boyfriend.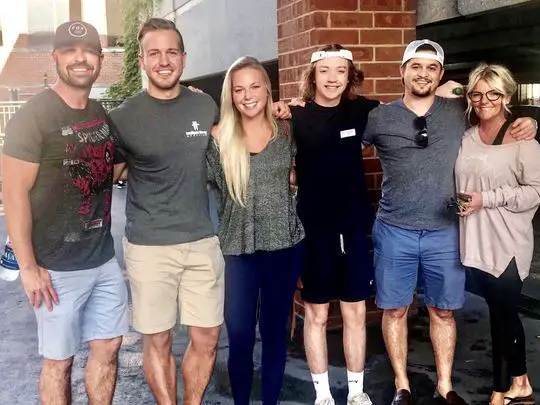 CMT personality Cody Alan, with his fiance, Michael "Trea" Smith, daughter and son, ex-wife and her boyfriend on vacation (Photo: tennessean.com)
With his special moment with his loved one, he did not miss the chance to wish her fiance on his birthday on 21 July 2018. Since Alan is enjoying his new family life, with their heightened relationship, he is also happy that his partner shares a deep bond with his children, whom Alan takes as his topmost priority. 
As of now, he regards his family as the beautifully blended loving modern family that includes his fiance, ex-wife and her boyfriend, and his children.