Entertainment
How Much Is Patrick Bet-David Net Worth? From Religion To Company Details & More
American entrepreneur Patrick Bet-David is indeed a typical success story.
Patrick, as an Iranian refugee traveling to the US after a two-year stay in Germany in the emigrant camp, was a kid who was never allowed to go close to his neighbor's kids.
But the lone Patrick, who served up in the U.S army, never lost his hope, and later became the highlight in the business world through his entrepreneurship.
Curious to get acquainted with Patrick's journey to stardom and get familiar with his life accomplishments along with his religious values?
If your answer is yes, then the following article is here to clear your doubts!
Career That Started With Joke
Patrick Bet-David joined the U.S military as soon as he completed his high school. He served in the 101st Airborne as a member of the U.S army. 
After completing his tenure at the military, Patrick dreamt of getting into the financial services sector. So, he applied for the post of a financial advisor in American investment bank and financial service company, Morgan Stanley.
He even left a joke on the resume which he initially sent to the company. 
See Also:- Theresa Vail On Her Journey From Army Camp To Pageant Show But Still Hasn't Considered Getting Married; Unveils Reason For Having Tattoos
Patrick, who completed the Executive Education course from Harvard Business School, never hoped for a call because he lacked the required level of education for the post; but surprisingly, Patrick received the call for an interview despite lacking a four-year Bachelors degree, because the joke he put on his resume made the manager laugh.
After serving for some time at the company in limited salary, Patrick felt suffocated at Morgan Stanley and thought about starting a company on his own.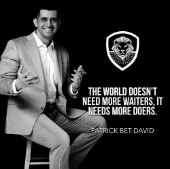 Patrick Bet-David talks about the importance of doing things now rather than procrastinating (Photo: me.me)
In October 2009, Patrick started PHP (People Helping People), a company that provided life insurances, annuities, debt settlement, retirement funds, and 401(k)s.
However, the initial reaction from the public, still reeling from the great financial crisis of 2008, was lethargic and negative. There were numerous instances where PHP's marketing schemes were labeled a scam, and they got called as the unprofessional financial company.
Despite all the negative feedbacks, the company's stock soared high with success. The company reportedly had 5,500 agents covering over 33 states in the US by the year 2015.
Besides owning a company, Patrick works as a writer, YouTuber, and Interviewer.
The self-made entrepreneur authored four books, The 25 Laws for Doing the Impossible(2011), The Next Perfect Storm(2012), The Life of an Entrepreneur in 90 Pages(2016), and Drop Out and Get Schooled(2017).
You May Find Interesting:- Laci Green Gracefully Dating! Meet Cheeky Boyfriend At Age 28
Similarly, he even hosts his YouTube channel Valuetainment, which has more than 628K subscribers. In October 2015, he uploaded a video titled The Life of an Entrepreneur in 90 Seconds.
The video amassed more than 30 million views on YouTube including other streaming sites. 
Patrick Bet-David's most acclaimed video "The life of an entrepreneur in 90 seconds"  (Video: Youtube.com)
As for now, Patrick regularly serves the subscribers with interviews with highly successful entrepreneurs and gives insight into entrepreneurship and teaches his followers how to start their own business.
Financial Achievement, Religious Values
The ultimate example of a self-made man, Patrick enjoys a colossal fortune due to his business acumen and marketing strategies. Patrick's company PHP raised $10 million in Expansion Capital from a syndicate of various private equity players in 2017.
Besides PHP, he also owns Valuetainment Company that regulates the monetary affairs of his YouTube channel and other news media.
Through his varied business interests, Patrick has accumulated a net worth of $70 million. Patrick shares his fortune with his wife Jennifer Bet-David and his three children.
The couple is still happily married despite being together for several years. Further, Patrick occasionally writes blogs and even featured his wife in one of those when readers asked for a woman's perception.
He wrote an article titled "15 Things You Should Know Before Dating An Entrepreneur" earlier in April 2016 on his personal website. However, when the readers' asked for a woman's point of view, he asked Jennifer to appear in a video based on her experience of dating an entrepreneur.
Talking about his religious values, Patrick has not disclosed his religious orientation yet, but he timely shows his strong views on religion. On 3 August 2016, Patrick tweeted sharing a quote of Mahatma Gandi.
Recommended For You:- Younes Bendjima Age, Nationality To Parents & Religion - Kourtney Kardashian Boyfriend
The quote states that the person who says religion and politics are unrelated does not know anything about religion.

Patrick Bet-David talks about religion quoting Mahatma Gandhi (Photo: Twitter.com)
With his views on different aspects of life, the entrepreneurship guru Patrick continues to inspire millions of people who dream of starting their own business. He is indeed a hero to those he has already helped aspire their own business venture. 
Keep Visiting as we keep you updated on the life of Patrick Bed-David!