Entertainment
Laci Green Gracefully Dating! Meet Cheeky Boyfriend At Age 28
American Youtube Star, Laci Green is the popular feminist YouTuber, who is active in sex education, feminism, and gender identity.
She started the YouTube channel as the hobby but later changed into the medium to convey the awareness message. With her active in feministic work, she has collaborated with Discovery News, Planned Parenthood and also hosted Braless.
However, when it comes to the taste of boyfriend, Laci shares the anti-feminist partner. The social media star, who has an attractive audience of over millions, has her followers praise her work but had to defend her relationship from critics.
Controversial Dating; Anti-Feminist Boyfriend
Youtube star, Laci Green is well-appreciated for her activist nature, but all her followers turned against her when she revealed her romance with anti-SJW (Social Justice Worker) YouTuber, Chris Ray Maldonado in 2017.
When the couple started opening their romantic chapters to the public, they were humiliated and Laci, who recognizes herself as Pansexual, faced backslash from radical feminists for dating the anti-feminist boyfriend.
Laci, who also hosted MTV's digital series Braless, also revealed on Twitter that the Social Justice Warrior (SJW) not only harassed her but also included her family in the middle of the debate.
Don't Miss:- Is DavidParody, 27, With Girlfriend? Dating Status Of The YouTube Star
Well, after she was attacked by her followers for dating someone with different political beliefs, she expressed that nobody has the right to tell her who she can date and to love. Also, she warned that it's her body and her life, so she does not want anyone to interfere with it.
While she got engaged in the long controversy due to her relationship, she withstood through all the backlashes and continued her relationship with her boyfriend. And here, the couple celebrated their one year anniversary. 
Also a political satirist, Chris took to Twitter in May 2018 sharing the snap with his girlfriend gushing about their one year anniversary.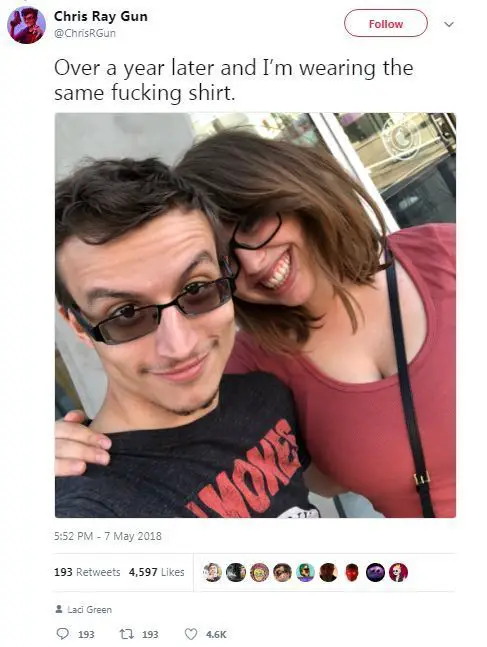 Laci Green with boyfriend Chris Ray in May 2018 (Photo: Chris  Ray Maldonado's Twitter)
After the long-controversial war, she uploaded a video titled 'Taking the Red Pill'  on May 2018, where she stated that she is still a feminist, but is also open to conversation with people from the opposite point of view.
Multi-Cultural Family; Influences Career
Born on 18 October 1989 to the multi-cultural family in Utah, the YouTuber was born to a father, an Iranian Muslim and a Christian mother. She grew up as a Mormon along with two sisters. She relocated to Portland, Oregon when she was just at the age of two with her family. When she reached 12, again the family moved to California.
See Also:- Hannah Hart Engaged To Girlfriend! Lesbian Love Creating A 'Buzz'
She graduated with a bachelor's degree in legal studies and education from the University of California in Berkeley in 2011. During her college life, she started to participate in various social movements and later became a certified rape and dating violence counselor. And then, she made YouTube a medium to aware the young adults about the sex, teen pregnancy, and gender identity. 
Also, Laci, who has not revealed her net worth, has hosted Braless, the MTV's first YouTube channel and collaborated with Planned Parenthood and Discovery News. She has lectured as a sex educator at multiple universities as a representative of Planned Parenthood.
With her active participation with the hosting and teaching, her estimated monthly earnings $94 - $1.5K which makes her annual earnings to $1.1K - $18.1K.