Entertainment
Paula White [Jonathan Cain's Wife] Net Worth & Personal Life Info
Paula White is an evangelical leader, TV host, and religious author. She is the pastor of the New Destiny Christian Center. 
She has also done TV gigs; she hosted Fox and Friends as President Trump's Spiritual Advisor from 2016 to 2019 and Steve Harvey show (2014 to 2015). 
The TV host's books include Move on, Move up (2008), The Ten Commandments of Health and Wellness (2007), and Birthing Your Dreams: God's Plan for Living Victoriously (2003). 
Paula White's Net Worth
Paula has a net worth of $5 million, according to Celebrity Net Worth. 
Married Life With Jonathan Cain
Paula is married to Jonathan Cain. The couple met on a flight to a flight to San Antonio and started dating. They got married in a low-key ceremony in December 2014 in Ghana. The ceremony was followed by a public wedding a year later in April.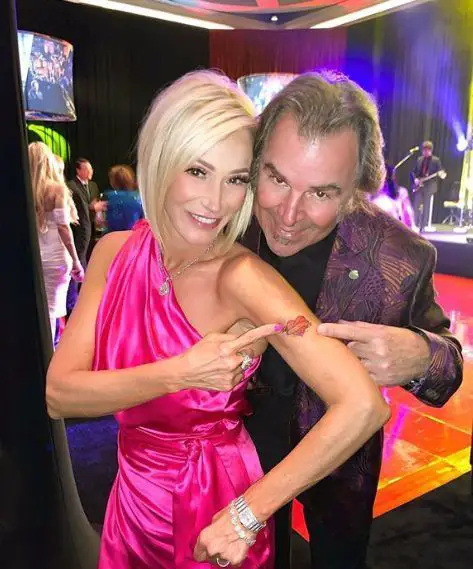 Paula White with husband Jonathan Cain in February 2020 (Photo: Paula White's Instagram)
The union is the third marriage for both Paula and her husband. 
Who Is Jonathan Cain?
Jonathan is a pop singer known for his association with Bad English, The Babys, and Journey. 
Celeb With Same Name:- Jonathan Adler's Husband & Net Worth Details
Before finding fame with the bands, he launched his first LP named Windy City Breakdown in 1977. 
Paula's Past Marriages
Paula got pregnant in February 1984 and married the baby father, Dean Knight, a musician. She gave birth to their son, Bradley Knight, in November of the same year. 
Three years after, in 1987, Paula and Dean's relationship was not going well. Finally, in 1989, she met Randy White, associate pastor of Damascus Church of God in Maryland, and fell in love. Like Paula, Randy was also married. Both the lovebirds divorced their respective spouses and got married in 1990. 
However, the marriage ended in divorce in 2007. 
Affair Rumours 
In 2010, Paula got photographed holding hands with Benny Hinn- her fellow evangelist- in Italy; National Enquirer published the photo.
After the rumors of Paula's affair with Benny, she left the Without Walls International Church. She had co-founded the church (previously known as South Tampa Christian Church) with her ex-husband, Randy White, in 1991. 
Husband's Past Marriage
Jonathan Cain was first married to Tane McClure. After the end of the union, he tied the knot with Elizabeth Yvette Fullerton on 17th February 1989. The marriage ended in a divorce. Jonathan and his second ex-wife share three children. 
Paula's Bio And Early Struggles 
Paula was born on 20th April 1966 in Tupelo, Mississippi. Her parents are Donald and Janelle Furr.
Paula's father committed suicide when she was five years old. 
Celeb Who Perished From Suicide:- Caroline Flack Death
After the incident, her mother struggled to provide for the family. During the struggling period, Paula was reportedly abused by multiple numbers of people, which included relatives, neighbors, and caregivers. The abuse took place during Paula's childhood years from age six to thirteen. 
 Facts On Paula White 
Paula found her Christian calling as an 18-year-old. 

She is a Taurus.