Entertainment
Pierson Fode Wishes To Be Dating; Sparks Romance Rumors In An Interview
Pierson Fode Wishes To Be Dating; Sparks Romance Rumors In An Interview Actor Pierson Pode is in the similar situation, and he has openly shared that he has a crush on a beautiful girl. But the million dollar question is does she like him? Is she showing any interest in him?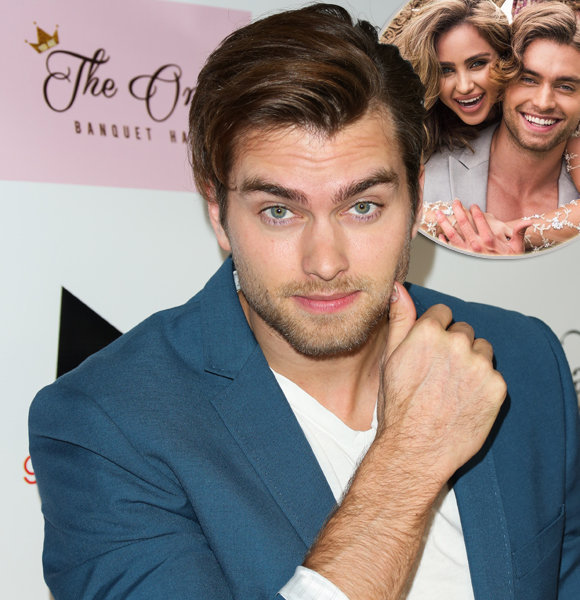 To share your liking for someone without fearing of rejection needs courage. And it's wise to share your feelings, as there is a chance she may just like you for that. Taking a chance can lead one to the idea if there lies a potential relationship or not.
Actor Pierson Pode is in the similar situation, and he has openly shared that he has a crush on a beautiful girl. But the million dollar question is, does she like him? Is she showing any interest in him? Let's find out.
Will Pierson Pode Dating Wish Comes True?
The Bold and the Beautiful fame Pierson Fode is fueling the romance rumor between him and the Dancing With The Star fame Sharna Burgess.
In an interview on May 1, 2017, Pierson confessed his crush on Sharna Burgess and revealed his desire to date Sharna. Peirson divulged,
"She's a babe, she is so hot. Oh my god, it's shocking. I mean, I have a crush on her for sure, I don't know if we're dating."
When the interviewer asked if he has gone out with Sharna on a date, he replied,
 "Maybe, who knows."
Once again he repeated his wish to date the beautiful dancer, Sharna.
"I wish we were dating, I think we should make it happen."
However, Sharna Burges was previously linked with her Dancing With The Stars partner Bonner Bolton. But she denied and cleared the ongoing rumors as,
"I am absolutely single."
Moreover, she added,
"We have a great chemistry getting to know each other, but obviously we're three weeks into this thing of having met each other on his ranch and we're having a lot a lot of fun. But our priorities obviously are getting Bonner through this competition as far as he can possibly go. So in the mean time, we're having a lot of fun getting to know each other and we do have great chemistry."
He might be trying to impress Sharna, as, on February 16, 2017, Pierson shared his wish to teach Sharna Burgess dance steps through Twitter.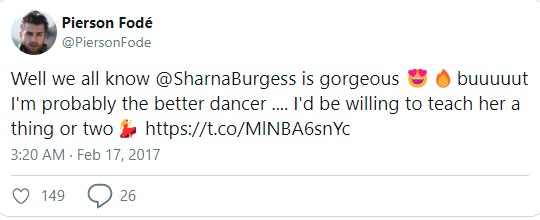 Sharna tweeted back, challenging him for a face off with though Twitter on February 17, 2017.
Let's wait and watch if our hero succeeds in winning Sharna's Love!
Best of luck Pierson!
He's fallen for Sharna, but Pierson has not lacked girls in his life. Before Sharna, Pierson dated the gorgeous Victoria Justice.
Pierson began dating Victoria Justice in late 2013 after meeting on the audition for the movie Naomi And Ely's No Kiss List. During the promotion of his movie, he shared the most LOL-worthy date. He stated,
"Probably one of my favorite things I've ever done during a date was in Hollywood - if you're on Hollywood or Sunset Boulevard the star tour buses always drive by - and I was on a date, with someone who wasn't famous or anything, but I grabbed a restaurant menu and dropped it in front of her face when a star tours bus was driving by and I yelled 'Go away! Don't take her picture!' and everyone started taking pictures."
Back in September 2015 in an interview, Victoria gushed about her Pierson.
"I met him at the audition and it was cool, we became friends and he's a great guy. He's really sweet. And just a great really tall person."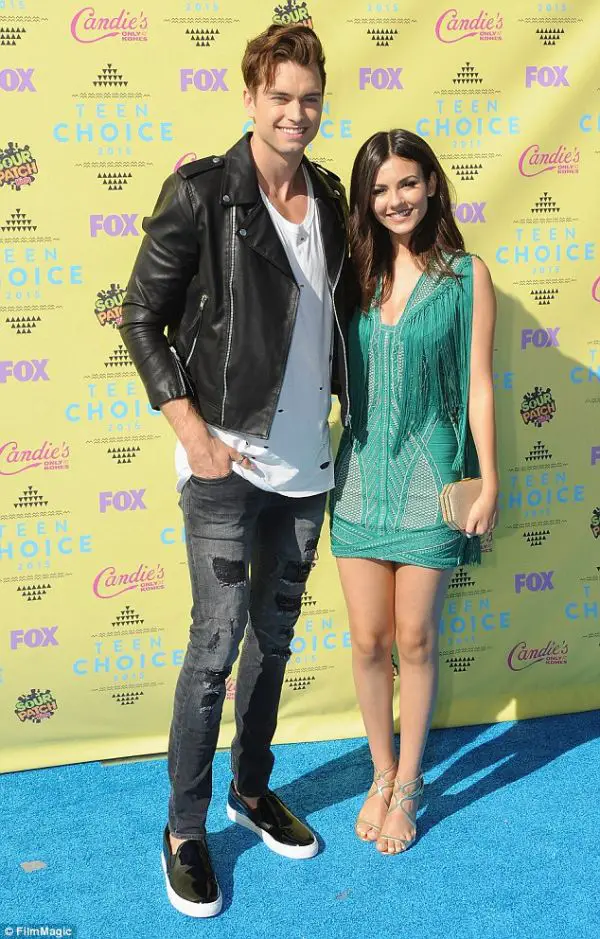 Caption: Pierson Fode with his ex-girlfriend, Victoria Justice at the Teen Choice Awards in August 2015 held in LA.
Photo Credit: Daily Mail
However, something did not work out between them, and their dating affair suffered a split in November 2015, but they did not give any comment over the break-up.
Pierson Fode's Family:
Thanksgiving is one of the occasions which brings loved ones together. And on Thanksgiving 2015, he surprised his family by flying home and shared a picture where he was wearing a box via Instagram on November 26, 2015.
The support of the parents is the most important thing for any child and Pierson is blessed with supportive parents. On the occasion of winning the nomination for Day Time Emmy, he thanked for the support of his parents through an Instagram post on May 2, 2016.
It seems that Sharna Burges is interested in Pierson Fode so does this mean we have a new couple alert in town? Stay with us for the update!