American actress Presilah Nunez has shown some high acting potentials despite her young age and lack of experience.
Limited to TV audiences, for now, Presilah could someday make the switch to movies and become a famous actress in Hollywood. While it may take some time, Presilah has enough years to spare.
Presilah Nunez Bio
Born on 18 February 1990, in Massachusetts, Presilah was raised alongside her younger sister in a family of four. Her family, originally from the Dominican Republic, had moved to the states nearly 50 years ago. Due to her lineage, Presilah belongs to Dominican ethnicity.
Another Celeb With Dominican Heritage:- Dascha Polanco's Struggle On Raising Children Without A Husband And Mother!
Presilah is exceptionally close to her parents and sister, despite not living together with them. Her sister is a pharmacist by profession.
Like her sibling, Presilah is also successful in her line of work. The 29-year-old actress has shown some talent in acting with her realistic performances in TV shows like Secrets and Lies, Dear White People, NCIS, and Designated Survivor.
From her career, she has accumulated a sustainable net worth for herself. Although the exact amount of her net worth is still under review, she assumably makes an earning of $50,305 per year.
Height & Weight
Other than her acting skills, Presilah is often praised and even stalked for her beautiful looks. Her body measurements are balanced according to her size and weight.
The actress stretches at the height of 5 feet 8 inches (1.73m) and weighs nearly 68 kgs (150 pounds). 
Engaged, Pregnant Rumors, Marriage Plans
Despite being rejected for prom in high school, Presilah turned out to be a beautiful woman and even succeeded in securing a handsome guy for herself. 
She has been dating Brett Davis for nearly five years now. Brett, who somehow looks like a love child of Drake and Zachary Quinto, is also an actor known for shows like The Haves and The Have Nots and 9-1-1.
Onscreen Dating Turns Real:- Mixed Ethnicity Actress Lia Soberano's Now Officially Dating her Onscreen Boyfriend!
The couple got engaged back in December 2018. Presilah shared the news of her engagement via a few snapshots of herself wearing her shiny diamond ring. Fans expected the duo to get married immediately, but the actress and her future husband have delayed the wedding plans until 2020.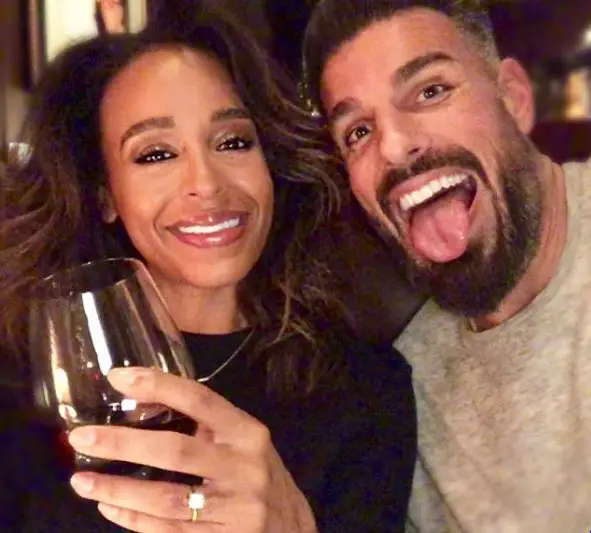 Presilah Nunez and fiance Brett Davis celebrate their engagement in December 2018 (Photo: Presilah Nunez's Instagram)
Meanwhile, there have also been rumors of Presilah getting pregnant with Brett's child. However, the talks were later dismissed by the actress, but she did express her will to have kids someday.
As of now, the couple is happy with their family of three, which includes a pet dog.