Entertainment
Prison Break's Star Dominic Purcell Finally Back On Set After Terrible On-Set Injury! Thanks to His Girlfriend!
We have been hearing that love heals wounds far faster but is it really applicable in real life? Dominic Purcell was injured while filming Prison Break on set and was injured very gravely, however; he is now on the sets so we wonder if it was his girlfriend who did the trick with her love and care for his speedy recovery. Let's step on some details.
In May 2016, Dominic had a pretty serious accident on the set of Prison Break revival when an on-set iron bar dislodged and fell on his head, busted it open pretty severely and also broke his nose in two places. A few days later, Dominic shared a picture on his Instagram with a badge on his nose and severe wounds on his head which required having more than 100 stitches.
The accident happened while filming an action scene where he had to save his TV brother Wentworth Miller, a gay man in real life. He felt bar struck his head but the impact could not knock him out and he was on his knees with blood flowing.
In an exclusive interview with ETonline, he said,
"I have more layers of skin than the average person around my skull and because of my build, I didn't snap my neck. I was lucky on all fronts."
Speedy recovery by the love of his girlfriend?
He was taken to Casablanca from Marrakesh for treatment and was taken care by his girlfriend AnnaLynne McCord, with whom he got back together in 2015 after he was diagnosed with a skin cancer. AnnaLynne took over the charge of everything as Dominic explained,
"She basically took charge of the whole situation. She went into raging mama mode and poured whiskey on my head because that's all we had at the time and wrapped my head in gauze. Yeah, it was pretty gnarly."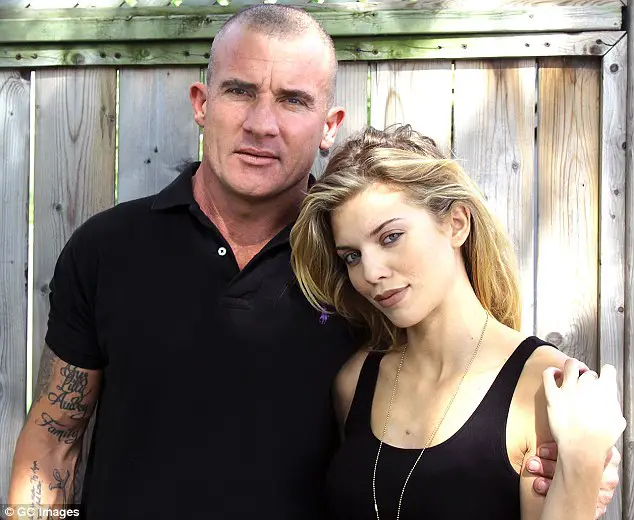 Caption: Dominic Purcell with girlfriend AnnaLynne in 2014.
Source: dailymail.co.uk
The couples were best friends who started dating as girlfriend and boyfriend in 2011. Before AnnaLynne, Dominic had another woman in his life as he was married to a wife named Jennifer Williamson from 1998. The couple separated in 2008 in a friendly manner with four children. However, Dominic and AnnaLynne are determined to start a family of their own as his girlfriend has thought of getting married but does not want to rush.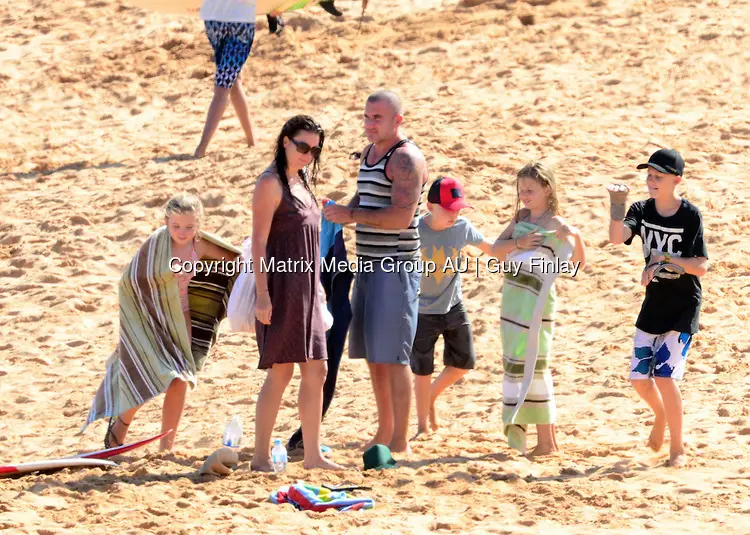 Caption: Dominic Purcell and ex-wife Rebecca Williamson with their four children, from right to left Joseph, Audrey,and twins Augustus and Lilly in 2011.
Photo Credits: Matrix Media Group AU
Net worth he piled up from acting career:
Dominic Purcell is currently playing the role of Mick Rory in Legends of Tomorrow and can be in Arrow and The Flash in the same role. He currently has a net worth of $2 million which he earned from his extensive career in acting and has Prison Break: Sequel in post-production which is due for 2017.
His other works mostly include his Prison Break franchise, Prison Break: The Final Break 'Video' (2009), voice job in Prison Break: The Conspiracy (video game), and Prison Break (2005-2009). Apart from the Prison Break franchise, Dominic can be seen in Hijacked, House of The Rising Sun, Breakout, and other much more.