Entertainment
What Is Rachel De Barros Age & Net Worth? "All Girls Garage" Star's Bio
Since an early age, All Girls Garage star Rachel De Barros had an affinity with everything electronics. Many summers at to her family's car collision shop during her teenage years initiated a love affair with cars that continue today.
With numerous business ventures currently at work, Rachel's infatuation with automobiles has helped her amass a substantial net worth. But has it, in any way, stopped her from getting married? Is her work of line the sole reason behind her singlehood?
Delve into the reality star's biography to find out & more including her birthday & ethnicity!
Bio Unveils Net Worth, Age, Birthday, Ethnicity & Family
Rachel's history with cars run deep; after all, it was her family who helped her feed into her childhood obsession.
Another Celebrity With Same Name:- Is Fox Sports' Rachel Bonnetta Married? Bio Reveals Husband & Family
Born in the family whose lineage traces back to Brazil, the All Girls Garage host, age 40, first got introduced to the beautiful world of cars as a teenager by her uncle who owned a collision shop in Washington D.C. A daughter of an electrician, her love for "whips" continued well into her college years.
To make ends meet, the Ohio University Alum, age 40, started her car-maintenance business on the side while still pursuing a degree in marketing.
Later, she would go on to found a boutique design & interactive company Purple Star Media after honing her skillsets by finishing the Automotive Training & Repair Program at the Philadelphia Automotive Training School.
As she began gaining notoriety in the automotive circuit, her current co-hosts Cristy Lee & Sarah "Bogi" Lateiner took notice and approached her about replacing their former co-host, Jessi Combs. And to which, Rachel - who is of Brazilian-American ethnicity - gladly obliged.
Other Velocity Personality:- Allegedly Gay, Chris Jacobs Enjoying Moments With Girlfriend in Paradise, Is He Married? His Wife!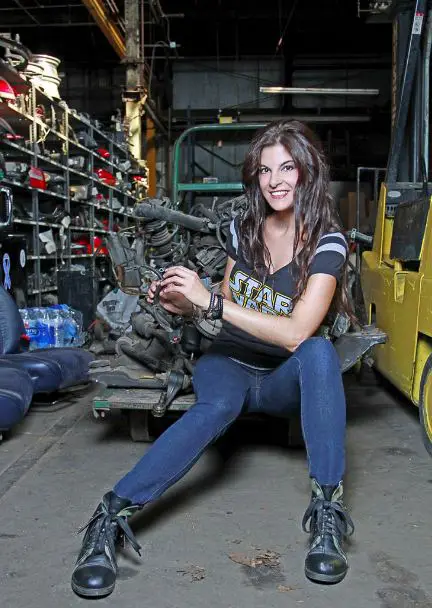 Rachel poses for a promo photoshoot for All Girls Garage (Photo:- hotcars.com)
In addition to taking the helm of All Girls Garage as its executive producer, she also acts as the cheif marketing officer, host, and executive producer for Gearhead Diva.
Born in 1978, Rachel - who celebrates her birthday on 8th April - has amassed a formidable net worth, believed to be in the eight-figure range, as a result of her business dealings.
Is Rachel De Barros Married Or Single?
For all her financial milestones, the SEMA Young Executives Network member has made little to no progress in the romantic front.
Celebrity Embracing Singlehood:- Lauren Southern Talks On Why She Isn't Married & Has Husband, Staying Single!
Forget getting married, Rachel doesn't even seem to have a man in her life to call a boyfriend. No living person in the whole of America is as single as her, in all honesty.
That said, she does like seeing her friends & family members get hitched; so much so that she will ever pick up the violin amidst the ceremony to make a statement.
Rachel dancing & playing the violin at a wedding (Rachel De Barro's Twitter)
Whatever form of affection or appreciation the Gearhead Diva host lets on out on social media, it is either directed at her co-hosts, parents or fans.