Rebecca Zamolo With Husband! Destined To A Lot of Wedding Anniversaries. The YouTuber, actress, writer, and producer, Rebecca Zamolo, has already achieved the milestone of marriage with her husband and going by the looks of their married life, they seem to be destined to celebrate profuse wedding anniversaries in the upcoming years.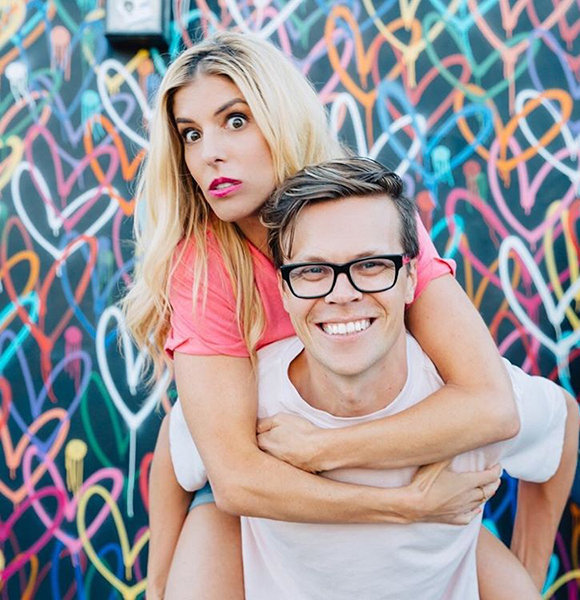 It is remarkable how love makes two people inseparable from strangers. To cherish and strengthen such union, such lovers usually exchange vows and head on a journey of married life together.
YouTuber-actress Rebecca Zamolo has already achieved such milestone with her husband and going by the looks of their married life; they seem to be destined to celebrate profuse wedding anniversaries in the upcoming years.
Let's take a closer look at Rebecca's bewitching married life.
Rebecca Zamolo's Married Life With Husband 
The wedding vows, in general, might sound corny, but when the one to exchange it pours their emotions out, the moment gets magical.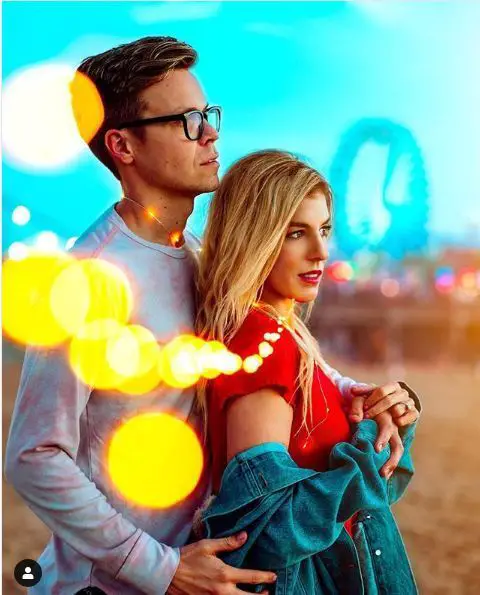 Rebecca Zamolo poses with husband Matt Yoakum on 29th March 2019 ( Photo: Rebecca Zamolo's Instagram)
Rebecca, who is also a writer and a producer, was lucky enough to share vows with her husband, Matt Yoakum. The actress and her director-producer husband tied the nuptial knot on 17 May 2014. Matt promised his wife,
"I willalways be your lead singer when you need it, or background vocals, or even the weird guy in the song that just repeats whatever you say. I'm there."
Likewise, Rebecca declared,
"Some people go a lifetime searching for their soulmate but I've already got to spend over a decade with mine... I vow to always be your cheerleader, your number 1 fan, your strongest supporter."
The happiness of getting to marry the love of her life, with whom she shared over a decade of togetherness, was evident throughout their wedding day. Moreover, although she was so excited to call Matt her husband, she professed that he was her "forever boyfriend."
A-List Couple's Marriage:- Sophie Turner Wedding, Joe Jonas, Engaged
What's more important is the fact that their love doesn't seem to fade away with time. Instead, it keeps strengthening!
On the occasion of Rebecca and Matt's third wedding anniversary, Matt shared a picture of them dancing on the wedding, accompanied by a profound caption that stated his love towards his beloved wife.
Additionally, the smile that this couple carries while together says a lot about their relationship.
The happily married couple, who first met on the set of a music video, provided a hint at their plan of having a baby via a Q&A video on YouTube. While answering the question 'Are you planning to have a baby?' Rebecca seemed unsure; however, her husband Matt was quite confident that 2018 could be the year for announcing the happy news. 
But, instead of having a child, Rebecca became an aunt.
Welcomes New Member
Rebecca was the happiest person on earth on 13th March 2019. The reason behind the good ecstatic vibes was she welcomed a new member in her family.
TV Star's Baby Bliss:- Joana Pak Baby Girl, Husband, Wedding
The new guest in question was not her child but her sibling's kid. She was over the moon, welcoming Cameron Elizabeth into the world. The new auntie shared multiple pictures of herself posing with the baby.
Rebecca's Bio
The YouTuber was born on  28 September 1984 in Martinez, California. She was a gymnast at the national and regional level before finding her fame with the internet audience. Interestingly, she also worked as the sports at the University of California, Santa Barbara college station's local Gaucho News.
Today, she runs two successful channels; self-titled Rebecca Zamolo & Matt and Rebecca- along with her husband. While the former earns her a yearly averaged salary between $182.4K - $2.9M, latter also trails along with $93.9K - $1.5M per year.