Entertainment
Rhonda McCullough Keeps Bernie's Love and Legacy Alive Even After his Death! Never in The Lookout For New Husband?
In the year 2008, on August 9, the world encountered a significant loss in the comedy domain. The loss that day was not just one of the modest forfeits, but a loss of a legend, Bernard McCollough, better known as Bernie Mac. But the family of Bernie felt it the most difficult way!
Rhonda McCullough, the wife of Bernie, took the plaintive incident robustly and supported the family even after the death of her husband. The dedication shown by the woman is an applaudable task as she kept her man's love and legacy alive and is continuing to do so still today.
The Day That Turned To Be History:
Bernie Mac was a comedian, actor and also a voice artist who gained popularity as a stand-up comedian. One of the notable shows of the comedian is 20th Television's The Bernie Mac Show, which aired from November 14, 2001, to April 14, 2006.
While his popularity strengthened with time, he underwent some health issues with pneumonia, which got more complicated in July 2008 as of which he got admitted to a hospital.
He had also been suffering from sarcoidosis, a chronic autoimmune disease for many years and died on August 9, 2008, at the age of 50 due to heart failure during a bout with pneumonia.
This incident was hard to believe for Rhonda, and she even called Dr. Rene M. Earles to be the cause of her husband's death.
Consequently, she filed a suit, according to which:
"Dr. Rene M. Earles, a dermatologist who regularly treated Mac for the skin lesions caused by his sarcoidosis, was negligent by failing to recognize signs of medical distress or get emergency attention when Mac came to his Chicago office on July 17, 2008, three weeks before his death."
It went further as:
"Mac arrived at Earles's office with a fever, fatigue and trouble breathing. During the nine hours Mac spent there, he had unstable vital signs, and both rapid heart rate and breathing, but Earles didn't "recognize cardiopulmonary instability" or "abnormal vital signs and signs of impending respiratory failure" and failed to either call 911 or get the actor to an emergency room."
As it was a wrongful claim to the doctor, police didn't take any immediate action against him. The doctor spoke to Chicago Sun-Times defending him.
Bernie's was entirely devastating. Look, Bernie was my patient. Bernie was my friend. We became extremely close – we were like brothers."
He also said that he gave oxygen to Mac and let him rest for about four hours after he arrived at his clinic and further medicated him. However, the case was later withdrawn by Mac's widow.
Rhonda and Bernie's Marital Life:
Rhonda McCullough got married to Bernie Mac in 1977, three years after they met in high school. The couple had a blissful marital life and shared a daughter named Je'Niece Childress, who was born in 1978 and celebrates her birthday on January 21.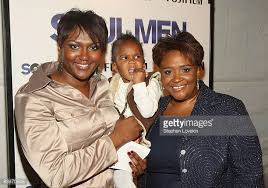 Caption: Bernie's widow Rhonda along with her daughter Je'Niece Childress and granddaughter Jasmine Childress.
Photo Credit: Getty Images
The family ran smoothly until a day when it suffered a significant loss with the demise of Mac in 2008, but Rhonda managed the family gracefully with the help of her daughter along with friends and other relatives.
With the stability of the family, Rhonda also got involved with The Bernie Mac Foundation, which was created by Bernie himself a couple of years before his death.
Some sources also reveal that she went for her second marriage with Horce Gilmore, but she is yet to confirm any truth behind the relationship.
She now continues with the foundation with her daughter to keep her dead husband's legacy and began helping those people suffering from sarcoidosis.
Stay with us for the emerging updates on Rhonda McCullough!