Remember Dick from the famous British children show, Dick and Dom...After the end of the long-running series, Richard "Dick" McCourt hasn't much screamed "bogies" in public...He has grown up to be a responsible adult, unlike his former TV persona...Richard also leads a passionate romance with his girlfriend of years and may soon get married to her...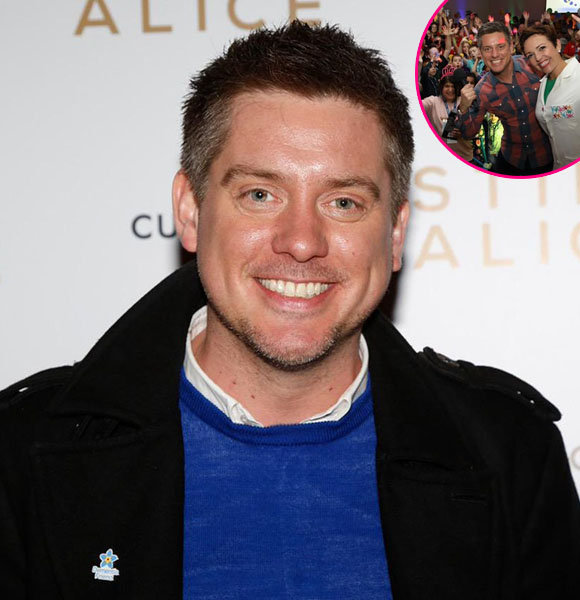 Remember Dick from the famous British children show, Dick and Dom? In the long-running series, Dick, alongside his partner, would involve in mischievous activities and irritate strangers.
After the end of the show, Richard "Dick" McCourt hasn't screamed much "bogies" in public. He has grown up to be a responsible adult, unlike his former TV persona.
Dating Since 2015, Plans For Getting Married?
Richard McCourt is involved in a committed relationship with Katrina Bryan, a TV actress known for her performances in Sea of Souls, Taggart, Nina and the Neurons and more.
Dating since 2015, Richard and his girlfriend's relationship has witnessed the couple travel around the world. Not only vacationing, but the couple are also often seen attending public events, including award functions, charitable shows, and more. 
Dating & Engaged:- One Up for Love! Elisa Pugliese and Keegan-Michael Key are Engaged After Dating for Quite a Time
Also, Richard and his partner are known for working for the welfare of children like they did in 2018. In October 2018, the couple alongside British Airways collaborated to send a group of children with disability and illness to Florida for a vacation.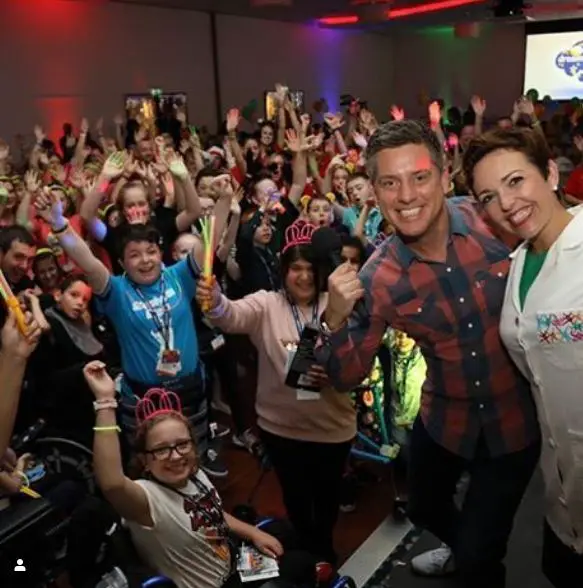 Richard McCourt with Katrina Bryan spent time with disabled children in October 2018 (Photo: Katrina Bryan's Instagram)
While Richard and his girlfriend have no immediate plans on getting married, it seems like the day for them to pronounce each other husband and wife is not far ahead.
Richard McCourt Age, Salary & Parents
Richard was born on 12 August 1976 in Sheffield, South Yorkshire, England. Born in a middle-class family, his mother Helen McCourt worked as a medical secretary.
After his mom got diagnosed with Pick's disease - a type of dementia - in 2005, his father was left to take care of his mother. Richard soon moved to Sheffield with his parents and even started promoting awareness against the illness.
Actress' Deteriorating Health:- Jenelle Evans Is Hospitalized, What Happened & What's Her Health Status?
He now works as an ambassador and has even contributed to raising charity of the treatment of the said condition.
More About Richard, Gay Controversy
Richard completed his diploma level education from Sheffield College. Later, he pursued higher education in the field of media, and eventually joined the industry as an actor.
Richard - who stands tall at the height of 5 feet 10 inches (1.77 meters) - is mostly renowned as Dick from the British children show Dick and Dom, in which he starred alongside Dominic Wood.
Further, he has performed in other shows like Are You Smarter Than a 10-Year-Old?, Dick and Dom in da Bungalow, Diddy TV, and Dick and Dom's Funny Business.
The show, Dick and Dom, was often criticized for promoting homosexuality. Some of the worried parents even claimed that the star duo was gay and trying to teach gay behaviors to children. Also though there are still many issues with the show, the gay angle can be sidelined as Richard is happily dating his girlfriend.
As for his works as an actor, Richard is paid a salary ranging from £10k to £120k. His net worth is still under review.