Entertainment
Rick Harrison Married Life With Wife & Family Balanced Perfectly | Bio Unveils
Rick Harrison is a renowned businessman and television personality, famous for his History channel show Pawn Stars. Rick's personal life replicates his professional life in terms of the ups and downs he faced. Married to his third wife..., Rick...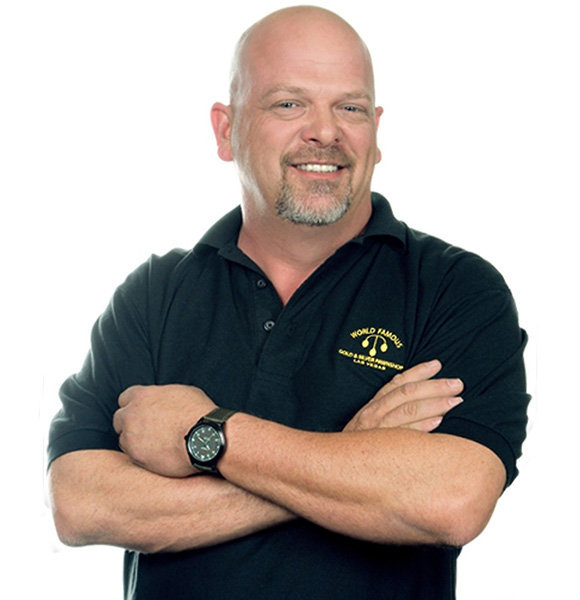 An American businessman and a famous television personality, Rick Harrison is no stranger to fame and fortune.
However, the Pawn Stars star has in no sense let his stardom get to his head and has been one of the few celebrity figures who has managed to strike a perfect balance between his personal and professional life.
Unlucky with marriages for the first two time, Rick hopes the third time to be his charm as he is married with what he believes is the love of his life in the form of his third wife. However, there is much more to explore within the Harrison family.
With his family well behind him in every decision he takes, Rick remains fully supported in every career decision he takes. This has seen him expand his empire one step a time to own a massive net worth.
Third Time's The Charm: Happily Married With Wife
Rick, quite a tough man from the outside, has always preferred to maintain her personal life under the wraps.
However, with his show Pawn Stars highlighting the family business and the different aspects of the Harrison family, viewers of the show has had a decent idea about Rick's personal life.
Married two times before with Kim Harrison (1982-1985)  and Tracy Harrison (1986-2011) had rubbished all previous rumors suggesting Rick as gay. It also seemed that Rick had lost all hopes of happily ever after with his significant other until he met his current wife Deanna Burditt.
With both of them coming from two failed marriages, and three children of their own, the couple seemed to be the perfect match for each other, and so has it turned out to be.
You May Also Like: Danny Koker Keeping Family Life With Wife Under Sounds Of Exhausts Or Doesn't Have One?
Rick proposed Deanna in 2012, about a year after they met each other and tied the knot the following year on July 2013. The couple said 'I Do' in front of the 100 close guests they had during a romantic sunset ceremony at the Ritz Carlton in Laguna Niguel in California.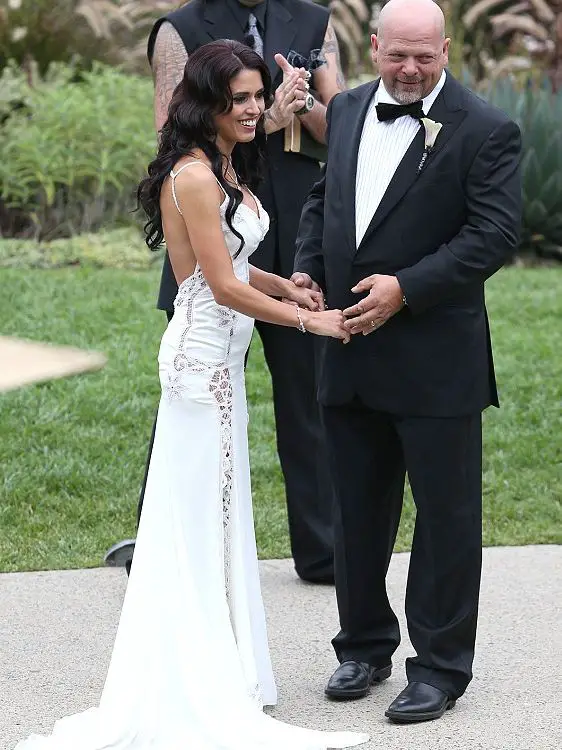 Rick Harrison along with his wife Deanna on the day of their marriage. (Photo: dailymail.co.uk)
Read Also: Corey Harrison Is Married - Again! Shows Off His New Wife Who Might Just Give Him A Family
In an interview with Review-Journal in 2012, Rick was quite clear why he was head over hills for his then fiance.
"She's nice, down to earth, we've both got the same disgusting sense of humor. I won't go into that. She's really, really smart. We sit around and talk about history and politics together. She knows all that stuff. She's the perfect girl for me."
With Rick's three sons from past relationships Corey Harrison, Adam Harrison, and Jake Harrison accompanying him as his best man and Deanna's three daughters acting her bridesmaids, the marriage seemed a perfect fit.
And so has it turned out to be as the couple has been going extremely strong in their married life five years down the line.
Bio Reveals Family Complexion
One thing that seems more interesting than their show Pawn Stars seems to be the family complexion that the Harrison family shares. Rick, along with his wife and children, also remains equally close to the other members of his family.
However, the family was struck with a huge loss on June 2018 after the passing away of Rick's father, Richard 'Old Man' Harrison. Losing his battle with Parkinson's Richard passed his will to his wife JoAnne Rhue Harrison and sons Rick and Joe, leaving his son Chris out of the will.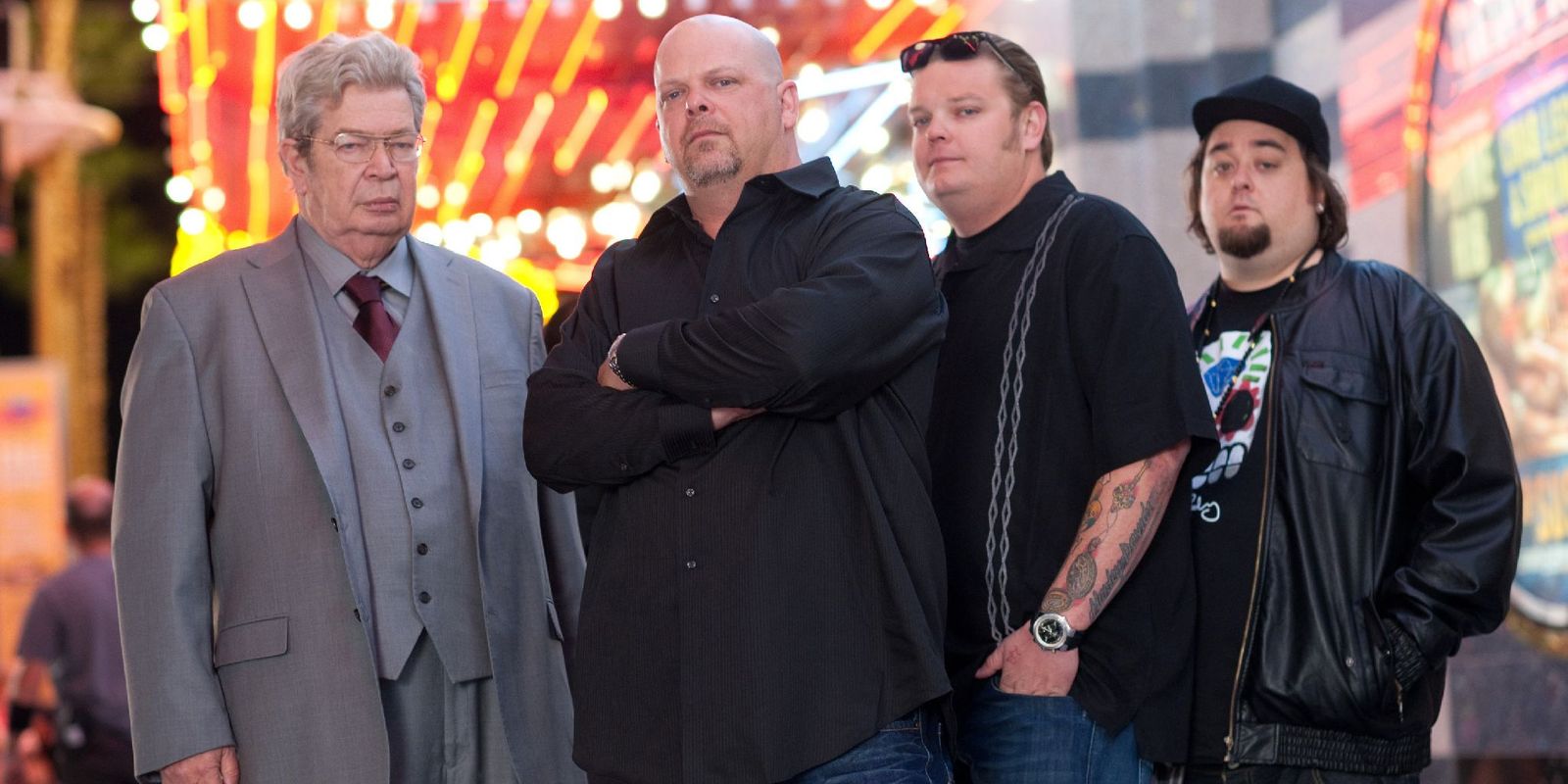 Rick Harrison along with his father Richard on his right, his son Corey on his left, and his Pawn Stars cast Chumlee. (Photo: Usatoday.com)
Don't Miss: Stephen Hillenburg, Spongebob Creator Dies; Cause Of Death At Age 57​​​​​​​
Post the death of his father, Rick shared a heartfelt condolence through his Instagram account on 25 June 2018.
"Today I lost a friend, a father, a teacher and so much more. The Old Man lost his long battle with Parkinson's this morning. Love you Dad. See you on the other side."
Besides his father, Rick remains extremely close with his three sons Corey, Adam, and Jake as well. While his other two sons prefer not to appear on Rick's show, Corey remains an integral part of the Pawn Stars.
Born and raised in North Carolina, it is through his own hard work and dedication that Rick has established a business so successful. The 53-year-old, thus, remains properly compensated for his efforts now with his net worth amounting to $8 million.