Entertainment
Who Is Ricky Steamboat's Spouse Now? Relationship Timeline
Ricky Steamboat is a retired professional wrestler. He was inducted into the WWE Hall of Fame by his long time rival, Ric Flair, in 2009.
Throughout his career, he was a one-time Intercontinental Champion in WWF, one-time NWA World Heavyweight Champion, four-time United States Heavyweight Champion, four-time Television Champion, and eight-time WCW World Tag Team Champion.
The wrestling legend returned to WWE in 2005 as a road agent after eight years of retirement. He also refereed the match between John Cena and Edge for the WWE Championship in 2006. Ricky donned on the mantle of a referee once more in July 2007 for another title match between John Cena and Randy Orton.
Spouse
Ricky "The Dragon" Steamboat is married to Sandi McAlister Blood. The two tied the knot in 2017.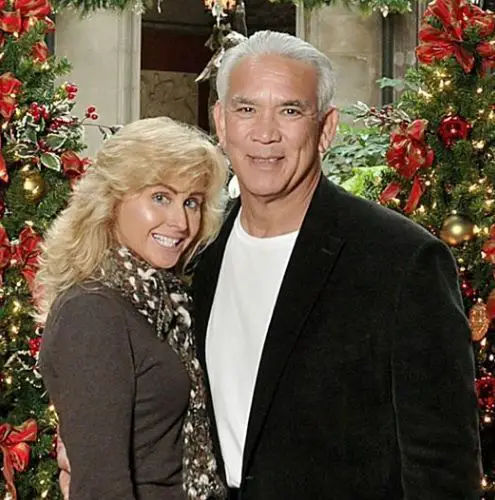 Ricky Steamboat with wife Sandi McAlister Blood in November of 2015 (Photo: Sandi McAlister Blood's Facebook)
Previously, he was married four times. First to Maureen Muriel Powers on 8 January 1977. The relationship ended on 16 June 1980. Following his first split, he was married to Debra Blood (14 June 1981-15 April 1985), Bonnie Blood (18 May 1985-15 January 2003), and Claudia Sobieski (21 August 2004-2012).
Son
The retired wrestler has a son named Richard Blood Jr. with his third wife, Bonne Blood. He was born on 7 July 1987.
Famous Wrestler's Daughter:- Charlotte Flair Husband, Family, Net Worth
Richard Blood Jr., like his father, is a wrestler. He made his debut on 25 July 2008 and went by the ring name of Richie Steamboat. Richie was the second FCW Grand Slam Champion and had won Florida Heavyweight Championship, Florida Tag Team Championship, and Jack Brisco 15 Championship.
He retired on 15 April 2015 after seven years of professional wrestling.
Ricky Steamboat's Age & Bio
The former WWF Intercontinental Champion's real name is Richard Henry Blood. He was born on 28 February 1953 in West Point, New York.
He trained under Verne Gagne and first made his name in the old Mid-Atlantic territory in the Carolinas. He was given the name "Ricky Steamboat" due to his resemblance to wrestling legend Sammy Steamboat.
Net Worth 
According to celebritynetworth.com, Ricky Steamboat has a net worth of $1 million.
Interesting Facts
He was the "Inside Wrestling" Rookie of the Year for 1977.

Ricky got his ring name from wrestling promoter Eddie Graham.

He is of Japanese descent.

Ricky had a major feud with Randy Savage over the WWE Intercontinental Title, which he won at WrestleMania III (1987)

He stands at the height of 6 feet (1.83 meters).