Putting his driving skills to the test and guiding the race across the finish line, Rickey Stenhouse Jr. made his transition from United States Auto Club to NASCAR. He did so by winning back to back NASCAR Nationwide Series Championships in 2011 and 2012.
With 35 top-five finish and more than 50 top ten spots during his championship season, the racer was the new young sensation in the motorsport circle.
Relationship Status
Similar to racing in the track with his car, Rickey Stenhouse Jr. is running laps with his dating relationships.
Previously, he dated a famous race car driver, Danica Patrick. The news of their dating arose in late 2012 when they were preparing for the NASCAR Cup Series Rookie season. After spending five years together, the couple released a public statement of their breakup in 2017.
More On Rickey's Ex-Girlfriend:- NASCAR Racer Danica Patrick Is Need Of Of Some After Sponsor Nature's Bakery Turned Their Backs
Rumors suggested that the break up took place because of Rickey's inability to commit towards marriage.
As of now, the two time Nascar Champ is dating a new girlfriend, Brittney Long.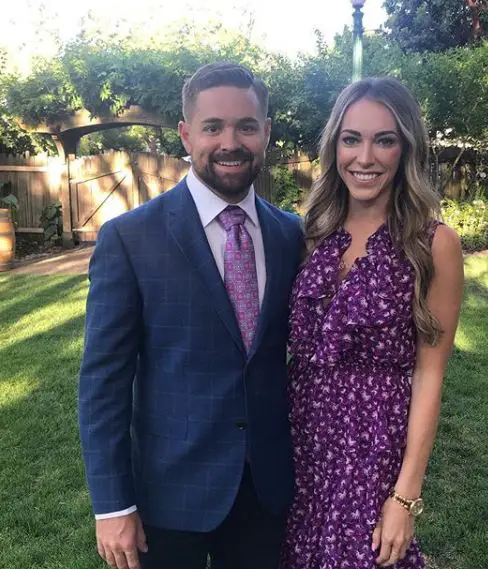 Ricky Stenhouse and girlfriend Brittney Long celebrates her birthday together in July 2019 (Photo: Ricky Stenhouse's Instagram)
The couple frequently posts pictures of each other on their respective social media handles. Their affection indicates that the two could be a perfect future husband and wife for one another.
Family, Age, Sister
Born as the son of legendary race car driver Rickey Stenhouse Sr. on 2 October 1987, Ricky Stenhouse Jr. carried his family name in the racing circuit.
Growing up with his sister Stacy Stenhouse in a family of four, Ricky chose to follow the footsteps of his father in racing. At the age of six, he participated in go-kart racing events and learned the skills of racing in a real track.
Inspirational Athlete:- Amberley Snyder Bio, Husband, Net Worth, Family
He has already mustered 47 wins, and 90 podium finishes at the start of his racing career. Today, he is the most successful Nascar driver with 243 career starts, 15 top 5 finishes,33 top-ten finishes and two wins and pole each.
For 2019, he is driving the Number 17 Ford in the Monster Energy NASCAR Cup Series for Roush Fenway Racing.
Net Worth & House
Flaunting the number seventeen on his racing car, Ricky Stenhouse is a tough customer to beat when he gets behind the steering wheels.
He started his racing journey in 2008 when he began stock car racing on the ARCA Racing Series Circuit. Gradually, he continued acing the sport and tried the unchartered territory within the games.
The rookie driver backed up his consistent performance and won the 2010 Rookie of the Year in NASCAR Nationwide Series and 2013 NASCAR Sprint Cup Series Rookie of the Year.
From all his accolades in the sport, he has bagged a whopping net worth of $20M for himself. That's not all; he owns a house in Mooresville, North Carolina, which contains a whole dirt track for his entertainment.
Also, a regular paint resembling the paint of his racing cars costs $9.99, which reflects the success and fortune of the racer.