Entertainment
Robert Wahlberg Bio: This Wahlberg Sibling Too Has A Wife
Everybody knows the Whalbergs: the family full of stars. Robert Wahlberg is definitely a familiar name among the pack.
He is not only known for his famous last name but also for his movie career that boasts various successful projects like Contraband and The Equalizer.
Well, you may know about his excellent career but what about his personal life?
Let's take a glance at Robert's dating life and family matters down below!
Robert Wahlberg is Married!
Descending from the family of star siblings, Robert Wahlberg resides in the Boston neighborhood where he was born.
Without any presence on social networking platforms, Robert is a simple introvert hiding his daily activities from the media.
But the sibling's romance is not plainly hidden, as Robert is already married to Gina Santangelo. Robert shares two children, Oscar and Charlie with his wife, Gina.
Robert, nicknamed as Bob, is already running on nearly twenty years of his married life.
The details of his marriage, however, are still in the shadow as expected of the secretive actor.
Already the best in acting, the actor is also the best as the father of his two kids. Robert and Oscar share a great love for baseball and bond well over it.
The 50-years-old is the constant supply of support for his sons to pursue every kind of activity to discover their interest.
No doubt, Robert is a family man who treasures his family as his top priority.
Robert Wahlberg's Short Bio:
Robert Wahlberg was born on December 18, 1967, to parents Donald Wahlberg and Alma Elaine, with eight other famous siblings like Mark Wahlberg, Donnie Wahlberg, Arthur Wahlberg, and Paul Wahlberg.
His father, Donald Wahlberg was a delivery driver, while his mother, Alma was a nurse's aid as well as a bank clerk.
His parents got divorced in 1982. He has three half-siblings, Scott, Donna, and Buddy who were born from his father's previous relationship.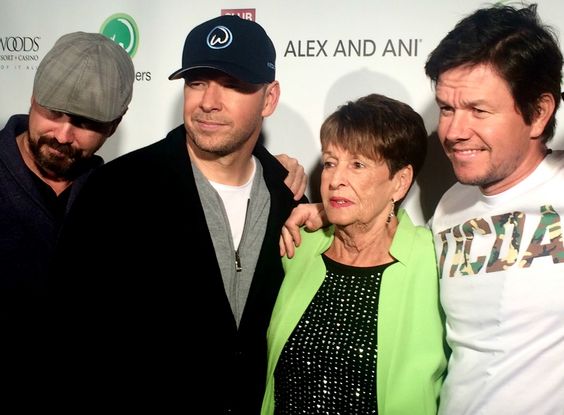 Caption - Robert Wahlberg with his siblings and mother talking about building "Wahlburgers" brand
Photo Credit - Pinterest
Despite having so many siblings, Robert admires each of them. He even looks to them for advice and insight in times of need.
That may be the reason he joined his brother, Mark's footsteps in acting.
Robert made his debut in the acting career in 1998 with the movie Southie. Later he portrayed a series of different roles for many movies drawing an awesome career chart.
His notable credits include The Departed, Gone Baby Gone, Mystic River, and The Equalizer.
His excellence in his career helped him garner the fortune of world-wide fame and the net worth of $2 million.
His two children are the next in line to surpass the Wahlberg name now.