Entertainment
Arthur Wahlberg: Everything You Need to Know - From His Age To Possible Married Life
It's the choice of a celebrity to share the details about their personal life or to keep their personal space far away from the limelight. However, fans would be fans, and they would love to know every possible detail about their favorite celebrity.
And for all the ardent fans of Arthur Wahlberg, we've brought you all the possible details about his life compiled in his bio while revealing his age and personal life details. Turns out he is born to a large family surrounded by siblings who also possessed acting as their career.
Talking about his love life, he prefers to keep it under his wraps but his fiance does not hesitate in flaunting their romance on the social media. However, the sudden disappearance of their romance from the social media has given rise to speculations.
Well, catch up with more information down below while getting acquainted with everything there is to know about this actor!
Bio Reveals Details On Siblings And Married Life
Arthur Wahlberg was born to his parents, mother Alma Wahlberg, and father Donald E. Wahlberg. He is the third child of his parents among the family of nine children.
Read Also: 'Animaniacs' Actor Jess Harnell Married With Wife Or Looking For Girlfriend?
Talking about his siblings, he has five brothers, namely, Jim Wahlberg, Donnie Wahlberg, Robert Wahlberg, Paul Wahlberg, Mark Wahlberg and three sisters, namely, Tracey Wahlberg, Michelle Wahlberg, and Debbie Wahlberg.
Arthur is very proud of being the oldest of the Wahlberg brothers. Turns out he was born on 17 June 1963 and is currently at the age of 55.
Arthur has been a very secretive person, and least information regarding his love life has surfaced in the media. But unlike Arthur, his fiancé Jennifer Gjulameti has mentioned him in her tweets, which gave Arthur's fans a chance to know about his love life.
The way Arthur's fiancé, Jennifer mentioned him in her tweet back on June 29, 2011, and it speaks volumes about their relationship.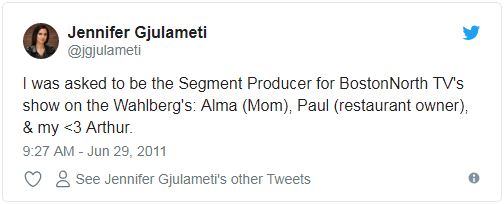 Arthur Wahlberg's fiance Jennifer Gjulameti's tweet. (Photo: Jennifer Gjulameti's Twitter)
Additionally, Jennifer, who is the former Community Manager for PUBG, shared a picture with Arthur and Arthur's brother, Mark, the Transformer star, who has a net worth of $255 million, when they went at the Grand Opening of Wahlburgers back in November 2011.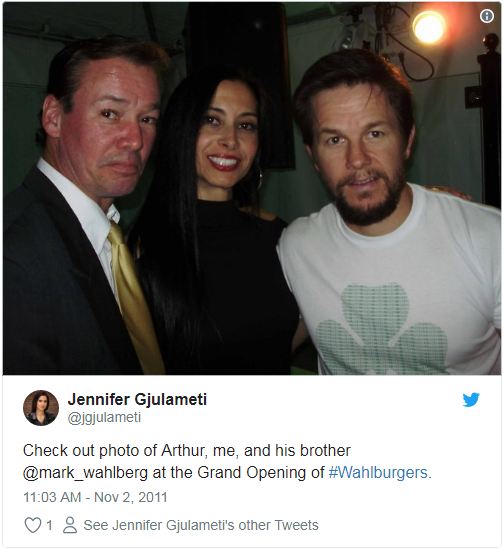 Arthur with his brother and fiance. (Photo: Jennifer Gjulameti's Twitter)
The real-life couple acted together in a movie "The Rude, The Mad, and The Funny," which was released back in September 2014. Jennifer mentioned about their movie through her tweets back in April 2014.
She revealed about the interview that she had with David Garfield and Arthur for the John Fahey Show in Boston for the same movie.
You May Also Like: Shia LaBeouf Reportedly Dating While Divorce With Wife Takes Play
Adding to it, in November of the very same year, she even posted a clip from the movie while mentioning Arthur as her fiance.
It seems that the bond of Jennifer and Arthur is strengthening with the passing time. Moreover, she appears to share a good rapport with Arthur's family as well. When Arthur's mother joined Twitter back in March 2015, Jennifer welcomed her and even expressed her wish to have dinner with her.

Jennifer Gjulameti's tweet to Arthur's mother. (Photo: Jennifer Gjulameti's Twitter)
While getting to know about the relationship between Arthur and Jennifer, a question arises- Is Arthur planning to escalate their relationship by getting married?
Well, the answer to the question lies within Arthur, but by the looks of it, the day is near when Jennifer will be Arthur's wife, which will officially eliminate all the gay rumors celebrities are usually hauled into.
Moreover, Arthur, who lives in Worchester, Massachusetts, is yet to experience the joy of becoming a parent himself, but he is delighted to be an uncle of twenty-three nephews and nieces.
However, Jennifer has not mentioned Arthur in any of her tweets since 2015. This has led to speculations that the pair might be having troubles with their relationship or might have parted ways. Neither Arthur nor Jennifer has made any comments regarding the matter.
Arthur was initially a carpenter by profession who specialized in remodeling. But the actor within Arthur could not be hidden for long.
Have a look at: Callan McAuliffe Dating Status At Age 23; Found Perfect Girlfriend? Find It Out
Arthur has showcased his acting abilities in different projects; which include The Target, The Rude The Mad and The Funny and Patriots Day. Although Arthur has accumulated a hefty sum in his account, he is yet to reveal it in exact figures.
Stay with us for further updates on Arthur Wahlberg!