Entertainment
Robyn Brown, Fine With Husband Adding Another Wife: Mother of Five Children
Not every family has sound relation and mutual understanding. Especially if a family is large, some problems emerge whether it's because of misunderstandings or trust issues. Likewise, in the 'Sister Wives' family, there is a lot of drama these days.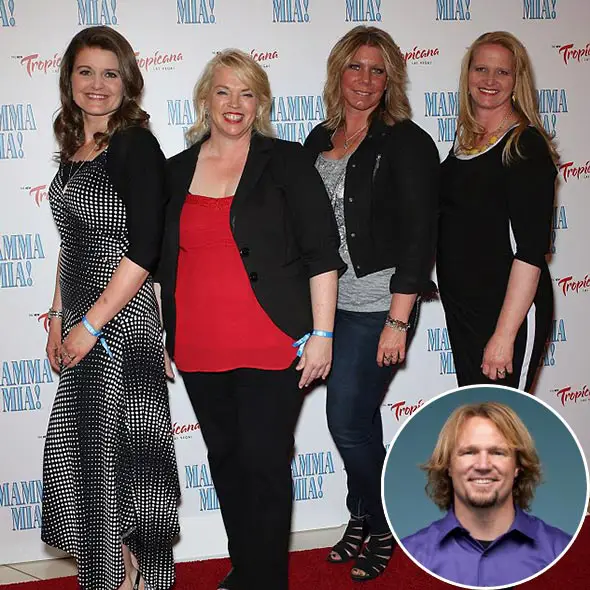 Not every family has sound relation and mutual understanding. Especially if a family is large, some problems emerge whether it's because of misunderstandings or trust issues. 
Robyn Brown--aged 40, is the only legal wife to Kody Brown among his three other wives. She always stuck by his side during the difficult time which earned her more affection and love from her husband. She also supported her husband's decision even when he was thinking to marry a beautiful young lady.
Following the wedding talk, Robyn and her husband were turmoiled with the divorce rumor amid with pregnancy news.
Love At First Sight; Husband Searching Another Wife
Robyn Brown is the legal wife of the polygamist Kody Brown among his three other spiritual wives namely, Meri, Janelle, and Christine.
At first, she was spiritually married to Kody Brown in 2010 marking his first wife, Meri Brown as the only legal wife. The couple shares two beautiful kids, a son named Solomon Kody Brown, and a daughter named Ariella Mae Brown together.
Related:- Baby On the Way! Sister Wives' Maddie Brown is Pregnant With Her Husband Caleb Brush!
But after four years of spiritual bonding, in 2014 Robyn and Kody got married legally in order to adopt Robyn's three children from her first marriage with ex-husband David Jessop.
This decision cost the divorce between Kody and his first legal wife Meri.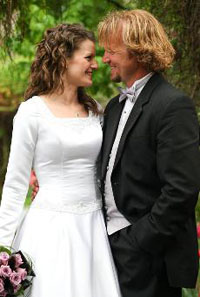 Robyn, husband Kody Brown on the wedding day (Photo: twitrer.com)
After meeting Robyn at his friend's party, he decided to legally bind with her. So, he ended his legal marriage to Meri.
And the whole drama of the family is broadcasted in the American reality television series, Sister Wives, broadcast on TLC since 2010. It documents a lifestyle of a polygamist family where Kody Brown is the head.
According to the family members, they participated in the show just to make people aware of polygamist families.
Related:- Christine Brown's Husband Searching For Fifth Wife: Married to Brown Family, Saving Tradition
While Kody was totally crazy on her as he used to drive eight hours meet Robyn during the starting of their relationship. But the report shocked the audience which claims that he is looking forward to adding another wife to the family.
Kody's fourth wife, Robyn Brown's friend, Kendra Pollard, who has been in the show reveals that Kody is seeking another wife. Whereas, Hollywood Life has claimed that-
"He's been looking for more than a year. He's wanted someone really young, like 19 or 20. And she has to be attractive and thin."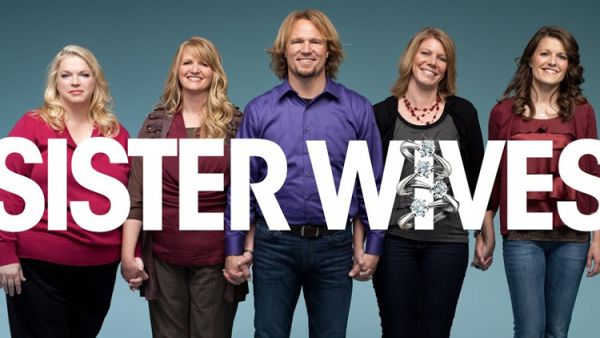 Kody Brown with his four wives; Meri, Janelle, Christine, and Robyn (Photo: wordpress.com (blog)
Robyn Brown, whom he had love at first sight, has made her extraordinary confession during the family's Tell-All Special. She says,
"That's OK if Kody chooses a fifth wife."
Since Kody has not yet added another member to the family, it seems he was just teasing the audience with the concept of adding a new wife to the family.
Divorce Rumors; Net worth
Since she claimed that she is ok if her husband marries the fifth wife, it seems in actual she is not fine with it. 
Back in 2017, a self-claimed Robyn's best friend Kendra Pollard leaked the news to Life & Style that she was pregnant with her third child with husband  Kody. And also she added that Robyn is planning to leave Kody despite being pregnant.
"Robyn has been planning to divorce him for a long time. Being pregnant has not changed her mind. She's saved up enough money to retain a lawyer. This is really the end of 'Sister Wives.'"
Shortly after the news aired about her divorce rumors, she quickly cleared the fake news claiming she has no such best friend with that name.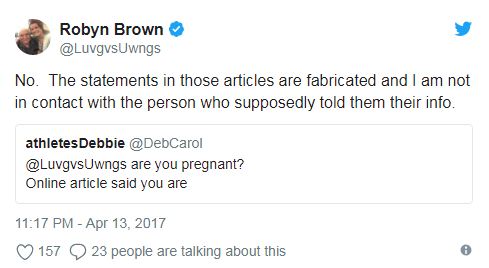 Robyn Brown cleared the divorce and pregnancy news (Photo: Robyn Brown's Twitter)
Beside their divorce rumor, the only legal wife Robyn was present during his difficult situation, The reports of In Touch of February 2018 claimed that Robyn was the only wife who was with Kody when the reality series almost went to cancellation process. 
As of now, defying the divorce turmoils, Robyn is happily enjoying Kody Brown who has an estimated net worth of $ 800 thousand.