Entertainment
Robyn Hayward Wiki: Settled With Husband, Cute Little Family At Just 22!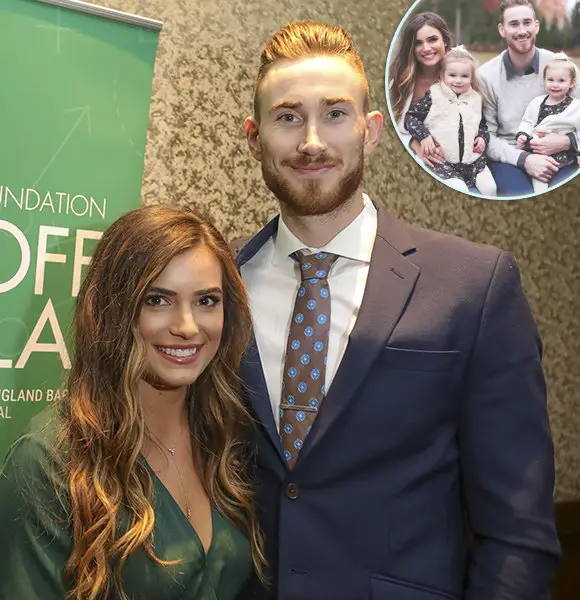 Well, if you are a fan follower of the famous basketball player Gordon Hayward, a member of the Boston Celtics who was once famously known for being a member in the Utah Jazz, then you must have heard about his beautiful wife, Robyn Hayward.
But if you haven't, you don't need to worry as today we have amassed all the information regarding Robyn's wiki for you. So, if you are interested to know more about her and her chemistry with Gordon, follow us in the following context!
Robyn Hayward's Wiki-Like-Bio!
The striking brunette beauty Robyn Hayward was born on April 8, 1995, in the United States as Robyn Van Vliet. She graduated from the Bishop Chatard High School located in Indianapolis in the year 2013 where she was a star on the volleyball court. 
Robin, who stood at the height of 5-foot-5 at the time was one of the superior players of her school's volleyball team that won the state championship in Indiana's Class 3A in 2012. However, she never pursued any further academic training for the game instead volunteered at the food pantry; handing out perishable food to the needy people. 
The humanity and generosity seem to have passed down to Robyn by her parents. Well, her parents adopted a daughter named Maggie and gifted Robyn a sister. Robyn appears to be very happy to have a sister in her life. She shares a beautiful bond with Maggie, and timely posts their together clicked pictures on her Instagram account.
Robyn has a massive presence on her Instagram that accounts to have more than 80K followers. With the frequent posts regarding her personal life, Robyn keeps her Instagram page timely updated.
Moreover, Robyn got a lot of attention through the relationship she shares with Gordon Hayward. The couple dated each other for almost five months in 2013 and then got engaged in the same year in December while Robyn was attending her beauty school. After the engagement, the couple had their wedding on May 24, 2014, at St. Simon the Apostle Church in Indianapolis.
Still, after years of being married, the lovebirds share their wedding bliss via their Instagram account with love-filled messages dedicated to each other. Previously in May 2016, Gordon shared one of the moments from their wedding and said that he is blessed to have Robyn as his wife.
Robyn and her husband Gordon has two beautiful daughters. Their first child Bernadette Marie Hayward was born on June 6, 2015, whereas their second daughter was born on On July 11, 2016.
Do you know that Gordon turned down an invitation to play for the team USA for 2016 Summer Olympic Games in Rio de Janeiro to be with Robyn during her second pregnancy?
Gordon has written a blog called 'Finding Balance' where he has talked about the hardest choice of his life while balancing work and family. Gordon has revealed that going on the Olympics was his only dream but had to let it go all for his love. He wrote,
 I think ultimately for me, I wanted to be here with my family. It would have been too tough for me to make the choice to leave them, and play for Team USA at a time like this. I felt like being here with Robyn and here for Robyn, and supporting her through these first few months with our second child, was important.
Also, he mentioned about his family and sympathized with Robyn having to stay at home every day with the two girls.
Balancing everything is something that has been extremely difficult for us. It's not only balancing time for both Bernadette and Charlotte to get the attention they each need and deserve. It's also allowing Robyn to still be who she is, and not just being the mom. All moms probably know: If you just have to sit at home all day, every day, it can drive you insane.
Robyn indeed has a loving husband who loves her to the moon and back. Well, at the young age of 22, she already has a beautiful and adorable family. The posts regarding her family on her Instagram account are heart melting. In November 2017, she uploaded a picture of her cute little family, and her family looked undoubtedly super cute.
Moreover, Robyn is beautifully supported by her parents, and they seem to be the coolest grandparents to her daughters. In an Instagram post, Robyn said that her daughters love the company of their "mama" more than their mother, hinting that the girls are fond of their grandparents.
No doubt, Robyn has an endearing bond with her family and her husband. She has demonstrably been the best mother for her daughters and also a loving wife for her husband. Robyn and Gordon together have indeed set a relationship goal for many of their fans and followers. 
Their well-wishers and fans are now looking forward to seeing the couples together in all the coming years.