Entertainment
Romeo Beckham Dating Status Now! Family Name Bound To Break Heart
Former football player, David Beckham is a heartthrob downright. But what about his second son, Romeo Beckham? Well, for somebody who already has a romantic name, he should be no sort of people to offer him love, but has he gotten hitched yet?
Let's dig into Romeo Beckham's life to find that out!
Sneak Peak Into Romeo Beckham's Love Life
To live up to the name David Beckham might be a difficult task, but not for his children. We all are aware of the enormous fandom that David was able to garner with his remarkable skills in the football ground followed by his alluring persona. Many ladies even fall for David now, and no exceptions are his sons!
One of such instances would be when Romeo Beckham got followed by 213,000 people after a day he created his Instagram account in March 2017. Well, most of those followers indeed should have been ladies!  
However, despite the immense fan following, especially amidst ladies, Romeo is seemingly single, as there is no evidence regarding his relationship with a possible girlfriend. 
But, it is likely that he will be a heartbreaker for most of the ladies in his upcoming days, as he has it all to make people drool over him. Also, guess what, his father, David is confident on the matter too! 
Back on 1st September 2016, on the occasion of Romeo's 14th birthday, David shared a snap of the father-son duo via Instagram, addressing Romeo as a future heartbreaker.
Furthermore, he captioned applauding Romeo's beautiful heart and his enchanting smile, which will apparently create rage in the ladies' heart in the forthcoming days.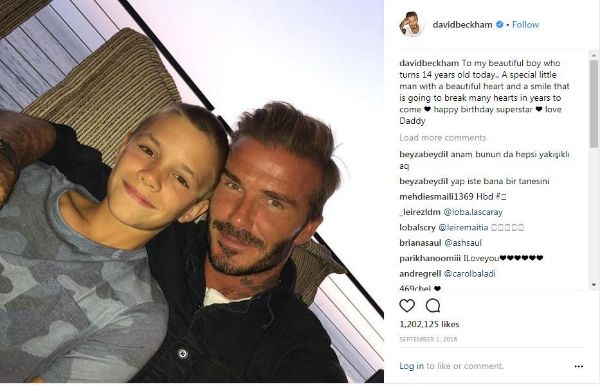 David Beckham and His Son Romeo Beckham  ( Photo: David Beckham's Instagram)
Brace yourselves, ladies!
More About Romeo Beckham
Romeo Beckham was born on 1st September 2002 in London, England to parents David and Victoria Beckham. He is also considered as a godson of Elton John and Elizabeth Hurley.
Romeo has three siblings, an elder brother, Brooklyn, little brother Cruz and a sister Harper. Romeo, who is the second child of the Beckham family, attended his formal education at the Wetherby School in London.
Romeo, who stands at the height of 1.6 m (5 feet 3 inches), has enrolled himself in Arsenal Football Club Academy along with his two brothers to follow the footsteps of his footballer dad. Besides football, he is keenly interested in tennis too, having trained with Andy Murray, the world champion of 2016.
Apart from pursuing father's footstep, Romeo started modeling when he was 10 in age. While slopping up in the realm of modeling, he landed a high-profile campaign with British fashion giants Burberry. 
Besides that, Romeo got featured in a three-minute long promotional video along with celebrities such as James Corden, Michelle Dockery, and Julie Walters. 
Additionally, did you know Romeo was abused on a fake gay website after a cruel Instagram user highjacked an account with 50,000 existing followers and set up a fake profile for Romeo back in March 2015? Well, quite a hype followed, subsequently fading away after the truth came out.
Think we're missing something? Do let us know in the comment section below!