Entertainment
Does Openly Gay Man Ross Hull Has A Partner? His Life Off-Camera
Life of an actor can be very tricky. Being vulnerable on-screen is very important, but it necessarily does not mean that the actor's personal life has to be that way, too.
It is personal preference whether to keep their private life to themselves or to share that with the public.
We are here to talk about Ross Hull, a Canadian actor, who likes to keep to himself.
The actor has been openly gay and, given his exceptional acting skills, he has a huge fan base. But the actor has successfully managed to keep his personal life secluded from his fans.
If you are a fan, you are in for a treat as we are here to shed some light on the off-screen life of the actor.
Ross Hull's Sexuality and Possible Partner
Ross Hull rose to fame for his Nickelodeon show Are you afraid of the dark? He was a part of that show for a decade that first aired back in 1999. He was a Harry Potter back then with his circular glasses and his fables of impossible situations.
While his professional life does not need any further establishment, his personal life surely does. The actor has been openly gay but has been very careful with his dating status. He has not been linked to anyone that we know of, but he does share pictures of him hanging out with guys with not so obvious captions.
Well, based on the picture it is hard to guess their status. Hull also shared another photo with his apparent good friends.
The actor-turned-metrologist might be very reticent about his dating-affairs but is very expressive when it comes to expressing his love and emotions towards his family.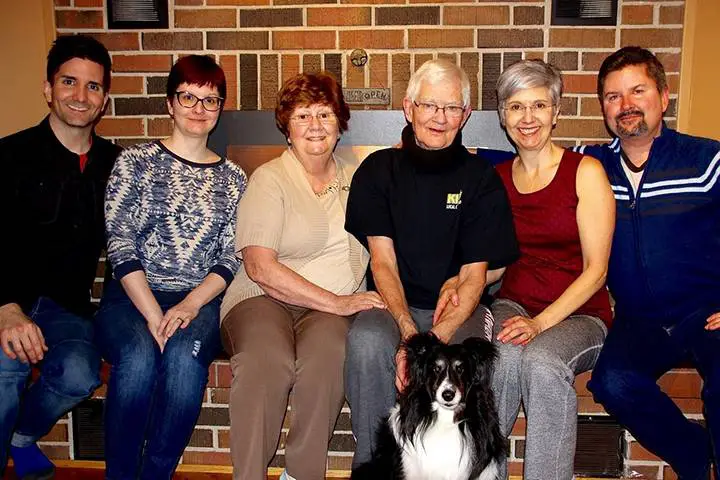 Caption: Ross Hull with his entire family and a dog
Photo Credit: Globalnews.ca.com
The Canadian actor has an adorable family, and his love and affection towards his family are even more captivating. He is very thankful for his family and shared his sentiment towards his family on Thanksgiving Day.
Showing how thankful we are for the ones we love and in turn love us isn't always easy. Life has its ways of getting busy, sidetracking that appreciation. Between work, school, stress – the feeling that we're barreling down a highway at the speed of light, there's just no time left in the day! This weekend I'm thankful I can tap on the breaks a bit and recognize the beauty of this astonishing country, my incredible family, and not forget those who need a helping hand.
The 41-year-old actor is very close to his family. He talks about his sexuality and family openly, but it is yet not confirmed if he has a partner or is married to anyone.
More about Ross Hull career as a metrologist:
Born on August 25, 1975, Ross was always fascinated by weather since his childhood. Apart from acting, the actor has been a weather broadcaster in several reputed channels of Canada.
His passion in meteorology made him a weather broadcaster on The Weather Network in Canada back in 2005. After that, the actor was a metrologist in CFPL-TV in London, Ontario, CTV Kitchener and CBC Ottawa as well.
Ross Hull graduated from Mississippi State University in the Meteorology program. He holds a Bachelor's Degree in Radio and Television from Ryerson University as well.