Entertainment
Ryan Ashley Malarkey Wiki: Ink Master Star Tattoos, Parents & Personal Status
Ryan Ashley is the hotshot tattoo artist of the 21st century. With her mesmerizing ink design, she has received success at a great height. Winning the title of Ink Queen in the show......Ashley without any doubt has claimed her stay in the art industry. The stunning artist has been dating....with whom she shares endless tweets and wonderful moments!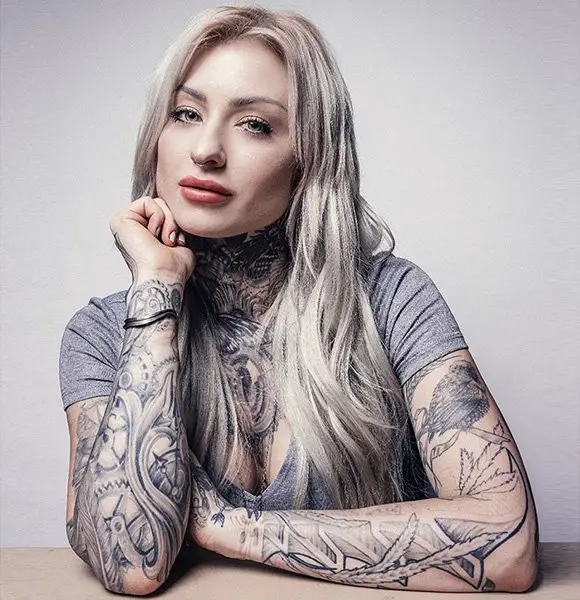 Turning a human body into an artwork, Ryan Ashley has taken creativity into a whole new different level. Playing through black and grey colors and decking ingenious design in the body of other people, the ink goddess has successfully taken tattooing under her belt.
Mastering a profession that most parents wouldn't want their kids to pursue, and proving their perspective wrong, Ashley became the first lady to ever be crowned as Ink Queen.
The Ink Master winner, through her unbelievable skillfulness, has declared her position at a great height in the art industry and well, the artist has done so in her personal life too. 
Leveling up their romance, the pair got engaged and has bee living blissfully ever since!
Getting To Know The Tattoo Star: A Wiki Guide
Ryan Ashley Malarkey, who was born on 29 April 1987, started her journey in the field of arts at a tender age. With so much enthusiasm bulging inside her in arts and fashion, she got enrolled in the Fashion Institue of Technology to pursue her dreams.
After getting her degree in 2007, she dedicated five years of her life working as an artist and a fashion designer at a private clothing company.
You May Also Like: Tatto Artist Megan Massacre Reveals Dating Essentials; Meet Ideal Boyfriend
After a euphoric moment of knowing what she wanted to do for the rest of her life, Ashley returned back to her hometown Pennsylvania. She opened her own tattoo studio in Kingston and began showing off her abilities by inking her clients.
Years of practice and entrepreneurial venture gave her a big turn in her life.
Artist, Ryan Ashley showing off her beautiful body inked with her masterpiece (Photo: RyanAshleyMalarkey-Format.com)
It was the 2016's Ink Master that had given Ashley a bigger spotlight to bring fort her talent to the world. Getting crowned as the first Ink Queen in the 8th season of the Ink Master, Ryan Ashley then after has stolen millions of hearts through her fearless ambition and a dream that was beyond ordinary.
With a total check of $100,000 in her pocket and a notable title, no wonder how much perks are on her side after that one big win!
Read Also: InkMaster Chris Blinston Arrested After Allegedly Smothering His Daughter
Proclaiming her spot as the world's top lady tattoo artist, she now spends her time through packed schedules embellishing other people's dreams in their skin. The ink lord without any doubt had been popularized for her Grammy worthy tattoos that many have been dying to get on their skin.
Who Is The Ink Star Dating?
Ryan Ashley is a lady known both for her beauty and brains. It isn't merely her raw talent that grasped people's attention but the stunning beauty that makes guys go gaga towards her.
But sadly, the ink-star has been taken and has long been in a relationship with her boyfriend Josh. Joshua Balz also nicknamed Josh, crossed paths with Ashley in the year 2013. Ever since their first encounter, the pair has been dating and keeping fans updated about their tie through their media post.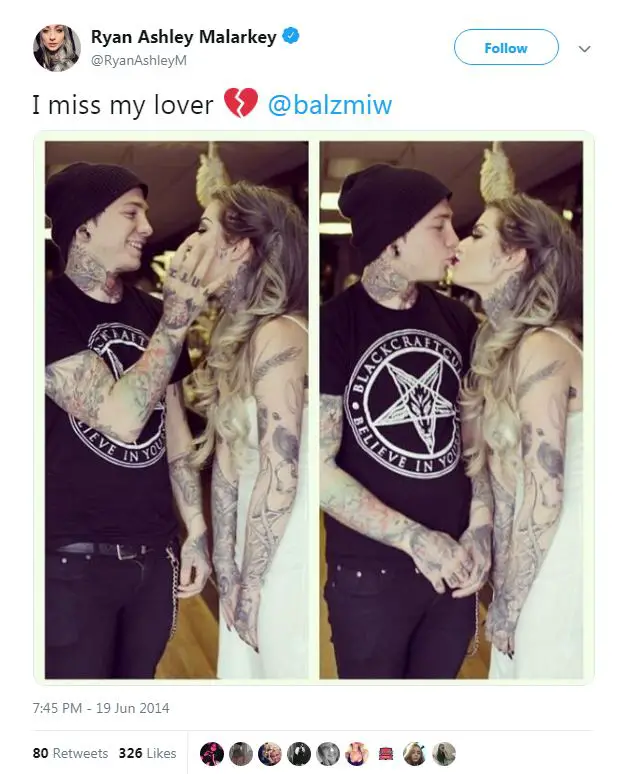 Ashley tweets saying she misses her boyfriend in 2014 (Photo: Ryan Ashley's Twitter)
'Motionless In White' keyboardist and the Ink Master star have been sharing some good time together. The duo has also opened shared boutique "the strange & unusual oddities parlor" in the city of Kingston.
Selling animal skulls, antique dolls, furniture and anything that is wondrous and non-ordinary are found in their parlor.
Discover More: Is Model Stephen James Gay? The Tattoo Fanatic Hints Answers
Taking their relation one level up, the pair got engaged in the year 2016 and has ever since been living in great harmony sharing some of the joyous moments together.
With her whooping net worth contributed by her average salary of $31,194, Ryan Ashley is one of the many dreamers who has made a great significance with her unstoppable female power and her artistic odyssey.