Entertainment
Is Model Stephen James Gay? The Tattoo Fanatic Hints Answers
To excel in the modeling industry requires an innate understanding of one's body, which serves as a top prior in the modeling industry, as both your calling card and your instrument.  And when it comes to unforgettable bodies, few can compete with rising star Stephen James.
To excel in the modeling industry requires an innate understanding of one's body, which serves as a top prior in the modeling industry.
When it comes to unforgettable bodies, only a few can compete with the rising star supermodel, Stephen James. His immense popularity among the girls is not hidden from the media, but even the boys are getting jealous of his charming persona.
Stephen James's Journey from a 'Sportsman' to 'Supermodel' has completely transformed his life. So, let's take a closer peek and find how his path curved to pursue the modeling career.
Stephen James: Model to Supermodel
The 24-year-old model -- Stephen James -- is one of the most in-demand models in the industry, and one of the first ever full tattooed ones. He wasn't a model to start with, but, he chose it as a career after he was first found by an Elite model in Barcelona back in 2012. 
As of now, James has built a reputation as a formidable presence in front of the camera for brands like Calvin Klein, and Philipp Plein. Signed to Storm modeling agency in London, James has quickly become a bonafide male modeling sensation.
See Also:- Vogue Williams, Age 34, Intimate Wedding Just A Start! New Mom Explicit Details
A former pro soccer player James, whose physique is inked with elegant designs, once shared his bitter experience of his journey in an interview with Vogue back in October 2015; the time when he was not judged by his potential but by his tattoos. He divulged, 
"I've seen a real change in the way tattoos are perceived in the industry. When I first started working in Spain, the market was very close-minded when it came to tattoos. They don't like a lot of edgy stuff, so I had to prove myself two or three times over." 
Stephen, who was born in Hammersmith, London, has worked with the model, Irina for a quiet time and has been together in many campaigns. Moreover, Irina seems more close to Stephen James after her breakup with "Hangover" star Bradley Cooper.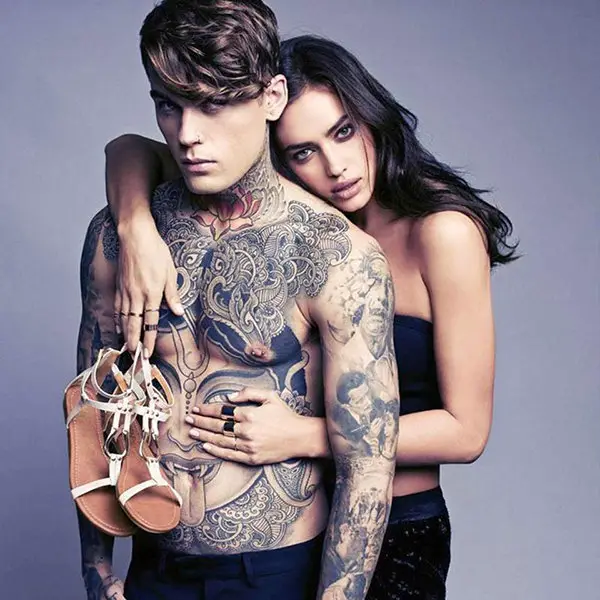 Super-model Stephen James and Irina Shayk in the Photoshoot (Photo: thesun)
London-based-model Stephen James is active on Instagram and uploads photographs reflecting his success. But he is mostly seen with the model Irina Shayk; as a result, many of their fans have frequently tagged them as a 'Couple'.
You May Also Like:-  Natasha Lyonne Is Not Gay/Lesbian But Likes Sleeping With Women! Has A Boyfriend Or Actually Hinting on Sexuality?
In the interview with Chance, Stephen talked about his experiences modeling with Irina Shayk and the changes he felt in the modeling industry, unlike being a Sportsman before. 
Stephen James talked about his experiences in his modeling industry (Published date: 9 May 2014) 
However, neither Stephen nor Irina have opened up about their relationship openly, so the matter remains unclear to this date!
Previously, the 'Gay Times' exclusively covered his journey to Supermodel with the headline, "Get the look: Supermodel Stephen James." But beware, it doesn't reflect he is a gay sexually!
Read Also:- Danny Cipriani Just Won't Turn Girlfriend Into Wife | A Gay Man?
Dating Life; Calls Girlfriend As Blessing
With the gay rumors in the past, Stephen has stepped into the dating world with an unidentified girlfriend wants herself to be called as Eli.
Don't Miss:- Monte Durham Wiki: Net Worth To Husband & Cutest Gay Married Story
The Jewish model has not revealed the exact date of his dating life but he indeed tagged her in the back shot of his girlfriend which he uploaded on Instagram back in September 2016. He captioned the picture:
"gave a life I don't deserve to someone who does @mellowyellowbcn"
Again earlier in 2017, he shared another memory with his girlfriend and also hinted that they were in another city. He shared the adorable picture on Instagram captioning the Instagram picture on January 2017 as :
"another day. another city. another memory ✨❤️ @mellowyellowbcn | @goldfeveritalia @salvinopalmieri for always looking after us" 
Similarly, he shared the mirror selfie with his girlfriend on Instagram back in February 2017 writing:
"find what makes you happy and don't let go @mellowyellowbcn"
He started sharing the glimpse of his dating life since 2016 and hence they are still going strong with their relationship. He regards his good bonding with his girlfriend as blessings. He took to Instagram on June 2018 sharing the adorable cozied pictures with his girlfriend which he captioned, "more blessings."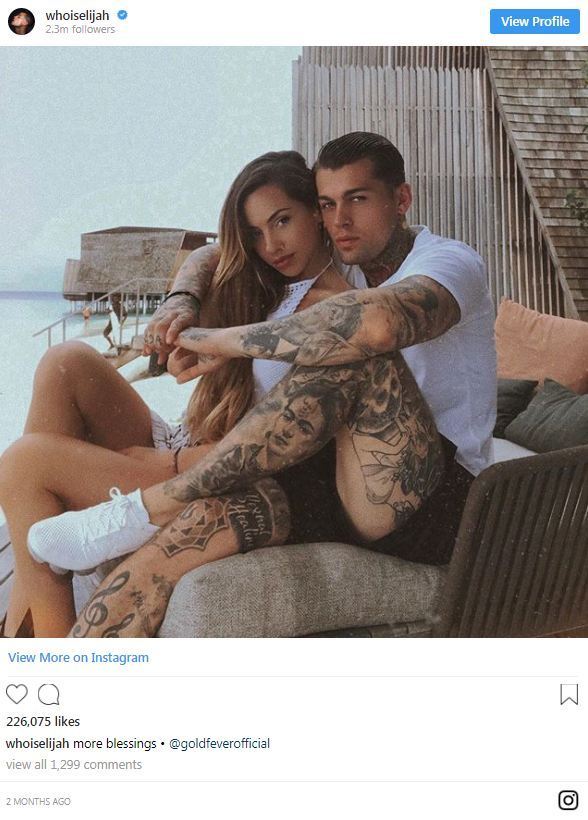 Stephen James with his girlfriend in June 2018 (Photo: Stephen James' Instagram)
Aside from updating on his dating life from time to time, Stephen has not talked about his girlfriend in an interview. It seems he is keeping his love-lady away from the limelight.
You May Also Like:- John Finnemore Is Married! Partner Has Answers To Gay Gossips
Stephen James's Journey to the Modeling Industry
In the interview with Vogue, Stephen James, who is a Scottish and Israeli descent, explained his journey from the sportsman to the celebrity wasn't an easy one. As per Stephen,
"I was living in Barcelona and playing soccer there when I got hurt, and I was scouted while in rehab for the injury. So modeling was bit unexpected, but I had thought about it prior to that. As I traveled for soccer, I would always pick up modeling cards from different agencies, but it wasn't until I had the problem with the injury that I decided, Why not give this a try! Luckily it's worked out so far."
His injury wasn't a common one as it took his dream away to be in the 'International team' of England. But the modeling Industry seems very fruitful to the young sensation, who has worked with big brands such as Calvin Klein, Diesel, Men's Health Magazine, GQ Germany and much more.