Entertainment
How Much Is Ryan Coogler's Net Worth? Details On Black Panthers' Director
Many can immediately recognize the name Ryan Coogler, but if they don't, he is a rising Hollywood movie director.
Working as one of the youngest directors and screenwriters, Ryan's rise to fame came after he made the Grand Jury Prize-winning biopic Fruitvale Station. The film became a major success and even won other awards as well, including the Audience Award for U.S. Dramatic Film at the 2013 Sundance Film Festival and the Best First Film at the 2013 Cannes Film Festival.
Aside from his work on the biographical picture of the shooting of Oscar Grant, Ryan is also well known for assisting with writing and directing in movies like Creed and Marvel's Black Panther.
About His Wife
The Black Panther director is married to Zinzi Evans - a freelance interpreter. Ryan and Zinzi got married on 1st May 2016 in Saint Helena, California. According to him, he met his wife in college, and she has been supporting his Hollywood dreams ever since they met.
You May Be Interested:- Cody Simpson Girlfriend, Sister, Gay, Now
As of 2019, the two are on their way to welcome their very first child.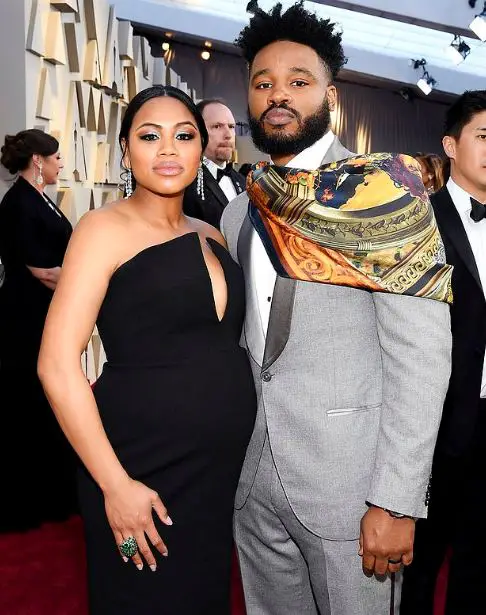 Ryan Coogler's wife Zinzi Evans reveals baby bump in 2019 (photo:dailymail.co.uk)
News on the pregnancy was first revealed at the February 2019 Academy Awards. Aside from the growing baby bump, not much in detail has been discussed about the baby.
Ryan's Impressive Net Worth
From living in his car to rising in the entertainment industry, Ryan's story to fame is mind-blowing.
He originally planned to play football in college and receive education to become a doctor. To achieve his dreams and goals, he joined Saint Mary's College as a student-athlete.
During his studies, he took a creative writing class in which he wrote about a time when his father almost bled to death. It was through that first piece of writing, after which his teacher encouraged him to consider screenwriting.
You May Also Like:-Who is Carmella Dating Now? Boyfriend, Family, Net Worth
St. Mary's later canceled its football program prompting Ryan to move to Sacramento on a scholarship. It was there where he learned about movies and directing from the USC film school.
He then began to develop a series of short movies in his free time during the first semester. After the end of Ryan's first semester at college, an unarmed African-American male named Oscar Grant was shot to death by a police officer in Coogler's hometown of Oakland.
It was this incident that inspired the young mind of Ryan to create his masterpiece and bring Oscar's story to life.
Since then, he has had hits after hits in the field of directing and screenwriting. As of 2019, his net worth is $10 million. Now Ryan has been hired to work on the 2018 hit sci-fi movie sequel - Black Panther 2.
Interesting Facts On Ryan
 Ryan was born on 23 May 1986.

His height stretches 5 feet and 10 inches (1.78 m) and weight is 163 pounds.