Cody Simpson took the dating world by storm when he started dating Hannah Montana's lead character Miley Cyrus from the start of 2019.
The couple created headlines when they were first spotted together, sharing a kiss on a lunch date in Los Angeles in October. From then onwards, they were seen together on multiple occasions.
Though it is a new dating affair, the loving couple has been friends for a very long time. For Miley, who had a fiery split with husband Liam Hemsworth in August, it could not be a better time to propel the friendship into a romantic relationship.
Now, Cody and Miley are crossing all the shackles with their rapidly growing and outspoken love affair.
Dating Relationship With Girlfriend
Cody Simpson and Miley Cyrus' relationship has been the talk of the town in 2019. Despite their romance of less than a year, it looks like they were never separated in life.
Though it was level up for Cody, for Miley, it was a way to bounce back from her stint with ex-husband Liam Hemsworth. The Climb songstress did not have a particularly good connection with Liam, and the duo eventually split at the start of 2019.
Past Relations:- Charming Singer Cody Simpson Back to Dating Again? Well, Who's His Girlfriend Now?
Similarly, Cody has been more than happy and grateful to start things from where it ended for Miley. Unlike many who take their relationship for granted, the Home to Mama hitmaker has been with the singer in her good and evil.
On 4 November 2019, he accompanied Miley to her brother Braison's wedding in Nashville. The new duo even rocked a matching black outfit and shared a glimpse of the ceremony through their social media.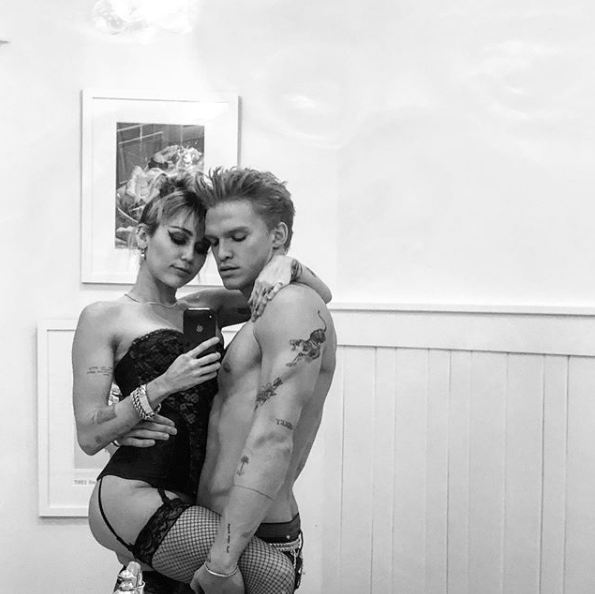 Cody Simpson and Miley Cryus take a picture together in November 2019 (Photo: Cody Simpson's Instagram)
Besides, Cody was also by his girlfriend's side during her recovery with vocal cord surgery. Further, he defended his girlfriend during her outrageous comments about the gay community and sexuality. Looking at all these indications, it seems the loving duo is very much in love with each other.
Even Cody's sibling sister Alli Simpson also gave her approval and said the whole family was happy to see them together.
However, looking at his present relationship with Miley, things look more significant than any of his past relations with the likes of Kylie Jenner and Gigi Hadid.
Cody Simpson's Short Bio: Age, Album
Cody Simpson was born in Gold Coast, Australia, on 11 January 1997 to parents Brad and Angie Simpson. At the age of 13, the entire family, along with his two younger siblings Tom and Alli Simpson, moved to Los Angeles.
Another Show-Stopper:- Travis Barker Married, Dating, Kids, Net Worth
The newly relocated place proved a blessing for the 22-year-old as he was able to explore his passion for music even more. Shortly, he made the most of his resources and talent and released his album in September 2011.
From then onwards, he went onto work with the likes of Justin Beiber, Shawn Campbell, and Miley Cyrus. Also, he was able to give a go at acting as he was cast in a Broadway named Anastasia The Musical in 2018.
Now, he is an accomplished singer cum actor who is sure to make a legacy at the end of his career.