Entertainment
Samantha Vinograd Married & Husband | Biography - From Age To Partner
National Security Analyst, Samantha Vinograd joined CNN in...Samantha's biography suggests that she got her primary education from...Samantha, aged...Talks Of Getting Married And Future Husband...Her partner in crime who is none other than fellow National Security Analyst...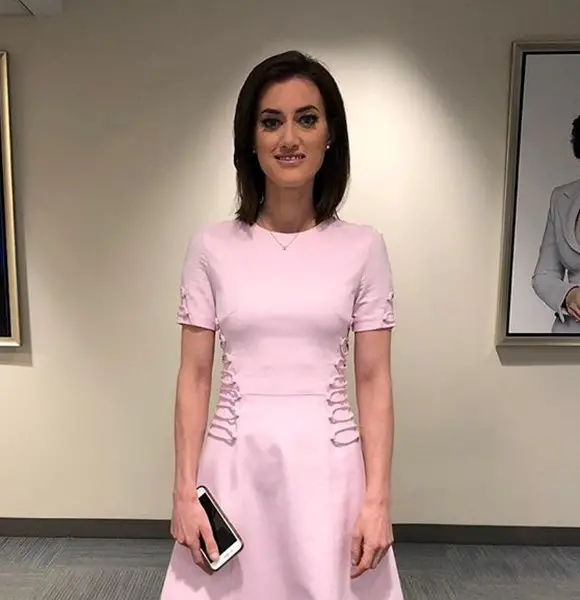 National Security Analyst, Samantha Vinograd has been shining in the spotlight since she joined CNN in 2017. But, her works are not limited to the news network as Samantha has been involved in various fields and organizations in her professional career of over a decade.
Further, viewers are also starting to take an interest in the personal lives of the former National Security Council member. While her married life could be a topic of gossip to many, Samantha's partner in crime has also raised the room temperature.
Also, attached to the article is a short biography of Samantha along with her parents' details, age, height, and more!
Short Biography Along With Job Profiles, Age, Height, And More
Born in Fairfield, Connecticut as the daughter of Serge G. Vinograd and Barbara Lefkowitz Vinograd, Samantha was raised in a Jewish family. Her father works as an independent steel trader while her mother is a managing director at a Real Estate Brokerage Firm named Fite Shavell & Associates in Westport, Connecticut. 
See Also:- Chris Cillizza From CNN On Meeting Wife, Admiring Family To Fullest
Samantha's biography suggests that she got her primary education from Hopkins School, New Haven and completed her school level education from East Ridge Middle School. She got her Bachelor's degree in Asian and Middle Eastern Studies from the University of Pennsylvania. She became enrolled for Master's in 2005 and achieved the degree from Georgetown University in 2007.
Samantha, aged 35, started her professional career in June 2007 working for the U.S. Department of Treasury in Iraq for over a year but was transferred to UAE where she served for nearly four months. 
Her biography reveals that she was also appointed as one of the members of the Obama Administration's National Security Council and worked in different positions for four years including the Senior Advisor to the National Security Advisor, the Director for International Economics, and Director for Iraq. 
In 2013, Samantha joined Goldman Sachs and started building partnerships between public and private sector among a wide range of political and business matters. She later moved to San Francisco, California in October 2016 to join Stripe and lead the Public Policy Department.
In October 2017, Samantha was hired as the Senior Advisor in The Biden Institute, New York and has been assuming the role ever since. Currently, she also works as the National Security Analyst for CNN and even writes a weekly column on the network's official website.
Her articles have also been published in other leading news portals including the Washington Post, the USA Today, the New York Times, and several more.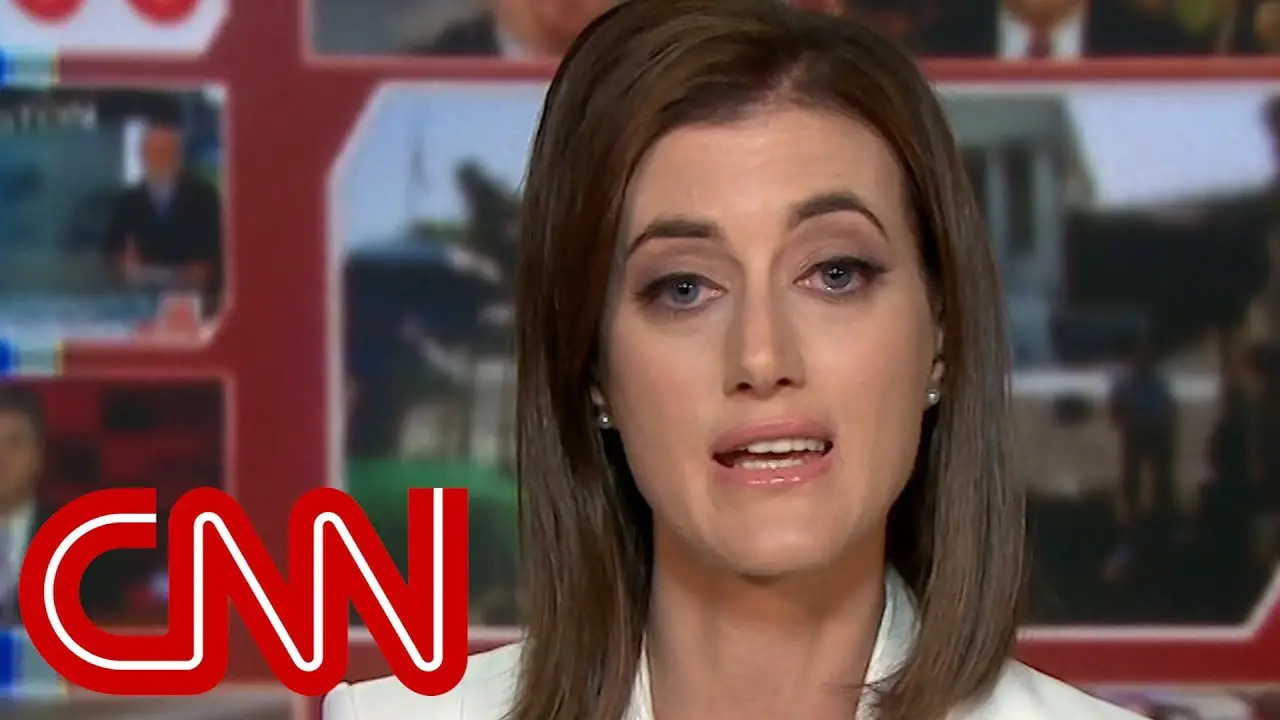 Samantha Vinograd presents a show on CNN (Photo: YouTube.com)
You May Also Like:- Basketball Player, Tina Charles: Donates Half of Salary for Charity. What's She Saying About Rio Olympics?
Apart from achieving her career heights, Samantha has also been involved in volunteer works in partnership with various charitable and non-profit organizations consisting of UNICEF USA, Paradise Fund, The Trilateral Commission, For A Day Foundation, and so on.
Talks Of Getting Married And Future Husband; Partner In Crime
Samantha personal life has always been overshadowed by her professional commitments and hectic schedule. Her younger sister Cassandra Sara Vinograd, who works as a general assignment correspondent for The Associated Press, got married to Adam Samuel Cohen in 2013.
However, Samantha hasn't been much fortunate in finding a suitable husband for herself.
Even though Samantha hasn't been lucky in getting married, she wishes to be a bride someday but wants her future husband to not judge her based on the analyst's cooking skills. 
On 25 May 2018, she posted a tweet explaining her disastrous cooking and mentioned that she hoped her husband wouldn't marry Samantha for her cooking skills.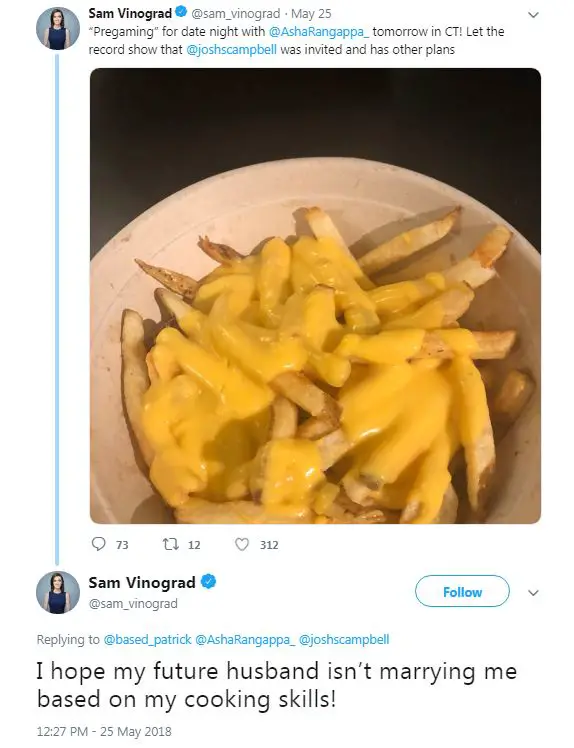 Samantha talks about her future husband on 25 May 2018 (Photo: Samantha Vinograd's Twitter)
Samantha might not be fortunate enough to get tied in the matrimonial knot, but she is blessed to have a partner in crime who is none other than fellow National Security Analyst, Morgan Ortagus. On 25 May 2018, Samantha shared a tweet in support of her partner for hosting the U.S. TV show, Outnumbered.
Don't Miss:- Stephen Nolan Avoiding Potential 'Crazy' Partner, Does That Make Him Gay?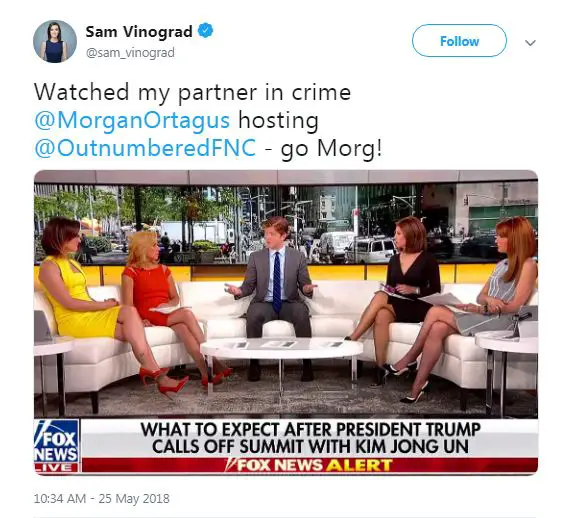 Samantha shares a tweet in support of her partner in crime Morgan Ortagus on 25 May 2018 (Photo: Samantha Vinograd's Twitter)
However, Samantha's affection for her partner shouldn't be confused as her love because the two analysts are just good friends. In the meanwhile, Samantha is still looking for her future husband which might take some time as clearly, she hasn't met any worthy grooms.