Entertainment
Sandra Denton Marital Status: Kids, Net Worth & Surgery
Sandra Denton is an American rapper, who is famously known as "Pepa" of the all-female rap trio, Salt-N-Pepa.
The rap group, Salt-N-Pepa is best known for its hits like Shoop and Let's Talk About Sex, the latter of which went certified gold and peaked at #13 on the US Charts in 1991. Throughout, the late 1980s and 1990s, Sandra's group, Salt-N-Pepa, was one of the most successful hip-hop groups in the music industry.
Further, in 2005, Sandra entered the realms of reality TV as a cast member on the VH1 reality series, The Surreal Life.
Is Sandra Denton Married?
Sandra Denton is not a married woman as of February 2020.
However, she was previously married to rapper Anthony Criss aka Treach of Naughty by Nature.
The two tied the knot on 24th July 1999. But their marriage ended up being short-lived and the two parted ways in 2001.
Years after their relationship came to an end, while Sandra disclosed her ex-husband's abuse as the reason for their split, Anthony had a different story to tell; he accused Sandra of walking out on him for another woman.
Sandra Denton's Kids
Sandra is a mother of two kids with her ex-husband, Anthony Criss.
She gave birth to her daughter, Egypt Criss, in 1998 (a year before getting married to Anthony) and her son, Tyran Moore Jr., was born in 1990.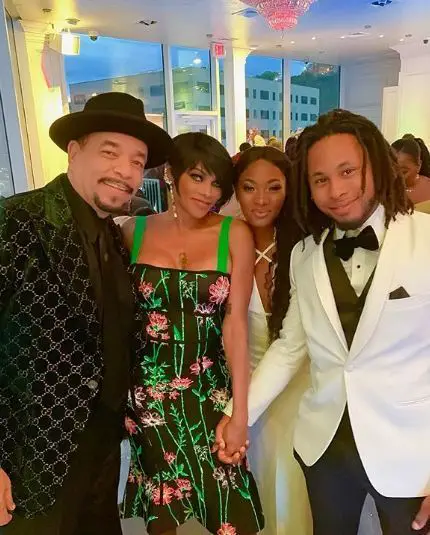 Sandra Denton with her daughter and son (on the left) and a friend (Photo: Sandra Denton's Instagram)
Sandra's daughter, Egypt, is a reality star, who is famous for her appearances on the reality show, Growing Up Hip Hop.
More On Sandra's Daughter:- Egypt Criss Pregnant With Boyfriend? Age, Height & Facts
Moreover, she is also the founder of a jewelry line called Be.See.Own.
Who Is She Dating?
In 2018, Sandra started dating her former college football star, Aundre Dean.
She posted a picture with him in May 2018, calling him her man. But things backfired when Aundre's wife, who was apparently pregnant with his second child, reposted the same picture but with a different caption.
In her post, she called out Sandra for having an affair with a married man. Following that incident, Sandra faced many backlashes on the internet.
Apparently, Sandra also lost a big deal with an unnamed brand because of her controversial romance with a married man. After creating all that strife in each other's lives, the couple eventually parted ways.
Age, Childhood
Sandra Denton was born on 9th November 1969, in Kingston, Jamaica.
Another Celeb With Jamaican Roots:- Usain Bolt Wife, Girlfriend, Net Worth, Family
She grew up in a large family as the youngest of eight children. As a young girl, Sandra lived on a farm with her grandmother until she turned 6 years old.
After that, she moved to Queens in New York City, where her parents and her older siblings had moved three years earlier.
Net Worth
According to Celebrity Net Worth, throughout her career as a hip hop artist and a TV personality, Sandra has garnered a net worth of $15 million.
Some Other Facts
Sandra completed her schooling from a high school in Queens and later enrolled in a nursing course at Queensborough Community College.
It was at Queensborough that she came across Cheryl James aka 'Salt'.
Sandra reportedly went through plastic surgery to change her look; allegedly she had the tip of her nose shaved down to create more of a bridge.