Usain Bolt is the World's Fastest Human Being to ever be timed. He is the reigning World and Olympic Champion who holds the record in 100m, 200m and 4x100m relay...was successful to hide his relationship with Jamaican girlfriend Kasi Bennet for... planning to take their relationship to the next level and...holds the current record for 100m, 200m, and 4x100m in...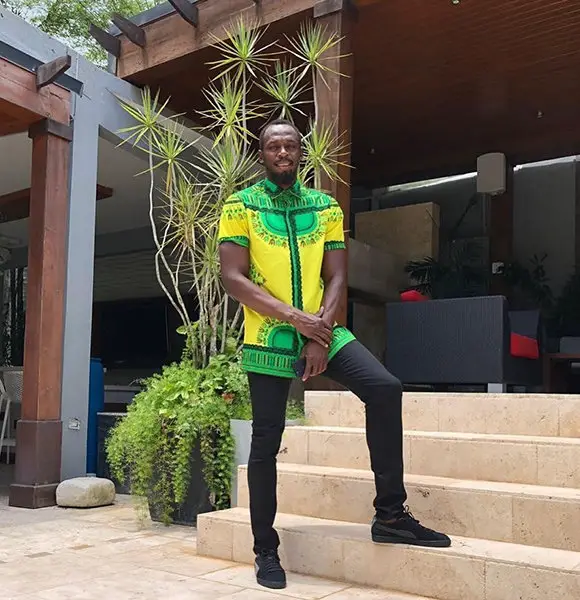 The Planet's fastest human being ever to be timed, Usain Bolt is the reigning world and Olympic champion who holds the record in 100m, 200m, and 4x100m relay.
Making his presence known at the 2008 Beijing Olympics with a record-breaking double-sprint finish, the athlete nicknamed "Lightning Bolt"  became the first man to conquer six gold medals in Olympic games for sprinting. 
Also, he was the first track runner to win three gold medals in one discipline in the history of Olympics.
Married Status, Wife?
For a man as famous as Usain Bolt, a romance is seldom private.
However, the athlete was successful in hiding his relationship with Jamaican girlfriend Kasi Bennett for a long time. In 2016, when Usain was asked if he was in a relationship, the superstar admitted to dating a girlfriend for two years but did not disclose her identity.
Soon enough, Usain shared a photo with his partner and revealed his relationship status. However, it was not the dating incident that grabbed the headline; the Jamaican was caught cheating on his fashionista girlfriend with a Brazilian student named Jady Duarte.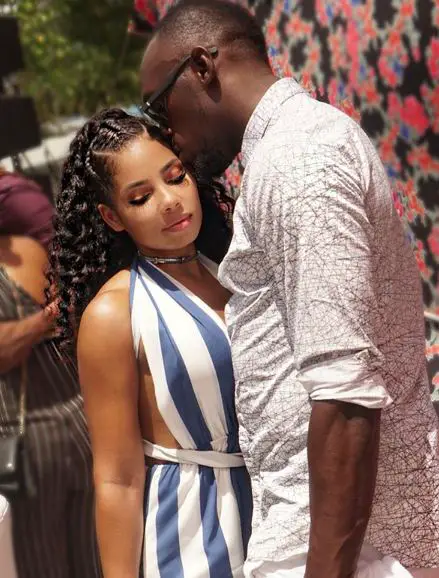 Usain Bolt and Girlfriend Kasi Bennett get passionate in April 2018 (Photo: Kasi Bennet's Instagram)
Usain was pictured giving an intimate hug to the Rio native and was further criticized for shamelessly hanging out with several girls in the Rio nightclub. Even after such a lousy cheating incident, Kasi stuck with her boyfriend.
As of 2019, they are planning to take their relationship to the next level and bear children of their own. Even though they are not married yet, it looks like the couple will soon be calling each other husband and wife.  
Bio: Family, Age, Height
Born as Asian Saint Leo Bolt on 21 August 1986 in Montego Bay, Jamaica, the fastest man in the world, made his family name resonate all over the world. Growing up with a brother named Sadiki and sister Sherine, Usain's parents: Wellesley and Jennifer brought him up with high values and work ethics.
Female Sprinter:- Marion Jones Now, Net Worth, Husband, Family
He was fast during his childhood, but he inclined to cricket during his high school days. After a few sessions in the cricket field, the school cricket coach urged him to start a career in track and field. 
Possessing the height of 6 feet 5 inches(1.96m) and weight of 94 kgs, he participated in track-based sports, and the rest was history.
The Jamaican record-breaker went onto to become the first athlete to be named IAAF World Athlete of the Year five times for his outstanding track records. Similarly, he holds the current record for 100m, 200m, and 4x100m relay events.
Success & Net Worth
One of the most successful sprinters in the modern age, Usain Bolt has left his fellow sprinter in the dust. He clocked the 100m dash in record 9.58 seconds and 200m dash in 19.19 seconds to set the world record in the discipline.
Explore The World Of Basketball:- Andre Ingram Wife, Family, Net Worth, Salary
Usain is also one of the highest-paid athletes and earns nearly $20 million a year from all his income sources. The lightning-fast sprinter has endorsements with reputed sports brands like Gatorade, Hublot, Nissan, and Puma. As a brand ambassador of Puma, he earns a high $9 million alone out of his total income.
In the year 2017-2018, the record-breaker earned $31 million from endorsements and sponsorships among which only $1M was from on-track making. Overall, Usain's net worth is a massive $90M.
As of now in 2019, the Jamaican legend has retired from the sport, but he is working with sponsors to do different business and social works.