Entertainment
Sharni Vinson's Weight and Skinny Bod Has Nothing To Do With Her Dating Affair With Boyfriend!
Love!  It is something that either does something horrible to people or something beautiful and except for some case, there is no in-between. Well, the exceptional case here is Sharni Vinson, an actress profoundly known for her work in Home and Away.
Her fans have always seen her as beautiful as a summer daylight, despite the fact that she has always been super skinny; something that has falsely related to her dating affair with past boyfriend.
Well today, let's debunk what remains of those of the rumors while also digging to find out if she has a boyfriend at the moment with whom she could even get married.
Sharni Vinson's Dating Affair With Boyfriend:
Sharni, unlike other Hollywood celeb, has always been a person who is quite open about her personal life. Back in 2011, Sharni met her boyfriend Kellan Lutz, who is famously known for his role in the Twilight Saga franchise as Emmett Cullen.
The couple then began seeing each other, which sparked the news of their romance the very same year. Moreover, Sharni's then-boyfriend, Kellan was a little more open towards personal affairs, as he talked about Sharni in public as well. He once explained why the couple connected when he said,
'She's a happy person, which really just clicks with me. It's just great to have someone you can smile with all the time. It's really special.'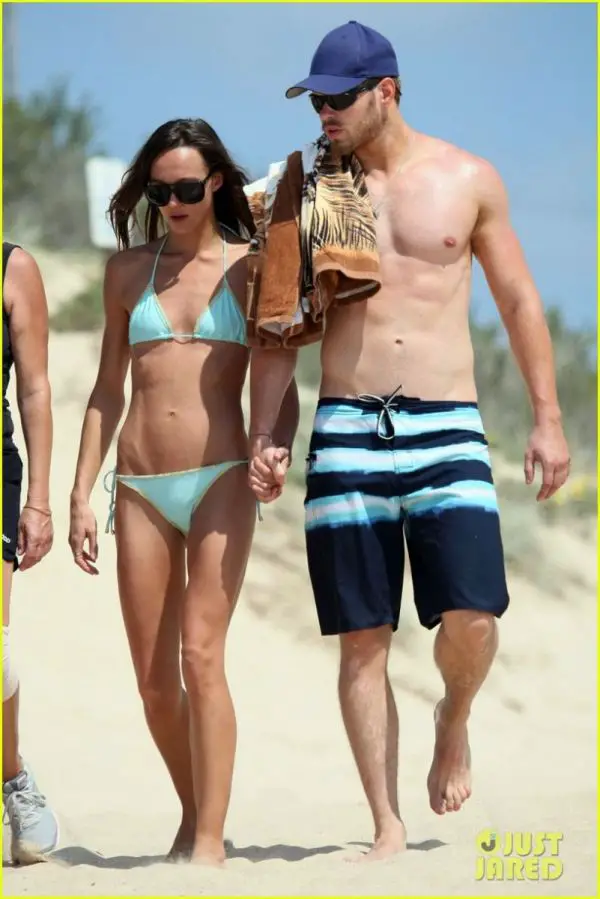 Caption: Sharni Vinson with Kellan Lutz in 2012
Picture credit: justjared.com
But despite the love they shared, the romance went sideways and ended in 2013.
The couple ended their relationship in just about 18 months. However, they briefly got back together in 2013, but it ended again. A source told US magazine,
"They are trying to be fairly quiet about it, but they're not staying in a bunker or anything. Just a little more discrete. It's been a little difficult with him away filming, but he went to her birthday party recently and was such a great guy."
The break-up led Kellan to date Brittny Ward. However, his relationship with Brittny also did not last long, and the couple ended up separating.  
But on the other hand, the 34 years old Sharni has not yet found her Mr. right who she possibly could make her husband.
Sharni Flaunts a Natural Fit Bod; No Weight Loss Needed!
Before talking about her bod, let's clear one thing. Her skinny body is not a result of her being devastated over separating with Kellan. Of course, she might have had some bitter experience, but according to what she claimed in 2014; her skinny body is a natural thing for her.
It all came to light when Twitter exploded over her skinny beach bod pictures and started worrying people about her health. Sharni responded saying,
'I've always been a very naturally slim girl. If I were the way I was perceived, I would not physically be able to do what I do.'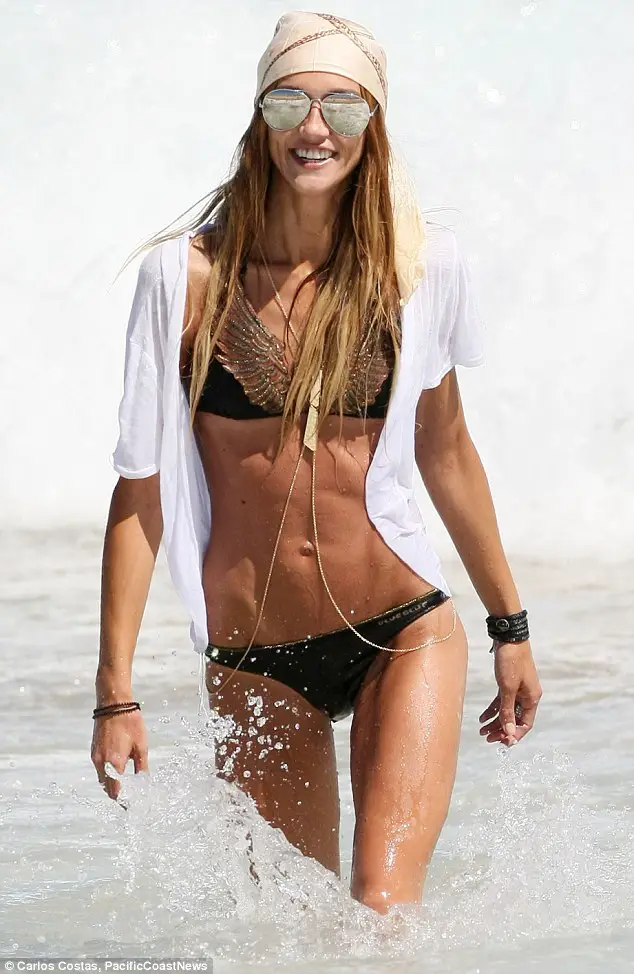 Caption: Sharni has a naturally fit figure to flaunt.
Photo Credit: Dailymail
While some go on mind-boggling diet plans, there is Sharni who sports it all naturally.
Sharni Vinson's Short Bio.
Sharni was born on July 22, 1983, in Australia. Sharni's family has been residing in Australia for years now. Although her ethnicity puts out to be a mix of English and Irish, a DNA test she did back in 2016 revealed that Sharni is a 100% European person.
At the moment, Sharni is busy with a project titled Gods and Secrets by Adi Shankar. She most recently appeared in House on Willow Street, where she portrayed the role of Hazel.
Think we're missing something? Do let us know in the comment section below!