Entertainment
Sian Williams Went Through Double Mastectomy: Support From Her Husband and Children. Married Life?
Each of us can undergo a tough time in life. It doesn't matter if you are a celebrity- they are also obliged to deal with what they encounter. Sian Williams was no exception. She faced a life threatening situation that took a lot of fight to win over. Learn about her entire experience of facing such a risky situation.
Fortunately, she was assisted by her beloved ones to pull through. Find out how she found help in the form of her dear loved ones.
Caption: Sian Williams tells of double mastectomy, 5 News.
During the critical moment for Sian Williams when she fought breast cancer, her husband, Paul Woolwich had expressed his feelings, "I knew that if ever this fiercely independent woman needed my full support, it was now."
He had ended with the note of gratitude for his step-sons who had been very supportive on the matter of their mother's cancer and mastectomy. Let us learn more about their struggle.
Diagnosed with Cancer:
The dazzling lady from BBC was never expected to experience such a huge shock. In 2014, after just a week of her birthday, she was diagnosed with Breast Cancer.
She revealed this later only in May 2016 in an interview with 'Women and Home Magazine' along with another confession that she has already gone through a double mastectomy.
Support From her Family:
The most important thing during such incidents is the support of your loved ones. Sian's younger children were kept away from this news to prevent any panic and sorrow, but fortunately, her husband and eldest sons Joss and Al were there beside her.
The supporting Husband, this kind of support rules out even the slightest chance of Divorce:
Paul Woolwich, the executive director of Amnesty International, who has been married to Williams since 2006, wrote in Telegraph that the moment was one of the very few times in his entire life when he felt scared. He went on to write warm words about his step-sons who took care of Sian in his absence. He further went on to express about the post surgery experience.
"When I was eventually allowed into the recovery room I found Sian, small and battered and broken."
He further added that as tears ran down Sian's cheeks, he found himself utterly helpless and trying desperately to mask his own. But days later, he found her more confident to reveal her scars to him.
Caption: Sian Williams chokes as she talks about the effects of cancer on family
The Effect on her Children:
In the interview, Sian also said that the most troubling portion of it was the thought of her children. She used to wonder if the cancer had caused her adult sons to grow up faster than their age. She still remembers how stunned she was when her daughter, Eva, asked her "Will I get it too?".
She couldn't spit out the bitter truth initially. Her pain was more aggravated by the fact that she lost her mother and aunt to cancer as well.
However, she remained strong for her children to show them that cancer does not only mean a death sentence but a second chance.
Encouragement:
@sianwilliams100
Sorry to hear your saddening news Sian.that you have Cancer.Heartbreaking news.Saw it in newspaper. hope you beat it.

— John Horne (@johnhorneartist) May 26, 2016
@sianwilliams100 So sorry to hear about your breast cancer & mastectomy Sian - what a huge shock for you. Hope all OK - sending a big hug xx

— Charlotte Hawkins (@CharlotteHawkns) May 25, 2016
Currently, she is probably going through reconstructive surgeries to mend the scars of the operation.
Launch of 'Rise':
Regarding all of this struggle Sian faced in her lives, she has been motivated to write a book about it. On June 2016, she released her book 'Rise: Surviving and Thriving After Cancer' so that she could share her experience as well as ease the pain of people facing similar people.
She has also spoken about her book on her website, "The diaries on which the book is based are so raw, and often I don't think they show me in the best light. But that's what it's like, isn't it? Sometimes, going through tough times, you're not your best self."
Sian Williams Triumphs Over Cancer, Breaks Down Taking Part In 2017 London Marathon
Sian Williams has reportedly completely treated her cancer and is back on track to the healthy life. The British Reporter was rid of her condition two years ago, and this year she decided she was fit enough to take part in the annual London Marathon.
The former cancer patient finished the marathon in four hours and 20 minutes and was in tears while receiving her medal. The event holds significant meaning to the BBC reporter as it stands to show how far she has come and the medal not only shows her strength but her also her virtue as a survivor. Friends, family, and Fans are proud of her and smiles are all around.
Sian reportedly ran the marathon because it made her 'grateful to be here' after the ordeal with the whole cancer thing and was quoted on twitter saying,
Cancer is often a mental struggle as well as a physical. So grateful to be here - thoughts with those who can't be.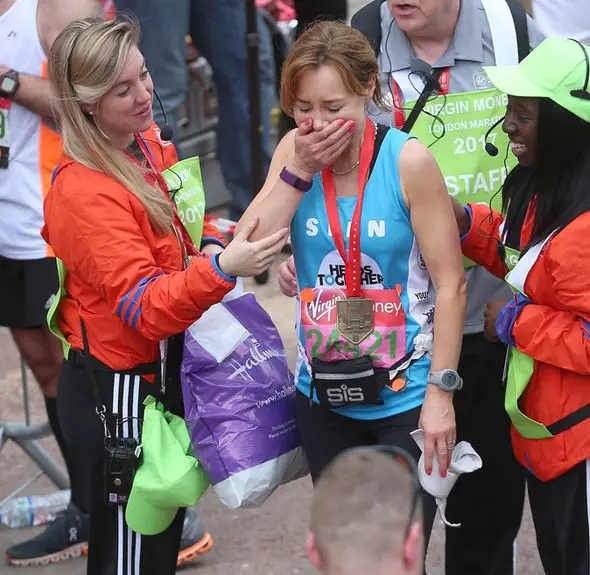 Caption: A tearful Sian Williams gets comforted by Staff at the London Marathon 2017.
Photo Credit: express.co.uk
Sian Williams is mostly known for her 30 years long BBC career as the current affair reporter. Starting as a reporter and producer for a radio station in BBC, she has made her way up to co-hosting shows like 'BBC Breakfast', 'Saturday Live' and 'Sunday Morning Live'. She had left BBC on 5th November 2015, to join 5 news for Channel 5.
Caption: Sean's first programme, 5 News.
She gained a Masters Degree in Philosophy at the University of Westminster. She later wrote the book 'Rise: Surviving and Thriving after Trauma,'which is inspired by her own life. She wrote the book to help other people cope with both their emotional and physical pain.