Entertainment
Silas Weir Mitchell Personal Life: Is The Actor Married Or Just Dating?
American actor Silas Weir Mitchell, who is best known for his character as Monroe in NBC's 'Grimm,' is successful in regards to his career.
You have seen Silas in 'Grimm' where he eventually married his girlfriend Rosalee despite facing lots of challenges from the Wesen cult. But how far do you know about his personal life? Is the star married or dating someone in real life as well?
Dig in to find that out!
Inside Silas' Personal Life
The American actor Silas has been active in the industry since 1995 but keeps a low profile when it comes to his life beyond the camera. However, his fans keep on stalking him as possible as they can, so that they can grasp something about their favorite celebrity.
It has come to light that Silas is married to the gorgeous K K Dodds, who makes several appearances with Silas on various events. Besides that, he has not been active in sharing his married life through social networking sites.
Despite his privacy, one of his fans uploaded a picture of Silas and his wife on February 16, 2013, from their visit to Styring.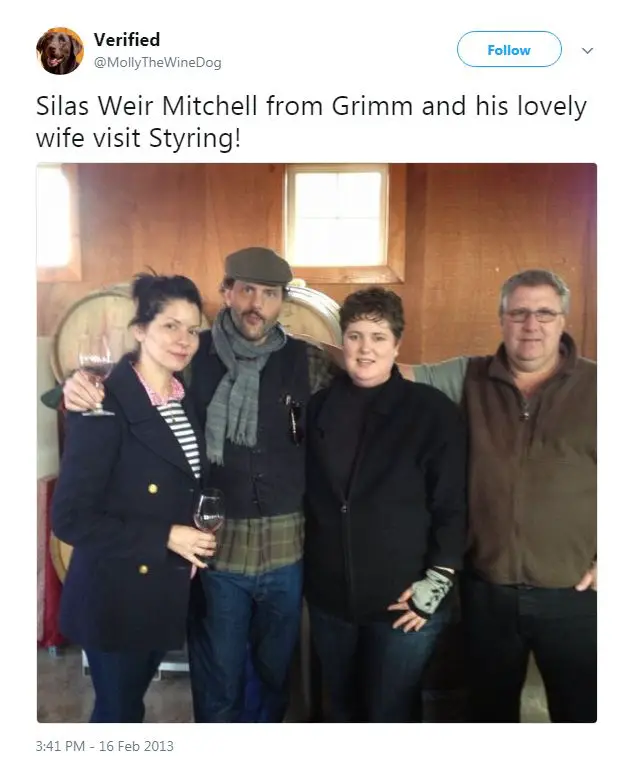 Silas and his wife's visit to Styring (Twitter)
Again after a couple of months, on 2 June 2013, another fan uploaded an image of Silas with his beautiful wife.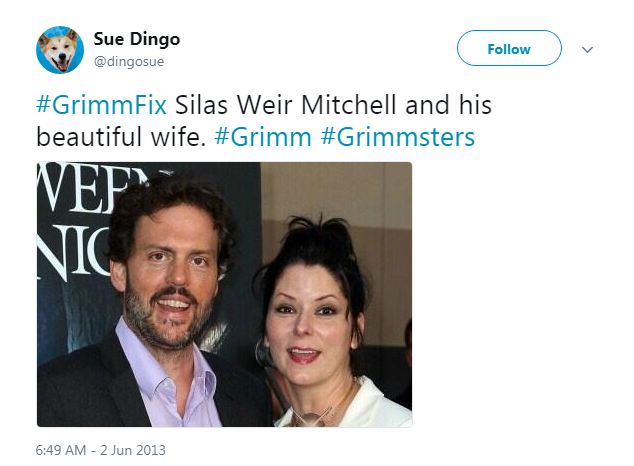 'Grimm's' star Silas with his beautiful wife in an event (Sue Dingo's Twitter)
Likewise, in July 2014, one of Silas fans tweeted a picture of Silas and his wife with some rescue dogs through his Twitter account named 'Team Silas Weir.'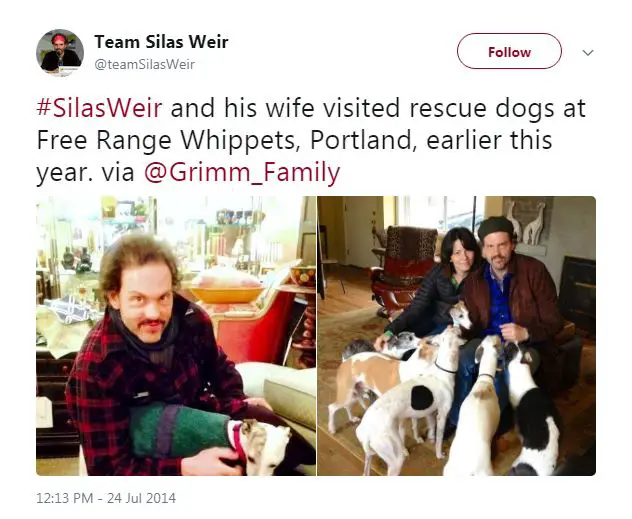 Silas and his wife with some rescue dogs (Team Silas Weir's Twitter)
It seems that Silas doesn't want to reveal anything about his wife probably because he doesn't want to stir up rumors regarding their personal life. Despite his private life, Silas sometimes talks about his relationship with wife and praises his wife on interviews.
In an interview with The Oregonian in 2012, Silas assured that he has a lot of love for his wife as he always finds time to meet his wife or she comes up to him during their busy hours. As per Silas,
"We have a three-week rule, Every three weeks, I either find time to go home to L.A., or she comes up here."
Silas Weir's Short WiKi-like Bio
Silas was born in Philadelphia, Pennsylvania, USA, on 30 September 1969. He attended the Montgomery Country Day School in Gladwyne PA for his elementary school years. Later, he graduated from St. Paul's School in Concord, New Hampshire in the year 1987. Similarly, he majored in Theatre and Religion from the Brown University in Rhode Island and completed Masters of Fine Arts from University of California San Diego in 1995.
After graduating from Brown, Silas spent some time in New York City, acting in some minor theatre productions. He then performed recurring guest roles in television series like '24,' 'Eli Stram,' 'My Name Is Earl,' and many more.
James Hogan, a mentally, unstable recurring character on Cold Case is one of Silas' most notable roles. Similarly, Silas is also known for portraying Monroe in NBC's 'Grimm' and Charles Patoshik in FOX's 'Prison Break.'
Besides on TV series, Silas has had film roles in notable movies like 'Private Parts,' 'The Patriot,' and 'Inferno.' Apart from his acting career, Silas has also directed a dramatic short film called 'Songs' in a Convenience Store in 2010. With his striving career to stardom, Silas has, as of now, accumulates a splendid net worth of $3 million.
Think we're missing something? Do let us in the comment section below!