Entertainment
Sophie Kasaei Too Smitten To End Dating Affair With DJ Boyfriend? Well, Think Again
Love and relationships not always take a person to cloud nine, it sometimes shatters their heart into numerous pieces. The Geordie Shore star, Sophie Kasaei has experienced something similar, as she has separated with her long-time-boyfriend Joel Corry out of the blue.
Well, the news about Sophie's failed relationship with DJ boyfriend might be surprising to most people out there, but the truth is that Sophie's rocky dating affair is finally over, months after cryptic tweets.
Let's take a closer look how at how all this happened!
Sophie Kasaei's Split With Boyfriend That No One Saw Coming:
A source has confirmed the split of Sophie with her boyfriend of five years after she hinted her failed relationship on social networking sites. According to the statement obtained by The Sun-
"They have split. It's been rocky for a while but it's over. I don't think she wants to talk about it too much as it's been very on and off, but it's over right now."
The pair indeed has parted ways after a rocky relationship!
On Sunday night, Sophie attended MTV EMAs alone, where OK! Magazine quizzed her over split claims. Sophie responded cryptically by saying-
"Rumours are rumours… but I just want to concentrate on me now. I'm getting a lot older, I'm 28 now, I started Geordie Shore when I was 21."
She continued-
"It's just complicated, it's complicated you know."
Prior that, Sophie discussed new beginnings with Charlotte Crosby on Twitter. Well, you can have a look at their conversation in the picture below!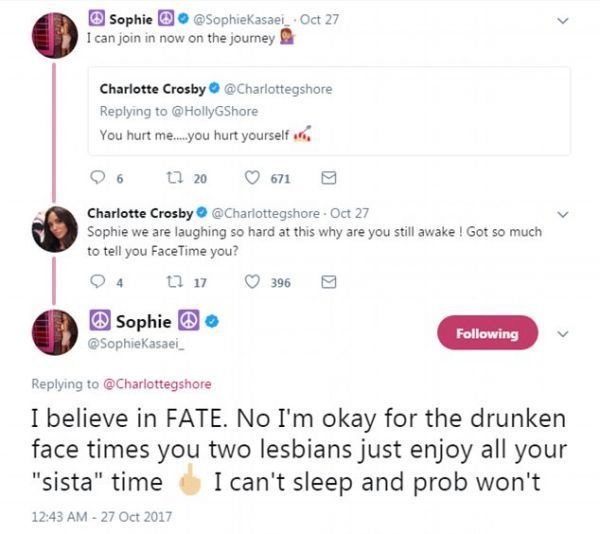 Caption: Sophie Kasaei and Charlotte Crosby cryptically discussing on Sophie's new beginning.
Photo Credit: Dailymail
Sophie and Joel's relationship first came to limelight in 2012, soon after they met when Joel was working as a production intern at MTV. The pair were together for around five years where they suffered a number of bitter break-ups and cheating allegations.
Earlier this year, Sophie gushed about her love life with MailOnline where she explained-
"All reality shows have the relationship curse and I'm very proud we're still together. I trust him 100%. I believe people change. Joel's 27 and when he was younger he did do stuff - so did I - but it all fell on him."
Sophie, who used to get negative comments about her weight, was disappointed when people tweeted saying she doesn't deserve to have a hot boyfriend. In an interview with MailOnline, Sophie expressed-
"I've been getting negative tweets about my weight for ages now - but nothing as vile as this. I'd almost got used to it and have been able to just blank it out or laugh it off. People have told me I'm fat and disgusting and don't deserve to have a hot boyfriend, but when I got this tweet, it made my blood run cold. I was in shock then burst into floods of tears."
But despite all that, Sophie remained together with her Joel and slammed all the haters with a significant weight loss.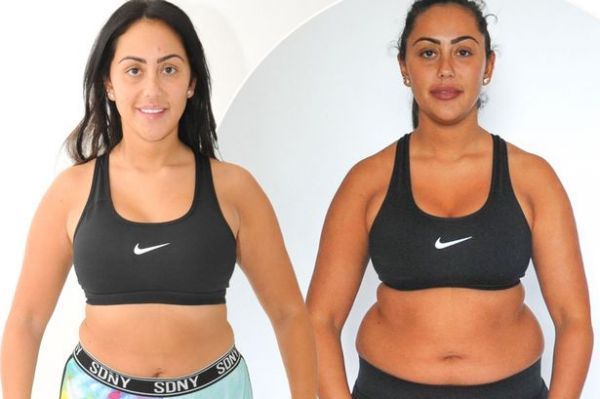 Caption: The beautiful Sophie Kasaei after and before weight loss.
Photo Credit: Daily Mirror
Though Sophie was getting back to enjoy her love life after keeping the negative comments aside; she suddenly decided to concentrate on herself.
Keep visiting for the budding updates on the love life of Sophie Kasaei!