Entertainment
Naturalist Steve Backshall Is Now Officially Married! Wedding Details
Steve Backshall is a nature-loving TV show host who has appeared in various shows such as...is married to his Olympic gold medalist wife...their wedding took place in...had been girlfriend and boyfriend for one year before getting engaged...was raised in a family with two children...one of his twins was pronounced dead...has a net worth of around $2 million...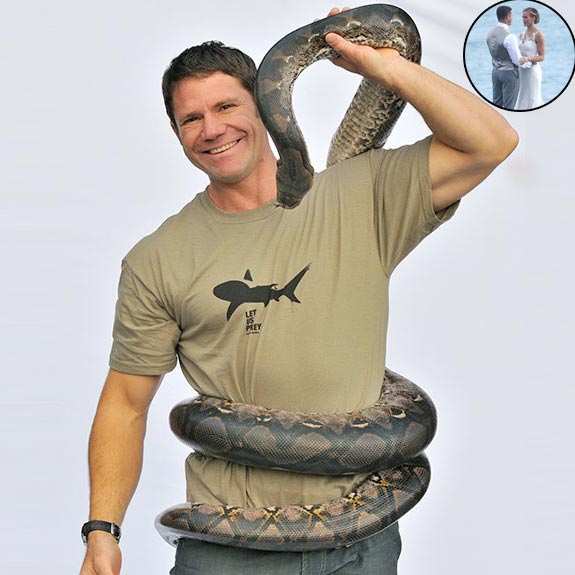 Steve Backshall is a naturalist. In other words, he loves all kinds of animals and nature in general. He is also a reality TV personality who is most famous for his CBBC show, Deadly 60 (2009-2014).
Steve has been a television host for more than 20 years and has appeared in a multitude of shows regarding nature, such as Nature's Microworlds (2012-2014), Deadly Pole to Pole (2013-2017), and Japan's Northern Wilderness (2017).
In addition to his work in projects related to nature, the reality star has also appeared in TV series like Strictly Come Dancing (2014) and Mastermind (2009). 
Personal Life: Wife And Children
Not very different from his career, Steve's personal life, too, is a stable affair. The host has been in a longtime relationship with his Olympian wife.
The woman in question is Helen Glover, an Olympic gold medalist in rowing in 2012 and 2016. Helen is an amazing athlete as she holds the Olympic, European, and World records in her sport along with her partner in rowing, Heather Stanning.
Talking about their relationship, the happy couple first met in 2014 during a Sports Relief event at Queen Elizabeth Olympic Park. They gradually began dating, but it was love at first sight for both of them.
Steve only took one year of dating to realize that his girlfriend was perfect for him. Therefore, on 16th September 2015, the couple announced their engagement. And, approximately after one year, on 10th September 2016, the couple got married. The wedding took place at Piskies Cove, Cornwall, which is Helen's hometown.
The ceremony was a beautiful occasion, attended by many of Steve's Strictly Come Dancing co-stars and Helen's Olympic gold medalist partner, Heather. Their wedding service was conducted by humanist Zena Birch, who told the attendants about Steve and Helen's journey to their wedding day.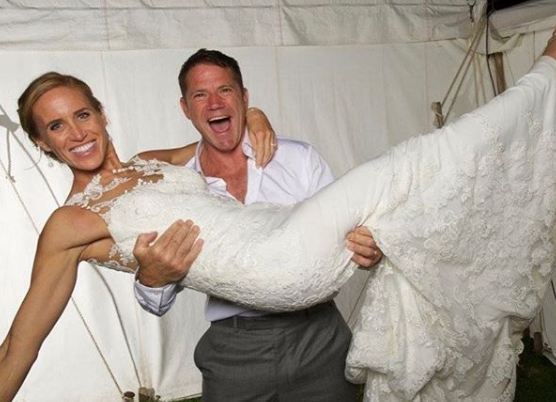 Steve Backshall carrying his wife Helen Glover on their wedding day (Photo: Steve Backshall's Instagram)
After the wedding, the couple took a week's rest before flying away for their honeymoon to the Sea of Cortez in Mexico.
Further, the couple's happiness was doubled when they welcomed their first baby into the earth. Their son - Logan James David Backshall - was born on 24th July 2018. Logan was meant to be one of the twins that were supposed to be born.
Read More:- Chris Packham Not Getting Married With Zoo Owner Partner? Love Caused Him To Nearly Suicide
On 13th March 2018, the couple announced that Helen was pregnant with twins. Unfortunately, on 9th April, Helen announced that one of the twins was dead, but was still expecting another baby to be born healthy. Logan, who was the other baby, was born. Steve and Helen announced his name on 1st August 2018, a week after Logan's birth.
Moreover, another one is on the way, as Helen is expecting for the second time. On 30th September 2019, the couple made an appearance on the red carpet at the Animal Hero Awards - where Helen was seen with her baby bump for the first time. The upcoming baby is expected to arrive this summer.
Net Worth Details
Steve - due to his hard work, dedication, and passion for his job - has been able to accumulate a decent amount of wealth for himself. As of December 2019, Steve has an estimated net worth of around $2 million.
Another TV Star:- Hannah Brown [DWTS] Dating Status, Is She Engaged?
In addition to the reality TV shows and expeditions, Steve is also an author. He is a fiction writer and has published many books in the genre of children's fiction and diaries. It can be assumed that Steve makes a few additional bucks from his book sales. His latest book, Expedition, was released in July 2019.
Facts: Age, Height, Family
Steve was born on 21st April 1973 in Bagshot, Surrey, England, UK.
He is the son of an aircraft dispatcher father - who used to work for the British Airways - and mom - who used to work in ground control and check-ins at Heathrow Airport. Steve grew up alongside a sister.
The naturalist stands at a height stretching 5 feet 11-and-a-half inches (1.82 meters).
His first hit TV show was EarthPulse (2001).