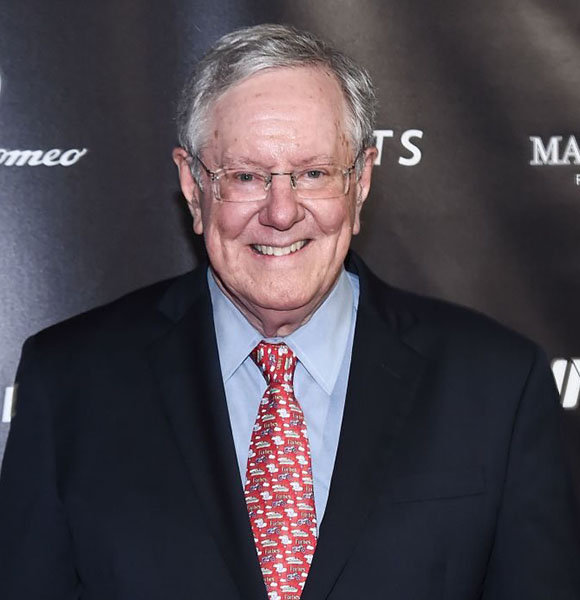 American publishing executive, Steve Forbes, a two-time presidential candidate needs no introduction. His position as the Chairman and the Editor-in-Chief of the Forbes media stands out in his resume.
The firstborn of Malcolm Forbes, a former president of Forbes magazine, has indeed upheld his family's legacy.
What
 

Is Steve Forbes Net Worth?

Shooting the arrow at the point, Steve Forbes, born Malcolm Stevenson Forbes Jr., has a net worth of $430 million.

His earnings hail from his job at the Forbes Media. The millionaire writes a column titled "Fact and Comment" in each issue of the magazine which made him the four times winner of highly prestigious Crystal Owl Award.
You May Like:- Elyse Luray Husband, A President! Married Life, Birthday, Net Worth
On top of that, the New Jersey native has quite a portfolio. The most prominent being his two presidential runs in 1996 and 2000 respectively.
He spent $37.4 million in his earlier and $32 in his later campaign. His bid was for the Republican party nomination for the presidency. Significant issues of his run were a flat tax, medical savings accounts, a new Social Security system for working Americans, parental choice of schools for their children, term limits and a strong national defense.
Although his presidency dreams failed, the Forbes chairman remained a prominent figure in America. His job includes him serving as a board member of the board of trustees at the Heritage Foundation, an influential Washington, D.C.-based public policy research institute. He is a regular panelist on the television program Forbes on Fox.
And, aside from that, the multifaceted Princeton alum is also a writer. He authored books namely Money: How the Destruction of the Dollar Threatens the Global Economy – and What We Can Do About It, Power Ambition Glory: The Stunning Parallels between Great Leaders of the Ancient World and Today And the Lessons You Can Learn, and so on.
Family: Wife And Daughters
The world-renowned economic prognosticator met his wife, Sabina Beekman at a party in 1970. They hit it off immediately and tied the knot the very next year in June 1971 at Beekman home in Cap d'Antibes on the French Riviera.
The Forbes' first lady has always been media-shy; she famously refused to give an interview while her husband was running for president. Instead, she focused on spending time with her five daughters.
Read Also:- Jeana Keough Who Has A Married Daughter Is Hiding Her Boyfriend; Reveals About Weight Loss And How She Did It
The five daughters Catherine, Moira, Elizabeth, and the twins; Sabina and Roberta are the apples of their parent's eyes. The Forbes sisters grew up under their parents' watchful eyes in Bedminster, New Jersey. With their constant love and support, the five sisters have done well in their lives and made their parents proud.
One of the twins; Roberta got married in 2000, the middle daughter Catherine is the vice president of Milestone Entertainment Inc, and the youngest daughter Elizabeth (Biz) - who has anti-semitic views - got married in 2014. Steve beamed about his youngest daughter 's wedding on his Facebook page on 19th August 2014.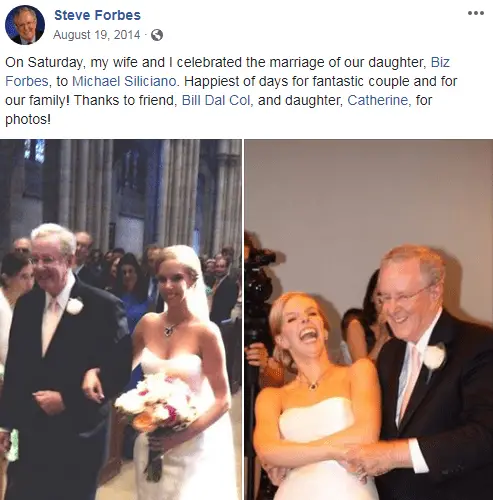 Steve Forbes smiles with his daughter, Elizabeth during her wedding on 16th August 2014 (Photo: Steve Forbes's Facebook)
His other daughter, Moira Forbes like her father, completed her education at Princeton University and joined Forbes. Now an executive vice President of Forbes Media, she can probably be the successor of her father's position in the future.