Entertainment
Sunshine After Rain! Jenni Pulos Welcomes Baby Daughter With Husband
'Happiness doesn't go away just because you are now in pain; there's always the sunshine after a pouring rain!'
Making the above sentence relevant, the "Fliping out" star Jenni Pulos and her husband Dr. Jonathan Nassos gave birth to a baby girl yesterday at 1:38 pm. She is completely overwhelmed to have been a mother again as she suffered an unfortunate miscarriage last year.
The couple has already named their little angel 'Georgia Grace.' Taking to Peoples magazine, Jennie revealed what inspire the newborns' name:
"When I was newly pregnant, I had contaminated progesterone and almost lost the baby. The song 'Georgia on my Mind' kept playing everywhere I went, I knew it was my amazing aunt and my husband's best family friend, both named Georgia, saying, 'We are your angels in heaven. Don't give up.' We knew from then on her named had to be Georgia."
And that's how they came up with the name Georgia.
Here's the Instagram picture; taken after welcoming Georgia, happiness resembled on everyone's face.
The couple is already parents to a beautiful daughter Alianna Marika, who turns four this month. Jenni keeps posting pictures of her happy family on her Instagram. Here's a glimpse of that.
Jennie gave away the pregnancy news in January, initially hesitating to discuss it because of the challenging process of pregnancy the couple went through. Talking about the complicated process, Lucy Pargeter shares the similar story, who had complications during her pregnancy as well.
Jennie told the people's magazine:
"We had one embryo that they said could be viable.They said you'd have a 50/50 percent chance that it will work."
She further added:
"Being open about it and being able to share lets other people understand that they're not alone."
Jennie revealed the news through an adorable Insta Post:
Jennie and her husband Jonathon Nassau exchanged their wedding vows in the ceremony that took place on a Memorial day weekend in 2012.
She was also married to Chris Elwood before filming Bravos' reality hit. Jenni's marriage with her now ex-husband was found crumbled during season 2 of the show, reason being; Elwood was spotted slacking off on the job as captured by the hidden camera. The tape raged tension in the couple's marriage, leading Jenni to file divorce shortly. They were divorced in the year 2008.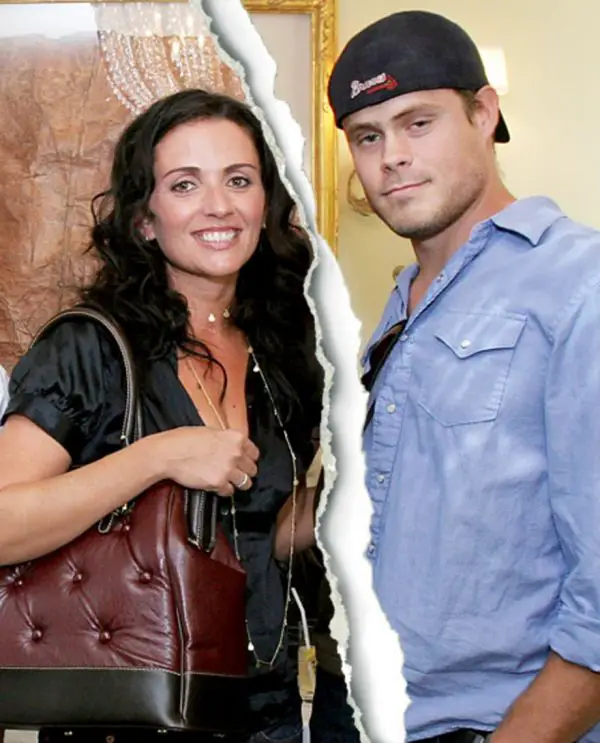 Caption: Jenni Pulos and her Ex-Husband Chris Elwood
Photo Credit: USmagazine.com
Jenni's Wiki-like Bio
Jennie Pulos, who now is a mother of two beautiful daughters, is an Emmy-nominated producer and is best known for her role on Bravos' hit show- 'Flipping out.' Jennie worked as an executive producer to Jeff Lewis who is a renowned producer himself; she worked for Jeff for about 13 years. She is also a comedian and has her hands on writing scripts and songs. She co-wrote and sang the theme song for Bravos' 'Watch what Happens: Live.'
Born on 3rd January 1973, she is 44 years of age and still manages to flaunt a fresh look. She has had a very impressive ongoing career, but she is yet to reveal her net worth.
Congratulation! to both the Nassos couple on the arrival of their daughter Georgia!