Entertainment
Swae Lee Plans Romance; Rapper Of Mixed Ethnicity Eyeing Another Besides Girlfriend?
The rapper and songwriter, Swae Lee, might have been in a relationship, but his ideal date was not with his girlfriend. One half of the hip-hop duo 'Rae Sremmurd,' Swae Lee has found success at an early age and finding a girlfriend is not hard for the rapper either.
But did he secure his ideal date and has he moved on, or, is he still stuck up on it? Keep reading to find out about his love life, and also how he likes his hair done. We know you want to know!
Did Swae Lee Secure His Dream Date?
Swae Lee proved that, celebrity or not, it is natural for one to develop a crush. While talking regarding fantasizing about dream dates, the No Type singer has it all figured out. It started off with his new year's resolution to go out with Malia Obama, daughter of the former president Obama.
When interviewed by TMZ in Downtown LA while leaving his brother's birthday party on 29 December 2016, Swae Lee, less known by his real name, Khalif Malik Ibn Shaman Brown, revealed that he was crushing on Malia. He even speculated that he has something in common with the former First Daughter.
"We both love life equally, you know what I'm saying... We might connect."
Additionally, he said that a link up with Malia might "unlock a new swag in him" and shared his willingness in writing a song for her.
Three months down the line, TMZ spotted the rapper of Afro-American ethnicity at LAX. Though the interviewer did not ask him anything about the success of his fantasy, he brought up the matter himself to let Malia know that he had not given up.
"Malia, look, hit me up!"
This time, Swae Lee had a date planned. When asked where he would like to take Malia, he said the Bahamas would be ideal.
"We're going to go on a dinner date; 200 feet in the air; on a suspended table; 5-star restaurant."
What a lavish idea! But that's not the end of it, as he added,
"After that, we're going to go to the beach; we're going to do what we do on the beach, you know, we might go on some jet skies. Then, I'm going to take you home."
Moreover, Swae Lee said that, like a gentleman, he would not hesitate to ask for permission with the former president to date his daughter.
However, despite his efforts, Malia did not seem to reciprocate, for on 27 March 2018, TMZ caught up with Swae Lee at LAX again to learn that the rapper had given up. When asked if he had heard back from Malia, he said, after looking down and contemplating,
"I give up."
Well, don't feel bad for him just yet as he said he has his eyes on someone else already. Naturally, the interviewer asked him who she was, to which Swae Lee replied,
"Can't tell you just yet, but she's a baddie."
Maybe he didn't want to jinx it like the last time. We understand!
But a dig into his social media revealed his link up with an Instagram model, Marlie Ortiz, since before his confession of the crush on Malia Obama. On 5 January 2017, shortly after Swae Lee first revealed his wish of going out with Malia, he uploaded a video of Marlie's lip syncing on his Instagram. Perhaps, he had to make up for what he said to TMZ?
Though no more instances of Marlie's mention in Swae Lee's social media can be seen, Marlie's Instagram features quite a few posts of the two together. The two can be seen laughing as well as posing with a dog.
Moreover, Marlie has even taken the liberty to deem that she is very much in love with Swae Lee.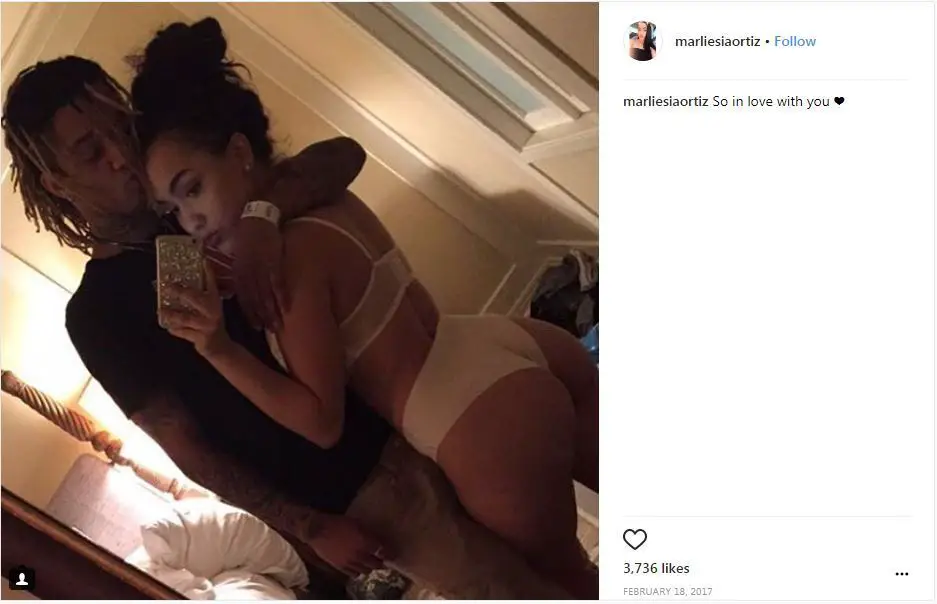 (Photo: Marlie Sia Ortiz's Instagram)
And the picture openly suggests that too!
However, there have been no recent updates about the relationship between Swae Lee and Marlie Ortiz after the duo was last seen in August 2017 on Marlie's Instagram.
Maybe they broke up because of Swae Lee's quest for swooning over the "baddie" he couldn't tell his fans about, who knows?
His current dating status is not officially known, but he did share a picture with a girl recently and called her bae in the caption. Take a look!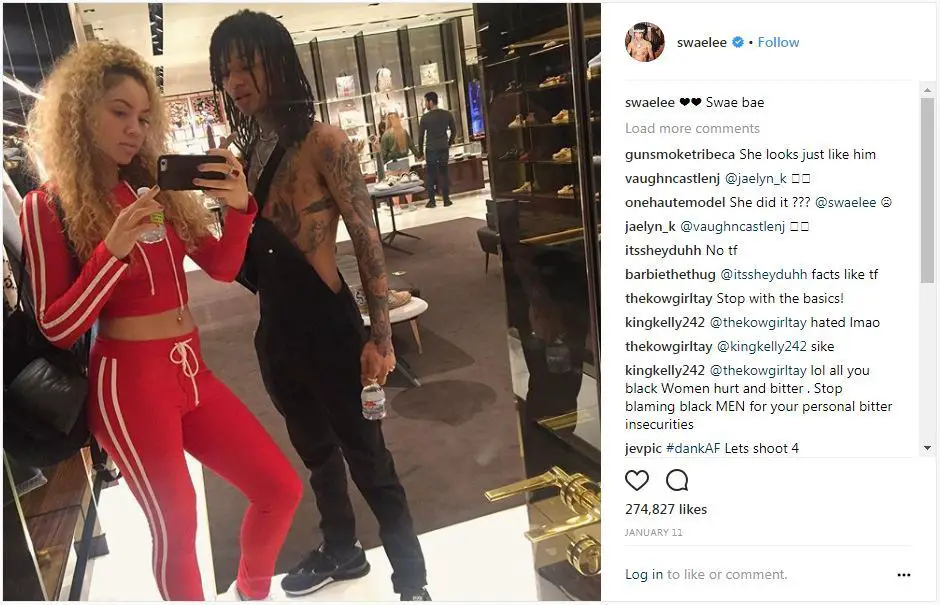 (Photo: Swae Lee's Instagram)
No further information about their union is available, but we have something to make up for the lack of information. Remember we said we'd reveal how Swae Lee likes his hair? Well, here's how: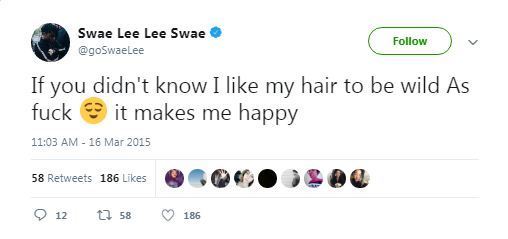 (Photo: Swae Lee's Twitter)
And now you know how his hair looks so effortless!
Keep Visiting for the emerging updates on the life of Swae Lee!