News
Donald Trump Meets Barack Obama in The White House Setting Side all The Past Disputes! View Full Report
Politics can be an unpredictable ugly game, something witnessed by America in the Presidential elections as fingers were pointed primarily between President Barrack Obama and then Republican candidate Donald Trump until days before the election. But as of now President Obama invited President-Elect Trump for a meeting at the White House on Thursday.
As surprising as people may find this, Republicans or Democrats, the meeting went smoothly and without any awkwardness. The press got a chance to join the president and president-elect briefly. The two men faced the media side by side after their first authentic 90-minute meeting at the Oval Office of the White House.
Caption: Mr.Trump Meets President Obama at White House for First Time on November 10, 2016
Despite more than a year of sharing a negative history, the outgoing and incoming Presidents had nothing to say but great words about each other.
"I want to emphasize to you, Mr. President-elect, that we now are going to want to do everything we can to help you succeed because if you succeed, then the country succeeds," said President Trump.
He also talked about how his top priority will be to assist the new president to handle all the tasks from national security to foreign policies. He also looked excited towards the collaboration of his team with Trump's.  
While all of this was happening President-Elect Trump seemed to agree with a nervous stance, overshadowed by the presence of President Obama. He let out random words in agreement saying things like,
 "I have great respect" and "It was great working with you."
They were not taking any questions, but ABC's Jonathan Collin managed to get in a question, "If he was really going to seek the President's Council" to which Mr. Trump responded by saying, "He's a good man." This was really strange to hear when he was the same guy who had once questioned Obama's nationality as an American and proclaimed him as the founder of ISIS.
Barrack Obama has also said things about Donald Trump in the past saying
Donald Trump "was unqualified, temperamentally unfit and a threat to the republic which should never be president."
Talking about meetings that surprisingly did not turn out to be awkward two other informal meetings were going on at the White House. First was between the First Lady of United States Michelle Obama and the soon-to-be FLOTUS Melania Trump. While the men discussed politics, few doors downwards the wives enjoyed tea together talking about bringing up their children in the White House followed by the tour of the entire White House including the beautiful scenery from Truman Balcony.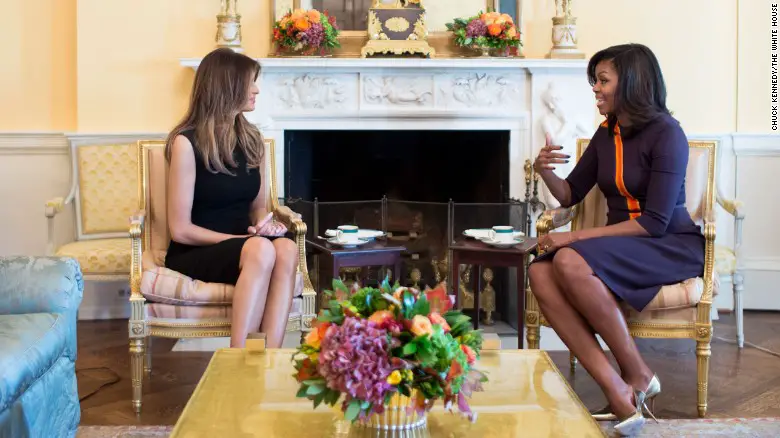 Caption: Melania Trump and Michelle Obama sit down for tea in the White House on November 10, 2016
Source: cnn.com
Similarly, outside at the Rose Garden, reporters also spotted White House Chief of Staff Denis R. McDonough with a crucial adviser and son-in-law of the soon-to-be President, Jared Kushner taking a stroll around the west and south wing of the White House talking in hushed voices. Denis has frequently been seen discussing things like this with the President.
Trump had journeyed to the White House from first landing into the Washington Airport in his own airplane to riding to the White House by car. He had been joined by his wife Melania, speaker and Representative Paul D. Ryan and adviser and son-in-law Jared Kushner. Trump had acceded to the meeting thinking it will be no longer than 10 to 15 minutes and was surprised at the fact of it lasting an hour and a half.
By December, the plans are to adequately prepare Donald Trump from any national security crisis through war gaming exercises. And by January it is intended for Donald Trump to have the nuclear codes. But as of that day, Trump simply made his way to a balcony facing the Westside of the White House alongside Paul Ryan where on January 20, 2017, he will be sworn to Presidency. Standing on the balcony of the White House Mr. Trump that these words to say;
"Really, really beautiful,"