Entertainment
Tammy Blanchard Ever Got Married To Have A Daughter? A Secret Husband Somewhere Or Has A Boyfriend?
When a single mother takes all the responsibility of a child, then interest arises about her boyfriend, marriage and the father of the child.
Actress Tammy Blanchard has a child whom she loves the most, so there lingers curiosity amongst the fans regarding her wedding, husband or boyfriend.
Has she taken a liking to a hairstylist by the name of Patrick Ferrara? Could he be the biological father of her daughter?
Daughter Without Husband Or Is Tammy Married In Secret?
Tammy Blanchard has been a loving and caring mother to her daughter Ava Jean Blanchard named after Ava Gardener who was born in 2008.
Read Also:- Laura Tobin & Husband's Premature Birth To First Baby, Wedding Talks!
During an interview in June 2011, she shared the reason behind the name Ava, where she said,
"Yes, I did. I read her bio Love is Nothing and I fell in love with her. And then that was the only name for me. They said that when she walked in a room the whole place turned because her smile was just so vibrant. She was the most beautiful woman in the room and I just believe Ava's going be that, too."
Further, Tammy revealed that not being recognized by people is beneficial for her as she can spend uninterrupted time with Ava.
"Not at all, and it's good because I have my daughter, Ava, with me most of the time. People don't recognize me coming out of the stage door, so I get to go right home to her. It's a good thing, actually, for my personal life."
Tammy has spoken about an apple of her eye, Ava but has not revealed anything about the father of her daughter.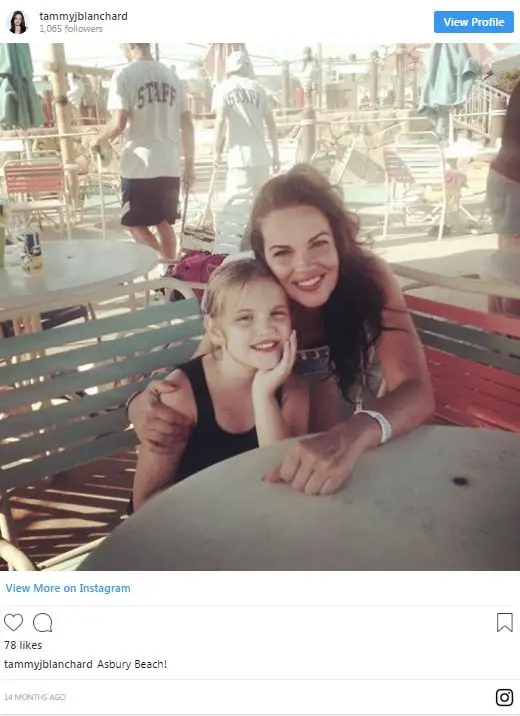 Tammy shares a rare picture of her daughter on Instagram (Photo:- Tammy Blanchard's Instagram)
And she has been successful to maintain a tight guard on her personal life as it is unknown if she has been previously married to have a husband or not, but currently, she is far from being single.
Interesting:- Jon Huertas Married In Mexico But Where Is He Now? Age, Children, More
Moreover, Tammy's dating affair with a boyfriend has not been reported yet, but the possibility of her romancing a lover secretly cannot be eliminated. Look no further than her Instagram for proof.
Is Tammy Married To Patrick Ferrara?
For someone who's renowned for keeping her intimate life away from the prying eyes of the public, Tammy shocked the show-biz industry when she shared a photo of her kissing a hairstylist by the name of Patrick Ferrara.
Tammy gives her followers a rare insight into her intimate life with the Instagram post (Photo:- Tammy Blanchard's Instagram)
What's interesting about Patrick is the fact that he doesn't hesitate to call her Tammy "family." He once posted a picture of him and Tammy on Christmas with the caption:
"Happy Holidays from our family to yours! @tammyjblanchard"
Likewise, Tammy's new boo's "family" tag extends to her daughter Ava as well. This has lead people to suspect that the duo might be married in secret.
A Short Bio On Tammy Blanchard:
American actress and singer Tammy Blanchard was born on December 14, 1976, in Bayonne, New Jersey. She made her acting debut with a soap opera Guiding Lights in 1997, and she had been a major artist of the series by the time she left it in 2000.
Read Also:- Freddie Highmore, Obscure Dating & Girlfriend History; Makes Him Gay?
She earned a nomination for Tony Award and Theater World Award for portraying Louise/Gypsy in 2003. Back in 2011, she won an Emmy Award for the portrayal of teen Judy Garland in the Television movie Life with Judy Garland: Me and My Shadows. Again in the same year 2011, she earned a second Tony Award nomination for Featured Actress in a Musical for the role.
Furthermore, her other film credits include the thriller film "The Invitation" (2012), "Into the Wood" (2014) and "Tallulah" (2016). Tammy's television credit includes Law and Order (2010), The Good Wife(2010), The Gifted Man(2012), The Big C(2012), Madam Secretary(2014).
Her most recent project Warning Shot which features her in a leading role alongside industry heavyweights David Spade, Diaz, Dwight Henry, Onata Aprile, Frank Whaley with Bruce Dern and James Earl Jones was premiered on 6th September 2018 at the prestigious Writers Guild Theater in Beverly Hills, California.
Tammy is sure to have collected a hefty amount in her bank with all her hard work and dedication. Although she is yet to reveal her net worth, it is estimated to be in millions.