Entertainment
Laura Tobin & Husband's Premature Birth To First Baby, Wedding Talks!
Premature baby birth is as much of a common phenomenon as it is unique --  every premature birth poses a different set of problems and thus, how the parents of the newborn persevere during those dark times is a testament to their characters. 
Good Morning Britain(GMB) weather presenter Laura Tobin and her husband Dean Brown also had to live through a similar experience following the premature birth of their baby daughter in the summer of 2017.
Credit to Laura and her motherly instincts, she has once again proven to be a tough cookie. Since recovering from the said experience, she has gone to become an internet sensation because of her wedding pics and has also appeared on GMB with her baby daughter to share their story.
Laura Tobin & Her Husband Are Proud Parents To Baby Daughter
Like her mother, baby Charlotte is a fighter at heart!
Discover:- Jacob Batalon Featured In Night School At Age 22 | Ethnicity, Height Unveiled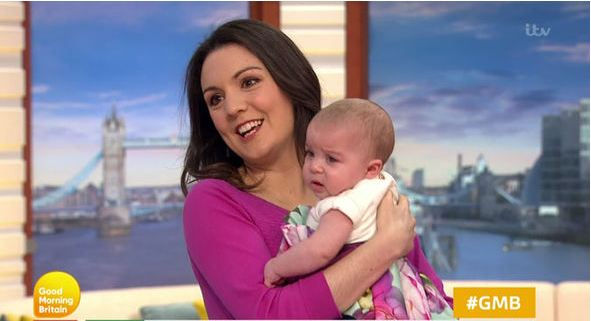 Laura introduces her baby daughter to her fellow co-stars (Photo:- Express.co.uk)
About nine months after giving birth to Charlotte, the GMB weather presenter appeared alongside her baby daughter to discuss the premature birth among other things. She quipped:
"When babies are born prematurely, their lungs haven't finished developing. She was on oxygen nearly the whole three months that she was in the hospital."
The revelation comes less than a year after Laura had sent out a tweet, sharing the news of her baby daughter's birth -- three months before the due date.
"I'm proud to announce I'm a mummy-My beautiful baby arrived over the summer (much earlier than planned) a gorgeous girl called Charlotte."
An hour or two earlier, her GMB co-hosts Susanna Ried, and Piers Morgan had first broken the news in a PSA-like fashion. Susanna told the GMB audience:
"We are pleased to say she has given birth to a little baby girl. She has called her Charlotte."
According to Laura's July interview with GMB, Charlotte's parents had named their daughter after Charlottenburg. Charlottenburg is a town in Germany where the pair got engaged.
Read Also:- Allegedly Lesbian Tracie Thoms: Got Boyfriend in the Past but What About Now? Is She Secretly Married?
The university sweethearts have been together for 16 years now, 8 of those as a married couple.
Laura's Wedding Pics Makes Her Viral
Despite being one of the most sought-after bachelorettes at the Reading University at the time, it didn't take much effort for her then-boyfriend Dean to sweep Laura off her feet. In 2015 Mirror interview, the ITV personality revealed:
"The thing about Dean was that he didn't become too intense, send me loads of flowers, and he didn't love me more than anything on Earth. Our relationship just grew and after about six months we fell in love with each other."
Every May 17 Laura likes her followers to take a trip down the memory lane by posting the wedding pics from the day of her wedding in 2007.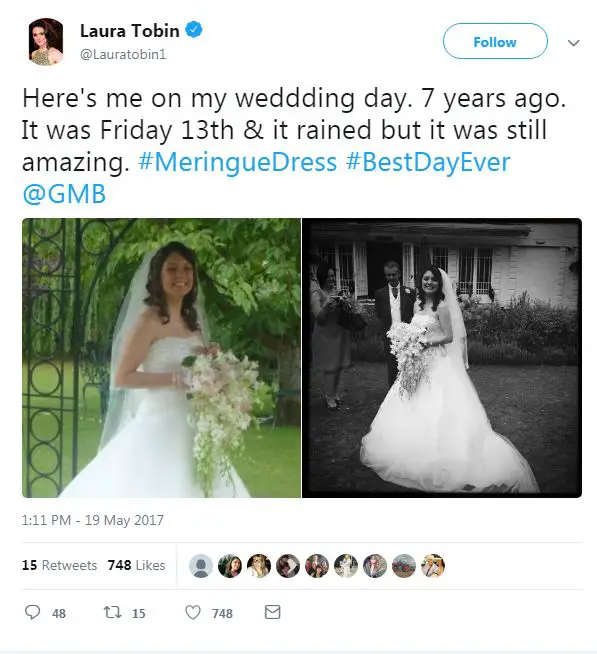 Laura celebrates the 7th year anniversary of her wedding to her husband (Photo:- Laura Tobin's Twitter)
Interesting:- Comedian Steve Byrne Secret Wedding To Wife; Stand Up Comedian Details
One thing is for sure: no amount of dedication to spreading her actual wedding pics with her husband will be able to surpass the impact left behind by the images of Laura strolling down the Windsor in a carriage while wearing a wedding dress.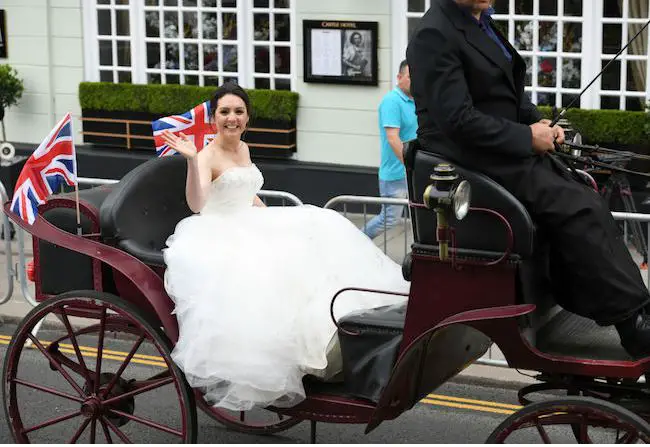 Laura rehearsing the royal wedding ceremony for GMB audiences' amusement (Photo:- Hellomagazine.com)
Lucky for her husband, it wasn't an actual wedding but a showcase of what Prince Harry and Meghan Markle's procession would look like in three days time.