Entertainment
Tanisha Asghedom [Nipsey Hussle's Ex] Bio, Real Name, & Daughter
Tanisha Asghedom is best known as the ex-girlfriend of late rapper Nipsey Hussle. Further, she is also the baby mama of the rapper's first child. 
Tanisha and rapper Nipsey Hussle were in a relationship a long time ago. However, following Nipsey's tragic death, she has been on the news frequently because of her past relationship with Nipsey. 
Tanisha Asghedom's Ex- Nipsey Hussle's Bio 
American rapper Nipsey Hussle was born as Ermias Asghedom on 15th August 1985 in Los Angeles, California. 
He grew up in Crenshaw and attended Hamilton High School but eventually dropped out and went on to become a member of the Crips street gang. 
He initially gained attention as an underground rapper for his mixtapes, especially his Bullets Ain't Got No Name, rap series. Later as his fame increased, he changed his stage name to Nipsey Hussle after comedian and actor Nipsey Russell. 
In 2018, Nipsey released his debut album, Victory Lap, which received a Grammy nomination for Best Rap Album category in 2019. 
But in March 2019, Nipsey died a tragic death after being shot multiple times in front of his own clothing store in Los Angeles. 
Nipsey Hussle's Partner At The Time Of His Death:- Lauren London [Nipsey Hussle's Partner] Net Worth, Ethnicity & Personal Life
After Nipsey's death, his killer was believed to be someone from the rapper's circle with a personal motive. 
Her Daughter Emani Asghedom
Tanisha Asghedom and Nipsey Hussle, aka Ermias Asghedom's daughter, Emani Asghedom, was born on 9th November 2008 in California, USA.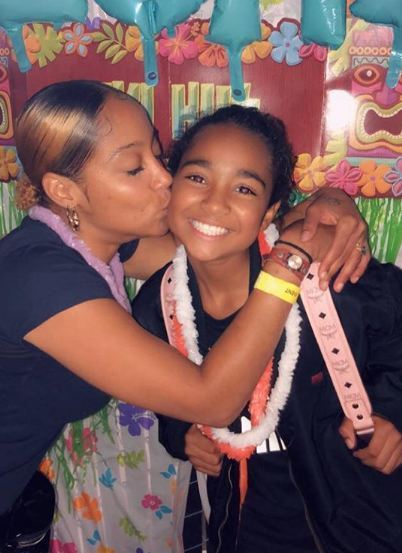 Tanisha Asghedom with her daughter Emani Asghedom in August 2019 (Photo: Tanisha Asghedom's Instagram)
Emani was ten years old when her father, Nipsey Hussle, was shot dead. 
Custody Battle
After Nipsey's death in 2019, his sister, Samantha Smith, filed a court petition seeking to gain legal custody of her late brother's child. It was reported that Nipsey's family was concerned that Emani's biological mother, Tanisha, may not be able to provide a stable environment for Nipsey's daughter. 
Another Celeb's Custody Battle For Kids:- Alex Jones' Married Life Ended In Divorce! Also Lost Children In Acrimonious Divorce & Custody Battle With Wife
After the month-long trial, the late rapper's family was successful in getting the custody of Emani. The legal decision came after the Nipsey family's lawyers proved that Tanisha as an unfit parent, and she could not provide a stable home for the girl. 
Following the long custody battle, Emani's legal guardians are Nipsey's sister, Samantha Smith, brother, Samiel Asghedom, and mother, Angelique Smith. 
Some Other Facts
Tanisha Asghedom celebrates her birthday on 17th May.
Her real name is Tanisha Foster.
At the time of his death, Tanisha's ex, Nipsey Hussle, was married to actress Lauren London.
Tanisha also has two other children- a son and a daughter from her previous relationships.