Entertainment
Taylor Hall Injury Update, Contract, Stats, Trade & Dating Status Now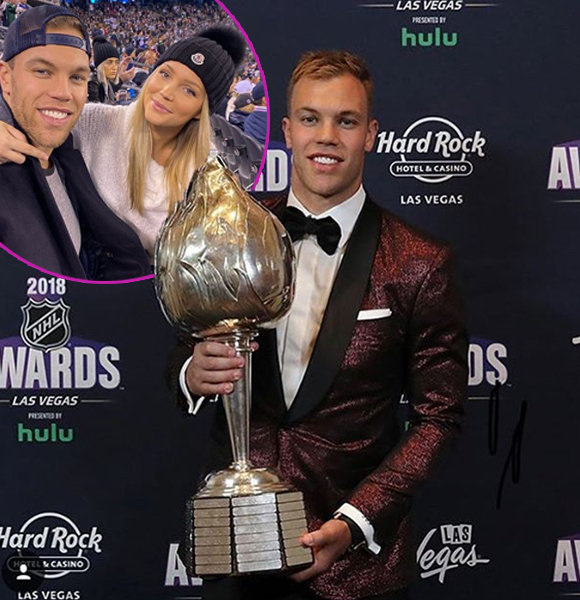 Canadian hockey player Taylor Hall made his NHL debut in 2010 after being selected in the 2010 NHL Draft by the Edmonton Oilers. Prior to that, he was also a star player in the junior leagues, who won the OHL and CHL Rookie of the Year.
Most recently, Taylor is back on the sports news following his recent trade from New Jersey Devils to Arizona Coyotes on 16th December 2019.
Taylor Hall's Contract/ Stats & Trade
Taylor Hall started playing hockey from a very young age. When he was a boy, his father made a backyard rink for him to practice, every winter.
He initially started his career playing at Canadian junior leagues. He also played on the Canadian national U-18 and U-20 teams. After that, he got drafted by the Edmonton Oilers in the 2010 NHL Draft. At that time, he signed an $11 million-worth three years contract with the Oilers. 
As the three-year contract ended in 2013, he signed a seven-year contract for $42,000,000 with the Edmonton Oilers. Following the lucrative deal, he pocketed an annual average salary of $6 million.
Another Hockey Player:- Morgan Rielly Girlfriend, Family, Contract, Salary
In 2016, the Oilers traded the left winger to the New Jersey Devils for Adam Larsson. Further, on 16th December 2019, Jersey traded Taylor Hall and Blake Speers for three players - Nick Merkley, Nate Schnarr, and Kevin Bahl with the Arizona Coyotes.
As for his stats, during his entire career, Taylor has scored 208 goals and assisted for 329 goals in 593 matches. Further, 36 of his goals were match-winning goals.
Taylor Hall's Injury Update
Hockey is a brutal sport. Occasional injuries on the pitch are regular news. And, Taylor Hall is no exception. The star hockey player has suffered many minor injuries throughout his career, including a shoulder injury, head injury, ankle injury, and so on.
But, at the beginning of 2019, things got a little rough for Taylor because of severe pain on his left knee. No accident led to the injury, but the player suffered severe pain. He even had three MRIs and consulted expert doctors, but no one could find the actual reason.
You May Be Interested:- NHL's Nate Thompson Get Back On Rick After Critical Injury! Has Some Flings Like a Dating Affair Besides Hockey?
After trying many rehab sessions and other options, he went through arthroscopic surgery on his knee. During the operation, the surgeons found loose fragments in his knee, which caused the pain.
As of now, the hockey player has healed from his knee surgery and is coming back to his original form.
Taylor Hall's Dating Status Now
Well, with the player's impressive stats and amazing career, naturally, there are curiosities regarding his personal life.
Further, Taylor Hall is someone who has always been very open about his relationship. He has been dating Rachel Rush for quite some time.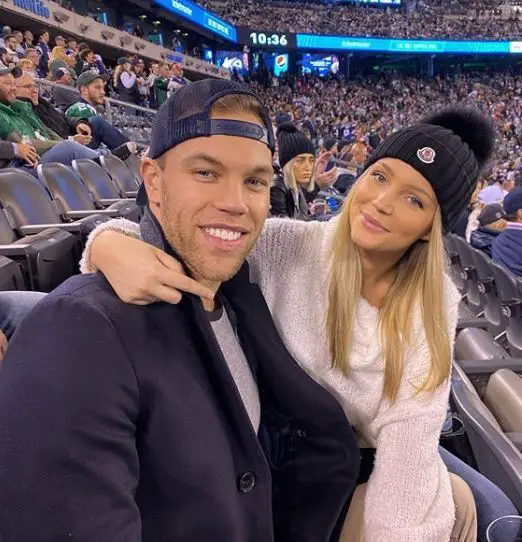 Taylor Hall with his girlfriend Rachel Rush at Metlife Stadium in October 2019 (Photo: Taylor Hall's Instagram)
Taylor and his girlfriend's dating history is not known precisely. But, their first post together on social media was in December 2017. So, it can be assumed that they started dating around the time. 
Despite being in a relationship with one of the world's most famous hockey players, Rachel's personal life remains pretty low-key. However, both Taylor and Rachel's do not shy away from showing off their love for each other on social media - filled with PDAs.
Some Other Facts
Taylor Hall was born on 14th November 1991 in Alberta, Canada.
Taylor's parents are former Canadian football player Steve Hall and Kim Hall.
The NHL left-winger's height stretches 6 feet 1 inch (1.85 m) with a complimenting weight of 90 kgs (200 lbs).