Teddi Jo Mellencamp is an American actress and reality show star who gained fame appearing on...parents raised her alongside her sister  Justice Mellencamp with no other siblings in...entered the film industry with the movie Flipping Out in... previously married Matthew Roberston...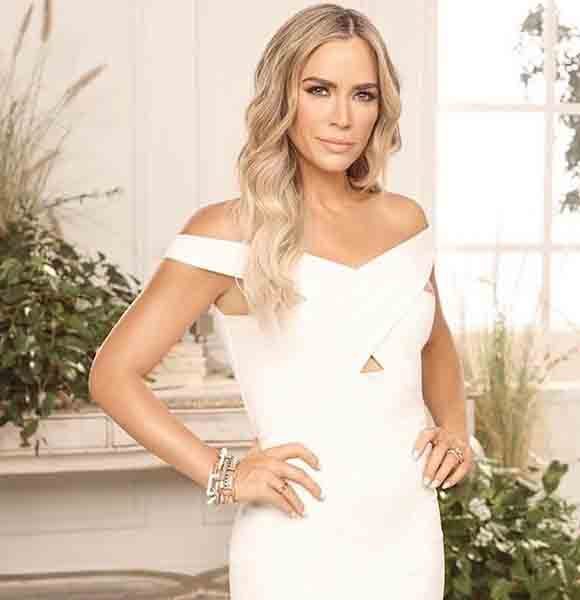 Teddi Jo Mellencamp is an American actress-reality TV star, who gained fame appearing on The Real Housewives of Beverly Hills.
The actress is also a fitness junkie and works as a fitness influencer in her company-blog named LA Workout Junkie. Apart from her career, she is an animal lover and enjoys riding horses.
Explore Teddi's bio to know more about her wedding and net worth.
Teddi Mellencamp's Bio
Teddi Jo Mellencamp was born on 1 July 1981 in Bloomington, Indiana, to father John Mellencamp - a pop singer - and mother, Victoria Granucci. Her parents raised Teddi alongside her sister Justice Mellencamp in Hilton Head, South Carolina with no other siblings in the family. 
The actress measures above the average height of 5 feet 5 inches (1.75m) and maintains a stellar body with regular exercise and a healthy diet.
Growing up, she loved being around horses. Matter of fact, she started riding them at the age of four. She was so obsessed with them that her whole youth was surrounded by her involvement as a competitive equestrian.
After that, she moved on from the sport and started work at CAA and UTA in Los Angeles at the age of 17. Then, her frequent struggle with weight drove her to a profession as an accountability coach and fitness influencer.
From Same Show:- Tanya Sam Bio, Net Worth, Husband, Family
Maintaining a gorgeous body figure for herself through constant training, Teddi entered the film industry with the 2007 movie, Flipping Out. Many viewers appreciated her acting, after which she landed herself for eight seasons of The Real Housewives of Beverly Hills.
As of now, the fitness freak owns her own boutique business called All In by Teddi, and her TV show is in its new season in 2019.
Husband & Children
Teddi is married to husband Edwin Arroyave since July 2011 and shares two children: daughter Slate Arroyave (b.2012) and son Cruz Arroyave (b.2014). She also looks after a step-daughter named Isabella (b.2008) from her husband's previous marriage.
The reality star has also adopted her husband's name and now introduces herself as Teddi Mellencamp Arrovaye.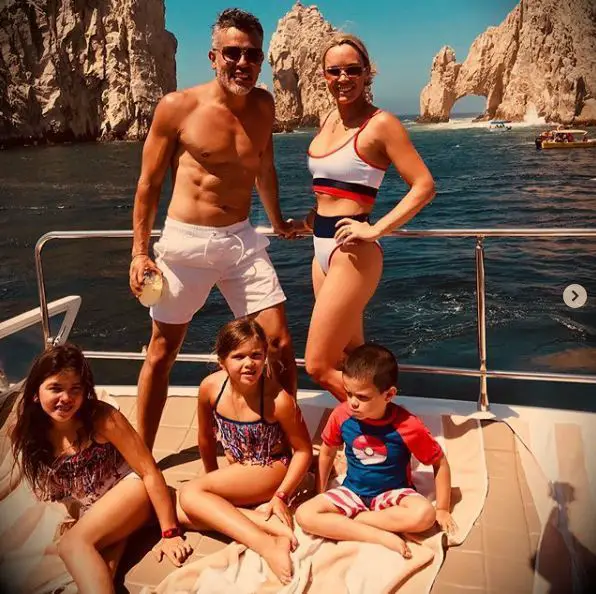 Teddi Jo Mellencamp alongside husband Edwin Arroyave and children during a vacation in July 2019 (Photo: Teddi Jo Mellencamp's Instagram)
However, things were not always perfect for the Bloomington native; she was previously married to Matthew Roberston in 2006. The two shared beautiful three years together before partying ways in 2009.
After her departure with Matthew, she met Edwin Arroyave - the CEO and founder of Skyline Security Management - on a blind date. The two instantly connected and got married in a lavish wedding ceremony which took place on Edwin's dad's property in 2011.
The couple wanted to start a family early on, but Teddi went through multiple miscarriages before finally giving birth to Cruz with the IVF process.
As of now, the 39-year-old actress divides her time with family and work  
Net Worth Details
Apart from her appearance on The Real Housewives of Beverly Hills (RHOBH), Teddi's net worth has been a frequent topic of discussion amongst the fans.
The show is known for its wealthy cast members and their lavish lifestyle. Teddi is no different. The actress bags a lot of wealth from her primary role as a fitness influencer and founder of All in By Teddi, which provides fitness coaching.
Not only that her hefty roles in TV shows and movies like Next Level and Flipping Out boosts her net worth tremendously taking it above the seven-digit mark.