Following her dream to become an entrepreneur, Tanya Sam successfully made a transition from the medical field to the business industry.
Tanya Sam is the director of Operations and Partnerships at TechSquare Labs. She is also one of the leading businesswomen and television personality, who is globally recognized for her appearance on The Real Housewives of Atlanta.
Parallel to business; she even helps encourage female entrepreneurship through her organization, BuiltxWomen.
Bio & Family
Tanya Sam was born in Toronto, Canada in 1978 and celebrates her birthday on the 13th of December every year. She is the daughter of a Ghanian father and an English mother, which makes her a mixed ethnicity women. Raised by her parents, she was brought up with her sisters: Tamara Sam and Lanalee Araba Sam.
Mixed Ethnicity:-Asia'h Epperson Parents, Net Worth, Boyfriend
Ever since an early age, Tanya excelled in studies. She received a degree in genetics & cell biology from McGill University and further broadened her knowledge by earning a nursing degree from the University of Toronto.
After completing her higher studies, Tanya worked in The Princess Margaret Cancer Foundation as a registered nurse between 2002-2006. Also, she worked for New York Methodist Hospital (2007-2012) and Northside Hospital (2012-2015) during her ten-year-long nursing career.
However, In 2012 she became the founder and CEO of the Limitless Smart Shot before moving in the field of technology as the director of Operations and Partnership in TechSquare Labs in 2015.
Tanya - who ages 40 as of July 2019 - stands tall above 5 feet and maintains a healthy weight.
Married Or Casually Dating?
Tanya Sam has been in a relationship with boyfriend Paul Judge since 2009. The pair met in Los Angeles when Tanya was shopping with her sister. 
Like love at first sight, Tanya immediately fell for Paul. However, she was too shy to approach him, but her sister helped her break the ice, and the pair ended up going for drinks with their friends at the same time.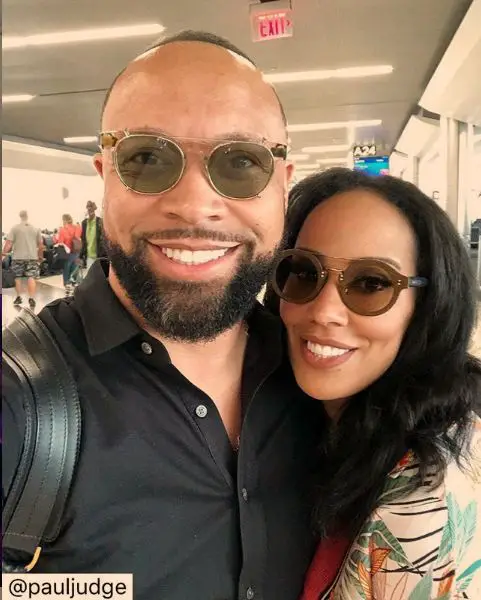 Tanya Sam with alleged fiance Paul Judge on 5 July 2019 (Photo: Tanya Sam's Instagram)
As of now, the couple has been dating for ten years. Even though they claim to be engaged, there is no legal information regarding their engagements.
Also Read:-Devendra Banhart Wife, Net Worth, Tour, Now
But, from the looks of it, Tanya and her soon-to-be husband will get married in no time.
Tanya Sam Net Worth
The Real Housewives of Atlanta star has gained both fame and money for her appearance in the reality show.
Tanya started her career as a nurse and worked in different hospitals for ten years. However, she shifted her interest into business and technology when she met her boyfriend Paul and established a company of their own.
Since then, Tanya and Paul have gone on to build an empire for themselves in the field of business. Tanya's net worth is accumulated to be in millions, owning multiple companies throughout America.