Entertainment
Actor Terrell Carter's Boyfriend Revealed Gay Side, Unwanted Start To Dating Men Publicly
American actor Terrell Carter, who is mostly known for his role in the movie Think Like a Man Too, is also an R&B singer. He is famous for his albums as The Answers and Crazy Lunatic Psycho Fool.
Besides his fame from his work, Terrell has hit the media headlines time and again for his gay rumors and dating affairs. From his ex-lover addressing his gay rumors to his new dating affairs, the Diary of a Mad Black Woman star has his own story to tell.
Follow the full story of Terrell Carter!
Ex-Boyfriend Says Gay; Leaks Intimate Image
Terrell Carter brought gay speculations first in 2008 when he was rumored to be dating Noah's Arc star, Christian Vincent. But at the time, Terrel dodged the gay allegations, and the rumors could not help but fade away with time.
However, a year later, in 2009, Terrell's gay rumors got answered finally after Terrel's ex-boyfriend, Alex Cortez made things crystal clear. He gave proof regarding Terrel's sexuality to media; the intimate pictures clicked of him and Terrel together. The leaked image depicted both The Story singer and Alex sharing an intimate moment together, which directly hinted towards Terrel's gay sexuality.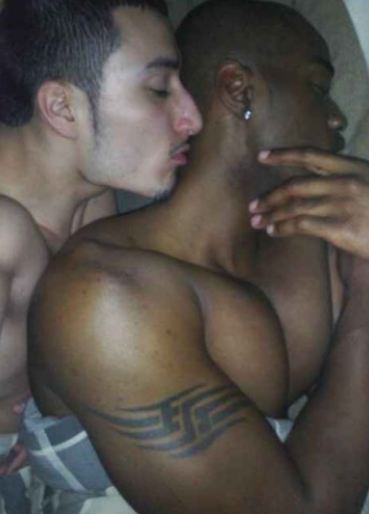 Terrell Carter and ex-boyfriend Alex Cortez intimate picture surfaces out in July 2009 (Photo: queerty.com)
Perhaps the unexpected leakage of such sexuality of Terrel helped him to appreciate his gayness, and also move on with a relationship with same-sex rather than making a girlfriend.
Ex-Boyfriend's Anger Towards New Reportedly Boyfriend!
Not long after Terrell's gay sexuality surfaced out, he got romantically linked with model Keston Karter. One of the sources allegedly gave detail of the party that Terrel and Keston attended in Cincinnati in July 2009 via an article.
The writer also addressed Terrell's leaked image by claiming that Terrel's ex-boyfriend leaked the intimate pictures because he was angry with Terrell's romance with Keston. Afterward, the write detailed the party and revealed that Terrel and Keaton were together in the VIP section and were making sure not to take pictures together.
But after Terrel performed, the writer claimed that the pair started to mingle at the party.
Though the hot news buzzed in the media, neither of the pairs have confirmed their dating scenario. They were also spotted together after the incident. So, it is not sure if the allegations are true or not.
Gay Relationship WIth Jussie Smollett
Moreover, Terrel has also not been tangled in any relationship or any dating rumors as of now. His social media also lacks the presence of any person that can be given a partner tag.
Perhaps he is single and just focusing on his budding career.
However, in his reel life, the American artist involved in a gay relationship portraying the role of Warren Hall, a man who chooses to seduce Jamal , played by Jussie Smollet, in the popular American series, Empire.
As a twist, his character finds to having real feelings for the character Jamal, and the two fall in love.
Like that of his reel life, may Terrell finds a love interest in real life as well and brings the news himself for all.