Terrence Ross is an American basketball player for Orlando Magic, who became famous after he won the 2013 NBA Slam Dunk Contest.
However, Terrence is not only known for his on-court brilliance. The athletic player also has an interesting love life involving another celebrity; Amber Rose. But is he still with her? Or has his dating life turned to a different path?
Time With Amber Rose
Terrence dated supermodel Amber Rose in 2016.
The couple were seen together numerous times in 2016, with Amber even visiting Terrence in Toronto when the player was with the Toronto Raptors. The couple shared some quality time together while they were together.
Related to Amber Rose:- Alexander Edwards Wiki, Age, Amber Rose, Baby
However, their relationship didn't last for a long time as they split up only after a month of dating. Rumors about the break up started swirling around the internet around June 2016. And, the break up was confirmed when Amber deleted her Instagram posts with Terrence.
Terrence's Current Wife
However, as things unfolded along with Terrence's relationship, and a shocking fact was revealed. The whole time that Terrence and Amber were getting cozy, the player was married to his wife, Matijana Ross.
Interestingly, the couple tied the knot on 4th June 2011. Despite having separated for a brief period around 2016, in which Terrence dated Amber, he and Matijana are now going strong as ever in their relationship.
And, Terence and his wife boast two children together. The athlete's elder son, Tristan Ross, was born on 9th December 2014. Further, Tristan's little sister came into the world at some time around May of 2018. Terrence and Matijana have not revealed their daughter's name yet.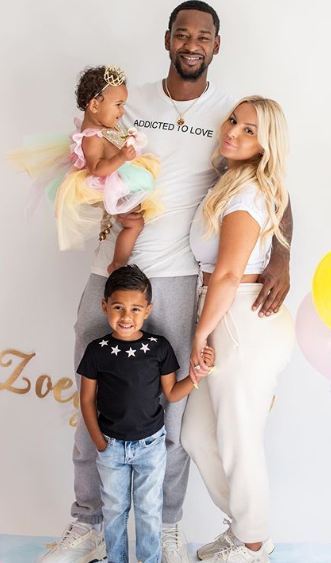 Terrence Ross with wife Matijana and children in May 2019 (Photo: Matijana Ross's Instagram)
With two children and a happy family, Terrence must be looking forward to life.
Talking more about Matijana Ross, she is a model and realtor according to her Instagram bio. The Orlando-based model's birth name and other information are not yet revealed.
Family And Education
Terrence Ross was born into a family of athletes. Both his father, Terry Ross, and his mother, Marcine Ross, were basketball players in their youth. Both of them attended Cal Poly Tech and played for men's and women's teams at the college.
Terrence came into the world when Terry and Marcine both were still students. As time passed, their relationship turned bad, and eventually, they divorced.
After his parents' separation, he and his sister, Taelor Ross, were moved to Los Angeles by his mom. Marcine decided to move to LA to be close to her family in Long Beach. It was also the place where Terrence was born.
After a couple of moves, the family finally settled down in Portland, where Terrence went to middle school. He went to Jefferson High School in Oregon and played for the varsity team there.
Another Basketball Player:- Meet James Harden New Girlfriend; Dating At Age 29 Or Just A Rumor?
However, more moves were on the cards for Terrence as he transferred to Montrose Christian School in Maryland. But destiny flipped again, and he was transferred back to Jefferson, from where he finally graduated.
After high school graduation, Terrence chose to commit to the University of Washington. And he made a name for himself at college, during only his sophomore year in 2011. This rise in stature made him declare for the 2011 NBA Draft and was chosen as a top-10 pick for the Toronto Raptors. And thus, Terrence's NBA career took off.
Many might not know that the athlete also has a younger brother named Drew Parker.
Terrence: Age, Height, And Interesting Facts
Terrence Ross was born on 5th February 1991 in Long Beach, California. He currently plays for the Orlando Magic in the NBA and is contract-bound with them till 2020. Before Orlando Magic, Terrence appeared for the Toronto Raptors for five seasons, from 2012 to 2017.
Terrence is an athletic guy. Standing tall at 6 feet 6 inches (1.98 meters), his presence can be felt on the court as he plays in the position of forward and guards for the Magic.