It's raining pregnancy announcements in April!
Joining the likes of Michael Phelps and Lauren Conrad, another celeb dropped the happy surprise. 
On 3rd April 2019, Alexander Edwards and his starlet girlfriend Amber Rose, 35, took to Instagram to announce the reality star's pregnancy. The Def Jam Records' Vice President and his beau expect a baby boy this fall.
The pair shared a picture of Amber's sonogram appointment on their respective handles of the popular photo-sharing app. While the baby will be the duo's first child together, Amber is already a mother to her 6-year-old son named Sebastian Taylor Thomaz with ex-husband, rapper Wiz Khalifa.
Welcomes First Baby Together
After a much-awaited pregnancy announcement, the couple was eager to welcome their first child into the world. Amber often posted pictures on her Instagram, showing off the baby bump and counting down the days of its arrival. 
Then on 11 October 2019, the day finally arrived when the couple welcomes their first child. Just before the delivery, Amber was excited and uploaded a video on Instagram from her hospital room. The footage saw Alexander wearing scrubs and her eldest son Sabastian excited as ever.
Adding to the same, the soon to be the mother of a second child also showcased her happiness through the video. Soon the good news of the baby's arrival followed, and the couple's close family and friends piled up to congratulate the proud parents.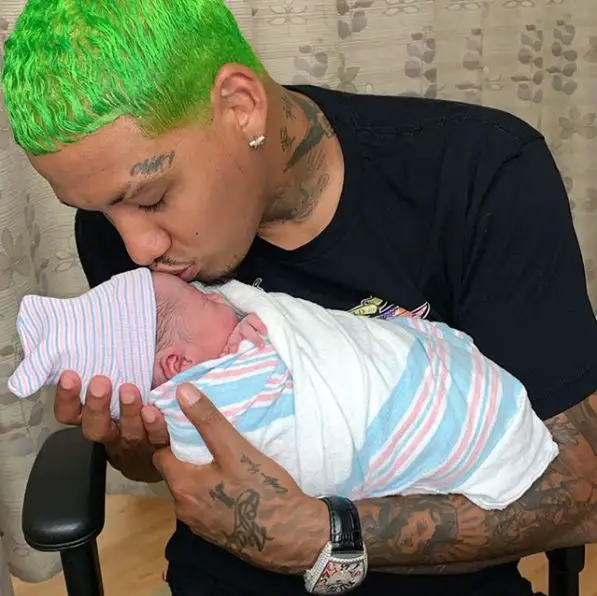 Alexander Edwards poses with his newborn son Slash Electric Alexander Edwards in October 2019 (Photo: Alexander Edwards 's Instagram)
Posting a picture of the son in his hands, Alexander revealed the baby's name as Slash Electric Alexander Edwards and described his happiness being a father. Now a parent, it will be a treat to see how the rapper will cope up with the situation.
Alexander's Wiki
The music executive - who celebrates his birthday on 21st September - was born in Oakland, California. Alexander, now aged 33, was smitten with rap while growing up; his influence was rapper Tupac Shakur. On his path towards exploring rap, he started as a rapper and slowly made his mark in the Bay Area scene. It was there he met his best friend, Tyga.
Iconic Character:- Téa Leoni Husband, Dating, Children, Net Worth
The bromance started with rap but later transited to a professional relationship. Before getting the job as Vice President for A&R at Def Jam Records, Alex worked at Tyga's level, Last King Records.
Alexander's company Def Jam Records represents several big names in the music business; Justin Bieber, Kanye West, Pusha T, NAS, Alessia Cara, and Big Sean, to name a few.
On His Relationship With Amber Rose
Alexander and his girlfriend of Cape Verdean-Italian-Irish ethnicity met in 2015, but the pair weren't an item back then. The couple remained as friends, and there was no romance involved.
According to Amber, the timing just wasn't right. But Alexander had a soft corner for the Sister Code actress and waited for a suitable time to make a move. He pursued Amber, height 5 feet 7 inches (1.7 m), relentlessly.
Although she initially refused all his advances due to her past failed romances, Amber eventually submitted to dating the sweet man.
Amber's Past Relationship:- 21 Savage Splits With Girlfriend Amber Rose After Years Of Dating – Why?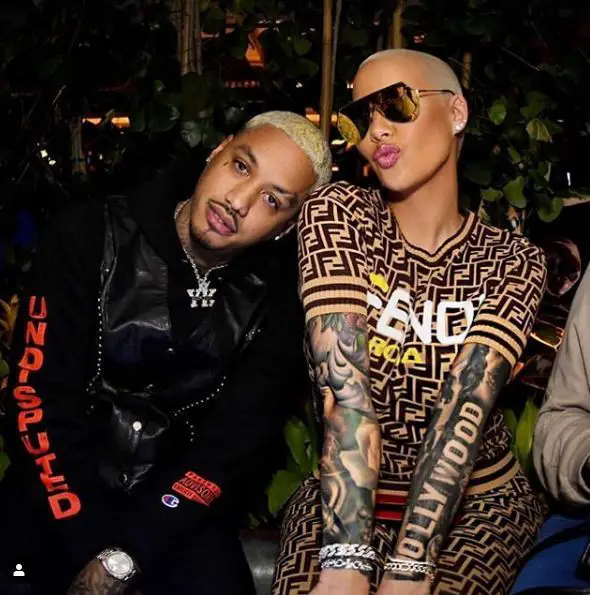 Alexander Edwards poses with his girlfriend Amber Rose on 12th February 2019 ( Photo: Amber Rose's Instagram)
The lovebirds made their relationship public in October 2018 during Amber's annual Slutwalk. They were seen packing some major PDA during the transnational movement.
Outstanding Player:- Brendan Gallagher Wife, Girlfriend, Gay, Parents
On 27th January 2019, Amber put up a post dedicated to her man. In the lengthy post, she talked about the importance of Alexander in her life. The Fame hitmaker defined the music executive as her real best friend who listened to her and understood her.
She declared him to be different, far from her narcissist and cheating exes.
The American model went on to credit Alexander for healing her from a damaged state to her current happy state.
Now, the couple is going from strength to strength and can't wait to be parents to the upcoming baby boy. The parents-to-be don't have plans for a wedding just yet as they could be waiting for the perfect moment.