Entertainment
Tess Holliday Secretly Turned Fiance Into Her Husband? Hiding The Wedding Details?
Marriage is a crucial part of human's life where two people are bonded in a lifetime relationship. Tess Holliday, a plus-sized model, took the best decision while choosing her life partner as she enjoys her married life with a supporting and caring partner.
But the question remains, who is her partner? Is he just a partner, or has already become her husband? Let's find out!
Did Tess Turn Her Fiance Into Her Husband?
Tess Holiday is a famous plus-sized model, and she has a lot of fan followers. She not only gained popularity but also became the part of the inspiration for many women. Tess was able to win people's heart, and one of her fans own her heart as well, and the fan ended up becoming her fiance.
Tess got to know him from Tumblr where they started exchanging their conversations, and she found him impressive. She also encountered him as her husband-to-be after they shared few lines with each other. And the fan turned fiance is none other than the Australian businessman Nick Holliday!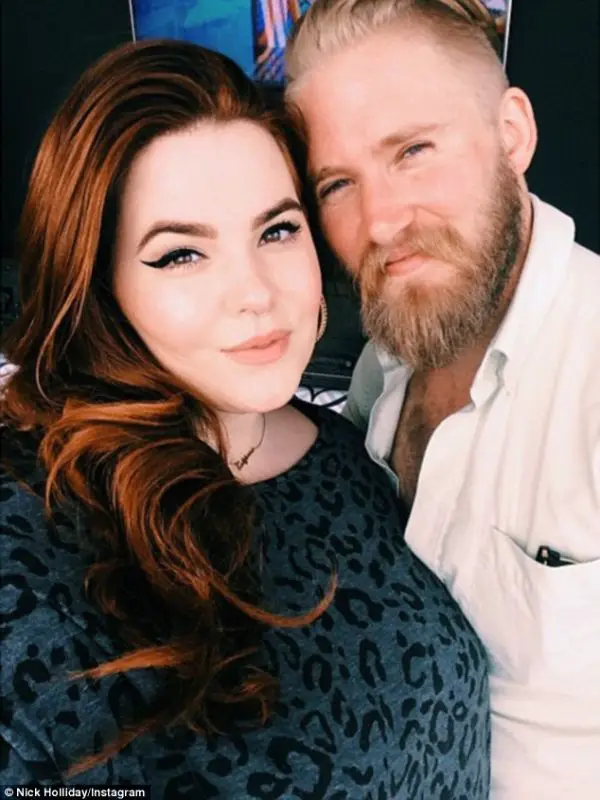 Caption: Tess Holliday and Nick strike a pose together for a picture.
Photo Credit: dailymail.co.uk
During an interview, she revealed that Nick's first message for her was on 2012 through Tumblr, where he stated,
'I love how you inspire other women'
She continued,
"I just remember thinking how cute he was, so we started talking and it quickly turned into a relationship."
She further added,
"I already knew I wanted to marry him before I met him," she says. "He appreciated me in a way that no one else had. I think being a feminist himself, he understood what it was like to really appreciate a woman's body – not in a sexual way, but in that every person is beautiful the way that they are."
He stated that her beauty initially attracted him, but the thing he was pleased by her was the personal message saying everyone is beautiful no matter what size.
After nine months of talk, Nick came to visit her in Los Angeles, and after three years, her love pulled him permanently there, working as her manager. The couple got engaged on 5th July 2014.
Tess Holliday talking about her love life.
Video Credit: players.brightcove.net
Later in 2016, Tess shared a picture while she was 8-month pregnant, stating that it's only a week to go. Tess and her fiance Nick gave birth to a beautiful baby boy, Bowie Juniper on June 6, 2016.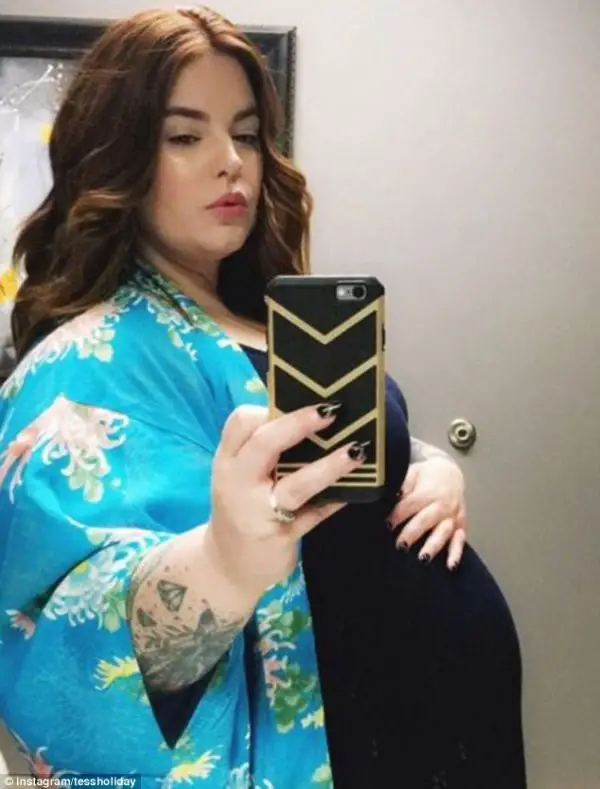 Caption: Tess is flaunting her baby bump during her 8-month pregnancy time.
Photo Credit: dailymail.co.uk
Tess then shared some of the pictures of baby Bowie on her social media accounts.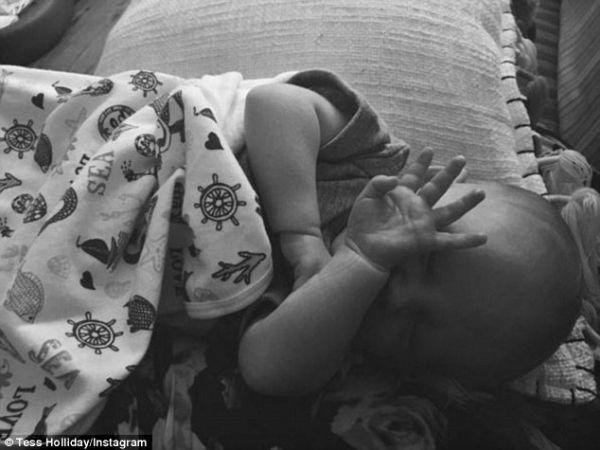 Caption: Welcome to this world baby Bowie!
Photo Credit: dailymail.co.uk
Similarly, she also shared a beautiful black and white picture of her baby boy and her fiance sleeping soundly on July 2016 through Instagram.
Tess also has a son named Rilee from her previous relationship, and he has always been a priority for her, even during her busy schedule.
She mentioned,
"I pick my son up from school every day, [do] homework [with him], "
She then added,
"I just want him to grow up loving himself, to just be free to be himself. That would be the greatest goal in my life. My career's amazing, but it wasn't for him I wouldn't have pushed myself as hard as I have."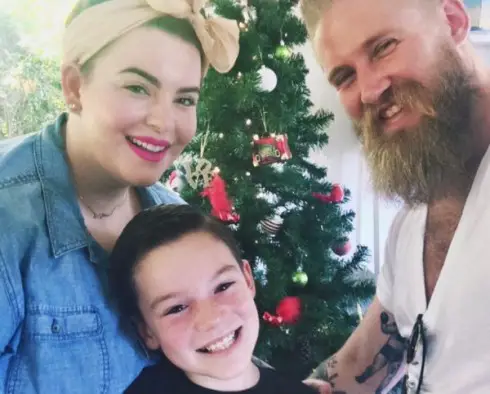 Caption: Tess, Nick, and Rylee, all seem happy to pose for a photo together.
Photo Credit: starcasm.net
Nick and Rilee have a great bonding, and they love spending time together. Rilee has appreciated Nick's fatherhood in a right way, and they are more like best friends. Their hobbies seem to be quite similar, as they love reading comic books, watch Star Wars and Legos.
Tess and Nick's wedding facts are still under the wraps, but nevertheless, they are enjoying each other's company along with their children.
We hope the very best for their future!
Tess, An Inspiration For Many Overweighted Woman!
Tess Holliday, a plus-sized actress from the United States, was born on July 5, 1985. Her body measurements are 52-49-59 inches, and she is 5 feet 5 inches in height and weighs 280 pounds, but with a beautiful look and personality.
Tess has worked as a makeup artist as well, and she loves having tattoos. She has around 30 tattoos, and it all has a meaningful message, and she said, her tattoos are like living journal for her.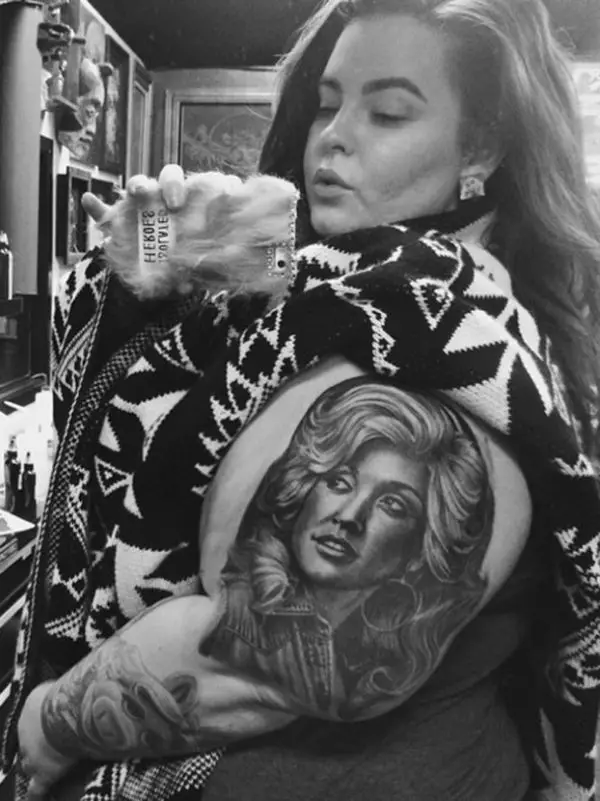 Caption: Tess flaunting two of her unique and beautiful tattoos on the left arm.
Photo Credit: celebsnow.co.uk
Weight was never an issue for her, and that is the reason for her to be a popular plus sized model in the world. It proved that weight couldn't change her determination for being in this sector.