Entertainment
Openly Gay Thom Bierdz On Boyfriend & Getting Married - Happening Soon?
Multitalented American actor, Thom Bierdz has been ruling the entertainment world since the 80's; especially his prominent role of Phillip Chancellor III on the daytime drama The Young and the Restless took his fame to a new height. 
Not only through acting, he has also marked his name through his talent in art and writing which has earned him much fame and respect. With his star-studded career, he had grabbed many followers who are willing to know insights on his love life.
Apart from his blissful love life with his boyfriend, Thom had been through some heart-wrenching family tragedies but despite it all, he has grown through it has now found a better perspective in his life. 
Insights On Life With Boyfriend - Possible Husband?
Thom Bierdz, who previously received thousands of letters from his teenage female fans, used be the heart of many girls. But Thom broke all those hearts when he came forth with his sexuality being gay.
Though back in the 80's, then-aspiring actor Thom would lie about his sexual orientation but things have changed now, for he openly dates the love of his life. He has been involved in a loving relationship with his partner for a long time now.
Thom is dating his spouse Ron Morgan, who has been able to impress his heart-throb star. Even though when the couple crossed path with each other and began dating is still a mystery, but they do love sharing their love in the social media. 
Read Also: Mark Lowry Response To Gay Rumors Amid Married Questions!
Thom has been opened with the relationship that he shares with Rom and often mentions him his posts on Facebook. In one of his posts, Thom has mentioned that his boyfriend is a great photographer and often snaps pictures that reveal perfection.
Well, his posts mentioning his boyfriend dates back to 2012 and seems like they have been going strong till today. Back in 2016, Thom made a Facebook post, where he captioned the picture revealing that he forgot to get married and have kids.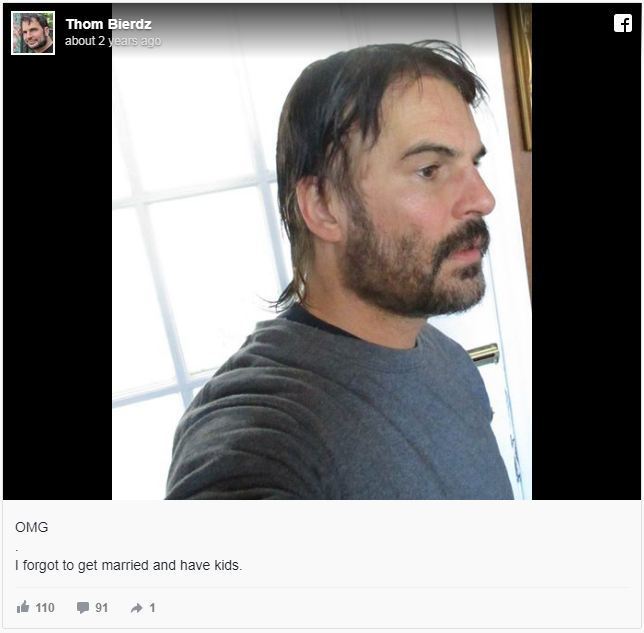 Thom Bierdz's Facebook post relating marriage. (Photo: Thom Bierdz's Facebook)
This shows that he had no tied the knot till 2016 but the caption also gave a hint that he might be looking forward to exchanging wedding vows. However, as of today, there has not been any news of their wedding yet. 
Family Tragedies: Mother's Death, Forgiving Brother To Brother's Suicide
Apart from his blissful love life, Thom has been part of family tragedies as well!
His youngest brother was diagnosed with paranoid schizophrenia which has led to his family to face mishaps in the past. Turns out his youngest brother, Troy murdered their mother with a baseball bat and served a life sentence in a Wisconsin prison. Despite losing his mother through the hands of his brother Troy, Thom forgave him. Thom even released a book "Forgiving Troy" in which he expressed the power that forgiving someone has.
You May Also Like:- Gotham's Benedict Samuel Has Girlfriend? Unexpected Dating Status, Gay Talks Add-On
He even made clear that forgiving is the path which leads to being true to yourself.
However, his tragedy did not end there. In May 2002, his other brother Gregg committed suicide dispersing their family. As of now, Thom has a sister named Hope alongside him through all the tragedies.