Thom Brennaman is a sports commentator, who works... is a board member of SPCA Cincinnati and...resides with his wife...his children cleverly hung a small...more than curing health illness...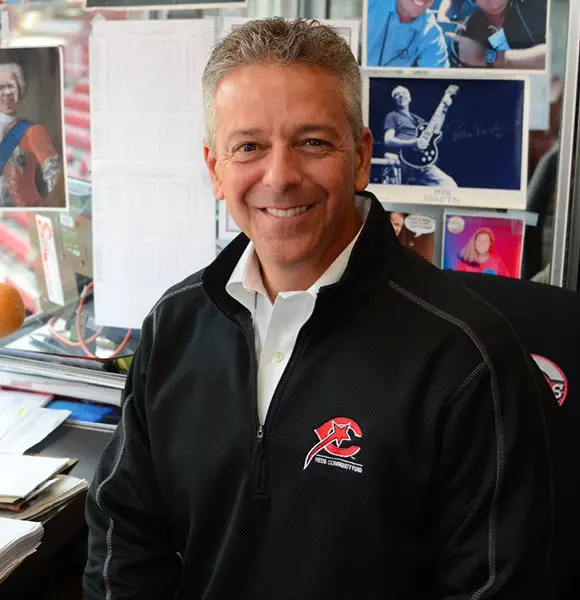 Thom Brennaman is a sports commentator, who works for Major Baseball League and National Football League. He mostly gives running commentary for the Cincinnati Reds team and has worked for major networks including CBS Radio and Fox Sports.
He has also done voice-over work for games such as Microsoft Baseball 2001 and All-Star Baseball 2002.
Bio, Family
Thom was born on 12th September 1963 in Chapel Hill, North Carolina.
He is the firstborn of famous sportscaster Marty Brennaman and his mother, Brenda Chambers. His father was inducted in the National Baseball Hall of Fame in 2000. He is still listed among the top 50 broadcasters of all time.
As for siblings, Thom has step-sisters from his father's second marriage with Amanda Ingram.
Health Issues
On May 2016, the sportscaster took a break from the commentary booth to undergo throat surgery to prevent and alleviate hoarseness in his voice. Since a sportscasters voice is an indispensable tool in his/her career, the operation was about more than curing health illness.
Recommended Sportscaster:- Kyle Martino Wife, Children, Net Worth
But, after a brief check-up, his doctors found out that his job as a sports commentator had quite taken an unhealthy toll on his health. The damage was more than expected, and during his surgery, a lot of scar tissue had to be removed from his throat.
Since the surgery involved cutting off his vocal cord, Thom was unable to talk properly for many weeks.
However, his children cleverly hung a small whiteboard around his neck to communicate, and he had to practice specific vocal exercises to strengthen his voice. With family support, he soon recovered and returned in July the same year to do commentary on the final two games of the Cincinnati Reds.
Net Worth In Recent Years Plus Wife
As of now, Thom hasn't come across any throat related issues. Instead, he is at the prominent height of his career as he continues work as a sportscaster on Fox for NFL broadcast.
Also, he is a board member of SPCA Cincinnati and the towns' Children's Hospital Foundation.
Thom shares all his success with his wife, Polly Brennaman and his children, Ella Mae and Luke.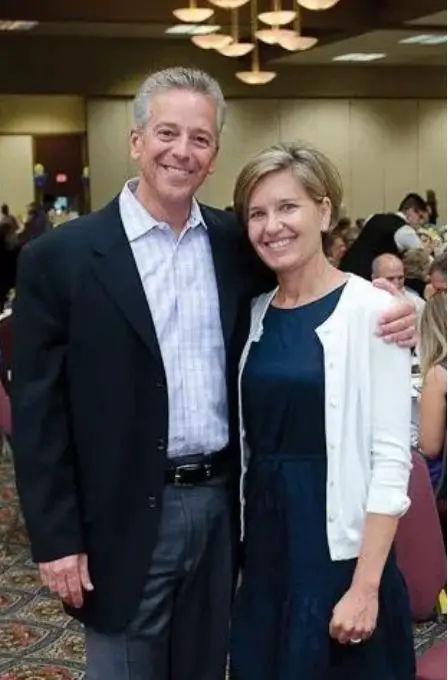 Thom Brennaman attends a charity event with wife Polly Brennaman in 2016 (Photo: moversmakers.org)
Not just success, but Thom also shares his astounding net worth of $2 million with his family members. He and his family live a lavish life at Cincinnati, Ohio with his burgeoning wealth.
On top of that, his net worth gets enriched by his salary that passes the $50K mark by ease. And, having a big heart, Thom, who is at the of 56, also stays involved in several fundraising events.
Thom Brennaman Education, Career
After graduating from Ohio University in 1963, Thom went onto pursue the career at sports commentary following his father's footsteps.
He started his broadcasting by doing live analysis for the Cincinnati Reds for a year. During his time at Cincinnati team, he worked alongside legendary baseball player Johnny Bench.
From 1990 to 1995, Brennaman worked at WGN-TV and a radio station in Chicago, as a sportscaster for Chicago Cubs. Eventually, he worked on the broadcast team of Fox Sports to cover the Major League Baseball events from 1996 to 2015.
Interestingly, he worked with his father Marty in the 700 WLW Radio stations on several occasions. In 2019, his father, Marty announced that he would be retiring by the end of the year.