Entertainment
Thrashing Gay Rumors; Caspar Lee Is Dating His New Model Girlfriend And They Are Cute!
There is no better way to silence all the gay rumors that surround you than to have a girlfriend in your life. Young internet sensation Caspar Lee has done the same as he has been dating a new girl in his life and they are adorable together.
For those who are unaware of this real relationship between the internet sensation and his girlfriend, this article has got you all covered.
New Romance
Caspar debuted his relationship with Instagram model Ambar Miraaj Driscoll on 24th June 2018. The YouTuber gushed about his girlfriend's uni results via a post on social media.
Caspar Lee goofs around with girlfriend Ambar Miraaj Driscoll on 22 March 2019 (Photo: Caspar Lee's Instagram)
Well, Ambar is one talented girl; she attended Exeter University in the past. And her work credits include Converse, Schwarzkopf hair products and Santa Cruz Skateboards. Repped by Anti-Agency, the Brit model has made her name as a lifestyle influencer on Instagram.
Well, the YouTuber and his girlfriend have gone strength to strength since they debuted their relationship. Caspar took his girl to Royal Albert Hall for Baftas on 10th February 2019.
Besides the red carpet, the pair also took a tour of Australia in 2018. They visited Somerville, Victoria, and even spent time with a Koala. Caspar, being his funny self, even joked about adopting the cute animal.
Past Relationship
Caspar previously dated a model named Madeleine (Maddie) Thea. The two were reportedly dating since 2017, and they even set quite an example for the other lovebirds. The two were socially open about their relationship and were not fussed by the attention they had grabbed via the connection.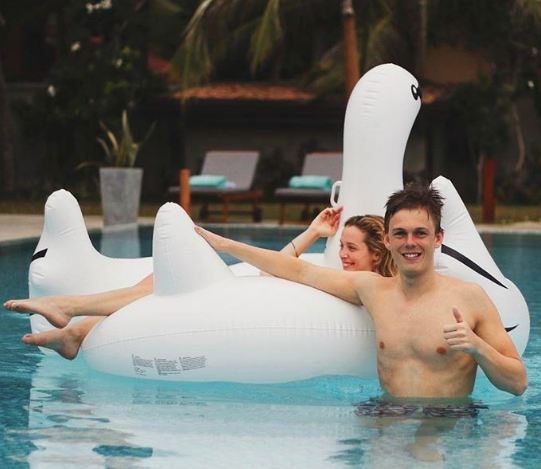 Caspar Lee shares a moment with his girlfriend Madeleine (Maddie) Thea on 3rd April 2017 ( Photo: Caspar Lee's Instagram)
Caspar's YouTube videos with Maddie showed how much love they had for one another. The love between them seemed to be getting better and stronger with time. But what his relationship with Maddie did was shut all the gay rumors that often surrounded him.
But the couple didn't last as Capar took to his Twitter to announce the demise of their relationship on 13th June 2017. After the break-up, Maddie found solace in the arms of her new beau, Mike Hurrell.
Caspar's Daughter and Famous Tattoo
Sometimes the context can be a bit misleading but hold your horses right there folks as he does not have a human daughter. His daughter is instead a doll, who he loves dearly. Such a great attachment he has with his so-called "daughter."
Moreover, after he hit 7 million subscribers on his channel, he decided to celebrate it awesomely. After trying several ways to celebrate his achievement, he then decided to get a tattoo near his ankle.
Caspar has never actually spoken about his parents, but his mother is Emily Riordan Lee while the identity of his father remains under the rock. He also has a sister named Theodora.
Regardless, he is an excellent young talent who has got a long way to go in his career as a vlogger.