Everyone today has their eyes set on achieving success. For inspiration, they look up to motivational leaders - who can provide them with life-changing tips.
Tim Ferris stands out from several other motivation writers as he is an established entrepreneur with an impressive resume.
He is the founder of the highly valued company, BrainQUICKEN, and an investor at well-known social platforms such as Facebook & Twitter. Moreover, he also has an artistic side to himself as he broke the Guinness World Record for the category of the highest number of dance spins. Also, he has appeared in several TV series including The Tonight Show Starring Jimmy Fallon and The Dr. Oz Show.
While Tim's career success is evident, let's examine if he has triumphed in his personal life too.
Is Tim Married?
Even though the entrepreneur is very active in preaching his thoughts and solution on love and getting married, he has stayed very private about his dating status. As a result, few women have used the secrecy to their advantage, which was confirmed by Tim.
Entrepreneur Turned Politician:- Andrew Yang Net Worth In 2019, Policies, Education
In July 2012, he revealed that a blonde woman had attended Tony Robbins' conference by claiming to be his girlfriend. It is not known if Tim took any legal action after the incident, but on the positive side, it did display the effect of his fame.
However, even though he was single until 2012, the writer did share that he was dating a girlfriend with mixed Indian ethnicity in July 2015. But as of 2019, there are no reports that confirm whether he is still casually dating or is already married to a wife.
Age, Family Background, Diet
Born on 20th July 1977, Tim is 42 years old as of 2019. He was raised in East Hampton, New York City by his parents, who are devout Christians.
His family struggled financially while raising Tim and his brother, but they never compromised on their education. His father worked as a real estate agent; whereas, his mother was a physical therapist.
Tim's family is now involved in the fundraising task of their church, which occasional support from the author himself. In 2017, he signed several of his books to assist in raising funds for his parent's church.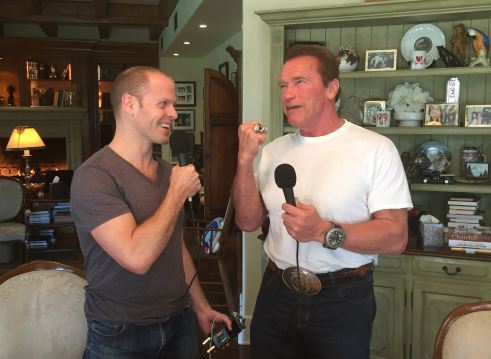 Tim Ferris shares a talk with bodybuilder turned actor Arnold Schwarzenegger in 2016 for his YouTube podcast (Photo: thehustle.co)
The entrepreneur is also very vocal about spreading information on healthy diet habits through his book, The 4 Hour Body. Through the book, he wrote about the effects of the slow-carb diet have on bodyweight. Likewise, talking in terms of the body, he possesses a height of 5 feet and 9 inches (1.7 m).
Net Worth Info
With more than four best-selling books to his credit and his financial stake in companies like Alibaba and Uber, it's evident he is a multi-millionaire by now. To put it in exact number, he relishes an outstanding net worth of $100 million all to himself.
Signed a $100 Million Deal:- Kenya Barris, 'Blaigns $100 Million Netflix Dck-ish' Creator Seal
Moreover, his appearances at various prestigious conventions and his self-titled Youtube channel undoubtedly generate an impressive amount of income for Tim.